Summer Storm Warning Issued for Northern Thailand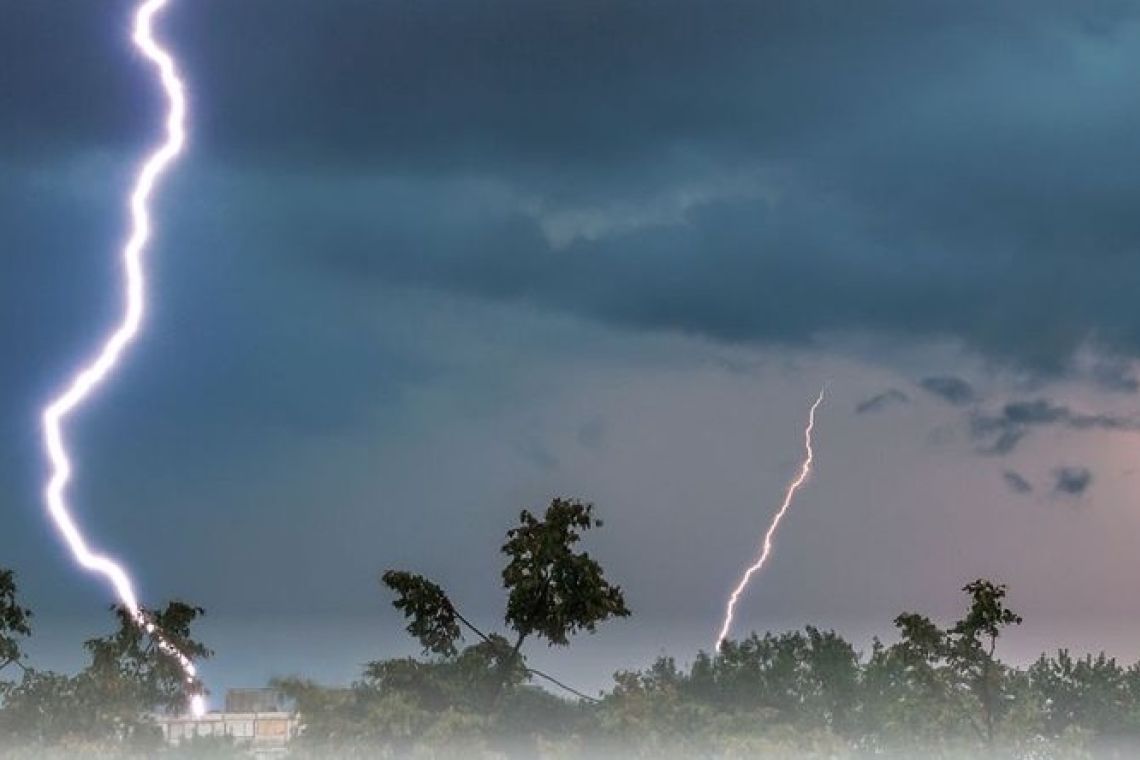 A high-pressure front coming in from the South China Sea will bring summer storms to northern Thailand this weekend. On Saturday and Sunday, storms could happen in the North, Northeast, East, and Central Plains, according to the Meteorological Department.
The high-pressure system is pushing moisture from the Gulf of Thailand and the South China Sea onto the mainland. As it mixes with hot air, it could start to rain or even snow.
On Saturday, summer rains are likely to hit Nan, Uttaradit, Tak, Phichit, Phitsanulok, and Phetchabun in northern Thailand. People are told not to be out in the open or under big trees or unsafe buildings when it rains hard, and farmers may see some damage to their crops.
The rain, on the other hand, is expected to reduce the terrible air pollution that has sent 41 people in Chiang Rai to the hospital for emergency care.
On Saturday morning, there were between 200 and 350 micrograms of particulate matter per cubic meter in the northern province. This was made worse by three forest fires in the Mae Chan area this past week.
Provincial health officials said that since they set up 444 clean rooms in hospitals to treat people with lung illnesses, more than 7,000 people have gone there for help.
Officials say they hope the rain will help reduce the amount of PM2.5 in the air, but they plan to keep working to reduce dust by doing things like turning off showers in public and private buildings.
Alliance sought over PM2.5 air pollution
At the same time, Thailand, Myanmar, and Laos are trying to work together to fight the pollution from transboundary smoke that is choking the area.
Prime Minister Prayut Chan-o-cha held a meeting with the Lao Prime Minister Sonexay Siphandone and the leader of Myanmar, Snr Gen Min Aung Hlaing, via video conference at Government House to talk about the transboundary haze problem.
Gen. Prayut said that the purpose of the meeting was for the three countries to talk about how they deal with transboundary smoke and come up with a good way to solve the problem.
Gen. Prayut said that everyone has realized how important it is to work together because the haze pollution has become a health risk for the people of the three countries. He said, "We need to work together to help each other solve the problem."
Gen. Prayut suggested the Clear Sky Strategy at the meeting as a good way to deal with the problem.
Under the strategy, each country should pledge to reducing hotspots in line with the Chiang Rai Plan of Action, which was adopted by five countries in the Mekong Subregion in 2017.
Transboundary haze pollution in northern Thailand
The Chiang Rai Plan of Action tells the countries in the Mekong Sub-region what they need to do first to stop waste from crossing borders. The prime minister said that all of the countries involved should use all of the appropriate bilateral tools they have at all levels.
As part of its role, Thailand will encourage cooperation on transboundary haze pollution with Laos and Myanmar through local mutual mechanisms, he said. Next month, Indonesia will host the 42nd Asean Summit, where Thailand will also talk about the problem.
Gen. Prayut said that the countries should also support efforts to share information and experiences and use the law to control and stop the causes of transboundary haze.
He said that governments should help farmers get rid of their waste and build power plants based on the bio-circular-green (BCG) model to turn this waste into fertilizer and energy.
He also said that Thailand would push for more cooperation between air quality tracking networks in countries in the sub-region. This would make it easier to predict air quality and send out alerts.
Gen. Prayut said that getting rid of haze pollution is a top goal for Thailand. Every year, meetings are held to talk about ways to stop forest fires and haze pollution.
He said that the government has come up with a plan to stop PM2.5 from coming from exhaust fumes, industries, and "slash-and-burn" farming.

Wildfires caused by humans in northern thailand
Gen. Prayut said that Thailand was able to cut the number of hotspots in the North by 61% and the amount of PM2.5 by 27% in the past year. He also said that Thailand has been keeping the Asean Secretariat up to date on its efforts to cut the number of hotspots.
After the three leaders met, Jatuporn Buruspat, the permanent secretary for the Ministry of Natural Resources and Environment, held a meeting with top officials from Laos and Myanmar to talk about how to carry out the policy directions given by the three leaders.
A ministry spokeswoman, Kanchana Patarachoke, said that Deputy Prime Minister and Foreign Affairs Minister Don Pramudwinai had also talked to his counterparts in neighbouring countries, such as Myanmar, about concerns about wildfires caused by humans in these countries, which are making the problem worse and affecting Thailand.
She also said that Mr. Don had asked the Thai minister to Myanmar to talk to Myanmar's Ministry of Natural Resources and Environmental Conservation about having more talks about the issue.
Gen. Prayut and Mr. Don have also asked Asean's secretary-general, Kao Kim Hourn, to back Thailand's efforts to improve regional cooperation through the 2003 Asean Agreement on Transboundary Haze Pollution.
Ms. Kanchana said that Dr. Kao, who was in Thailand from March 29 to April 1, told Gen. Prayut and Mr. Don that he is willing to help push the problem.