Stocks In Asia Rise As Inflation Worries Linger On Wall Street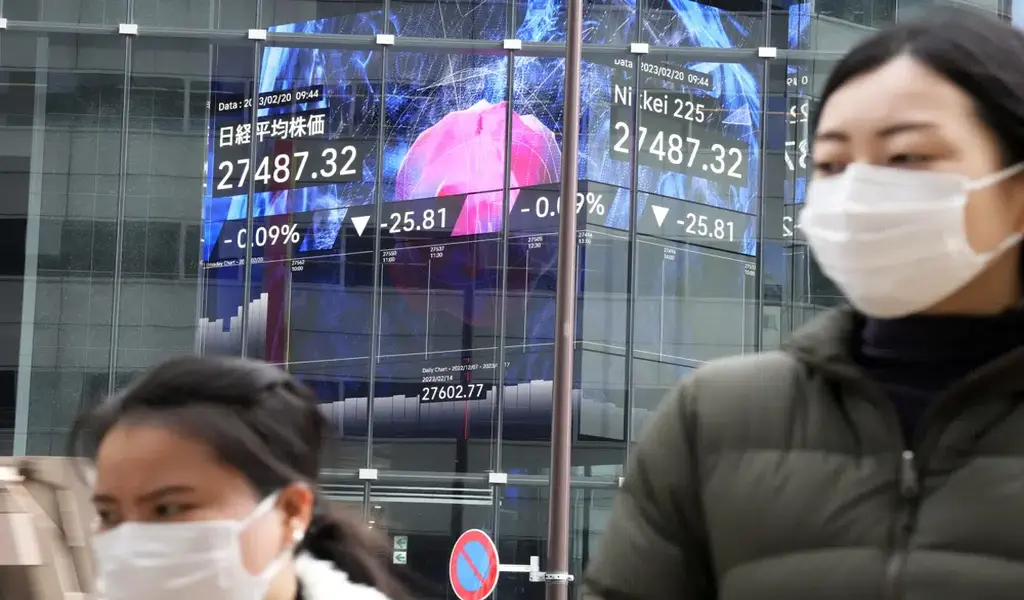 (CTN NEWS) – BANGKOK –  Although Wall Street ended another rocky week characterized by unease about the future of inflation and interest rates, shares were mostly higher in Asia on Monday.
Despite rising oil prices, U.S. futures were slightly lower. For a holiday on Monday, U.S. markets will be closed.
As was predicted, China kept the prime loan rate, its benchmark lending rate, unchanged. The 5-year rate is 4.3%, while the 1-year rate was at 3.65%.
Shanghai Composite index increased 2.1% to 3,290.34 while Hong Kong's Hang Seng index increased 0.9% to 20,898.94. The Nikkei 225 in Tokyo increased 0.1% to 27,531.94.
The Sensex in India decreased 0.2% to 60,891.78. The Kospi in South Korea increased by 0.2% to 2,455.12, and the S&P/ASX 200 in Australia increased by 0.1% to 7,351.50. Throughout Southeast Asian markets, shares fell, except in Bangkok, where the SET rose 0.3%.
Wall Street Undergoing Turmoil
Recent figures have rekindled concerns that the United States inflation rate is not declining as swiftly as anticipated. That has dashed hopes that the Federal Reserve will ease off on interest rate increases and prevent the economy from entering a recession.
That has increased the turmoil on Wall Street after the year began with strong gains.
According to Clifford Bennett, chief economist at ACY Securities, "there was not much dramatic news, but in the back of every trader's mind was the worry that this whole 'high inflation/Fed raising' scenario may not be finished as fast as many imagined.
"The problems may not be over yet."
The S&P 500 lost 0.3% of its morning loss to close at 4,079.09. The Dow Jones Industrial Average recovered from an early drop to increase 0.4% to 33,826.69. To 11,787.27, the Nasdaq composite decreased by 0.6%.
Recent reports have revealed greater strength than anticipated in various areas, including the labor market, retail sales, and inflation, sparking concerns that the Federal Reserve will need to raise interest rates.
Investors have been encouraged that the economy may avoid a worst-case recession because of its increased resilience.
Business Faring
To support consumer spending, the most crucial component of the economy, there are still plenty of jobs available, and consumers are still making purchases. This has assisted the S&P 500 index to maintain its gain of 6.2% since the year's beginning.
The market may not be ready for the Fed to become even more aggressive if inflation turns out to be stickier than anticipated. The bond market, whose rates have surged this month in anticipation of a tighter Fed, has shown these shifts the most clearly.
A new estimate of U.S. economic growth for October to December will be released this week, giving us more information about how consumers and businesses are faring.
According to projections, Asia's growth will have decreased from 3.2% to 2.8% or 2.9% from the previous quarter.
In other trade on Monday, New York Mercantile Exchange electronic trading saw U.S. benchmark crude oil rise 59 cents to $77.14 per barrel. On Friday, it dropped $2.19 to reach $76.55 per barrel.
The price of Brent crude oil, which serves as the benchmark for international trade, rose 70 cents to $83.70 a barrel.
The US dollar value decreased from 134.28 Japanese yen to 134.08 yen. From $1.0681 to $1.0699, the euro increased.
RELATED CTN NEWS:
Taliban Plans To Create Special Economic Zones On Former Foreign Bases
Ukrainian Grain Shipments Drop Due To Growing Ship Backups
Christian Atsu's Body Returned To Ghana Following The Turkey Earthquake