Soldiers Seize Heroin After Firefight with Drug Runners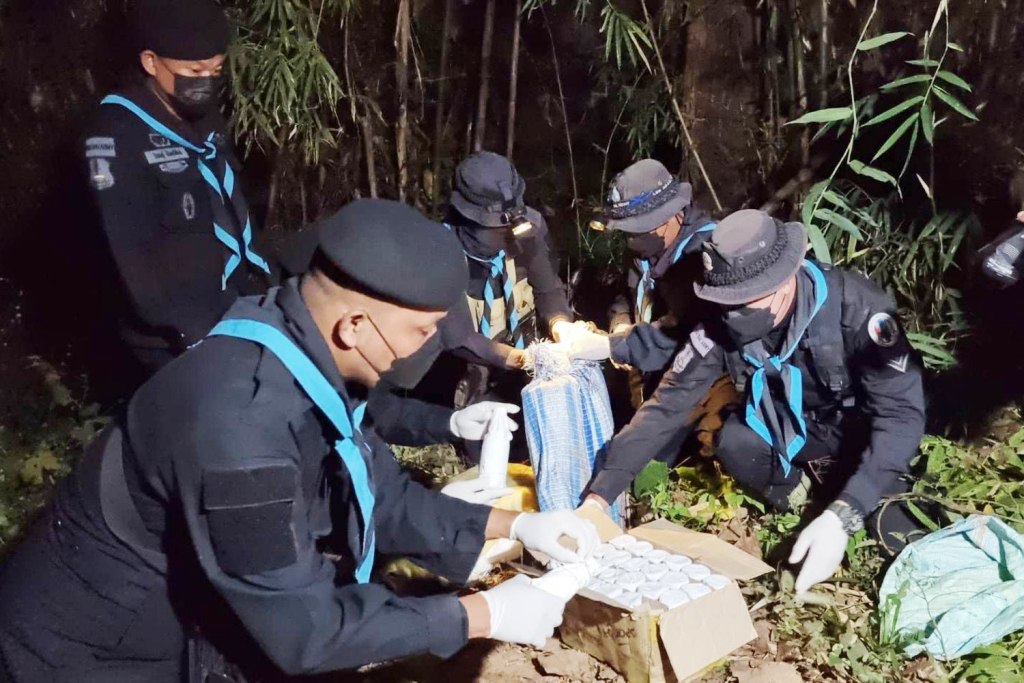 Soldiers from Northern Thailand's Pha Muang task force seized 1.6 pounds of heroin and over two hundred thousand methamphetamine pills after a brief firefight with drug runners.
The drugs were abandoned by armed drug runners following a brief clash near the Myanmar border in the Mae Ai district of Chiang Mai Province.
On Wednesday night, soldiers from the Pha Muang task force spotted three men walking near the border at Pakui village in Tambon Tha Ton of Mae Ai carrying rucksacks and weapons.
According to an official report, 3 men were ordered to lay down their weapons and allow a search by the patrol leader. The drug runners opened fire and the Pha Muang task force returned fire.
The firefight lasted for about five minutes before the drug runners disappeared into the darkness and the cover of the forest.
After the firefight, the soldiers inspected the surrounding area and discovered 200,000 meth pills in wrapped packages and 1.6 pounds of high-grade heroin hidden inside 30 drink bottles.
The commander of the Pha Muang task force handed over the seized drugs to the Mae Ai police station in Chiang Mai.
The Environment and Natural Resources Journal Drug reports that smuggling occurs mostly along topographic roads along the northern Thai border.
According to statistics, Chiang Mai and Chiang Rai provinces have the highest rates of drug trafficking.
In Chiang Rai, these areas are located in Mae Chan, Mae Fa Luang, and Mae Sai. In Chiang Mai, they are located in Fang, Chiang Dao, Mae Ai, Chai Prakan, and Wiang Haeng.
The Thai authorities have been overwhelmed by the increasing volume of methamphetamine and other drugs being trafficked from the Golden Triangle and downstream along the Mekong River into Laos.
During the COVID-19 pandemic the Mekong River in the Golden Triangle, which connects Laos, Myanmar and Thailand, as well as the region to the north-east of Thailand, where Laos and Thailand meet, has been heavily used for drug trafficking.
Trending CTN News: