Soccer Player Sacked for Brutal Elbow During Live Soccer Match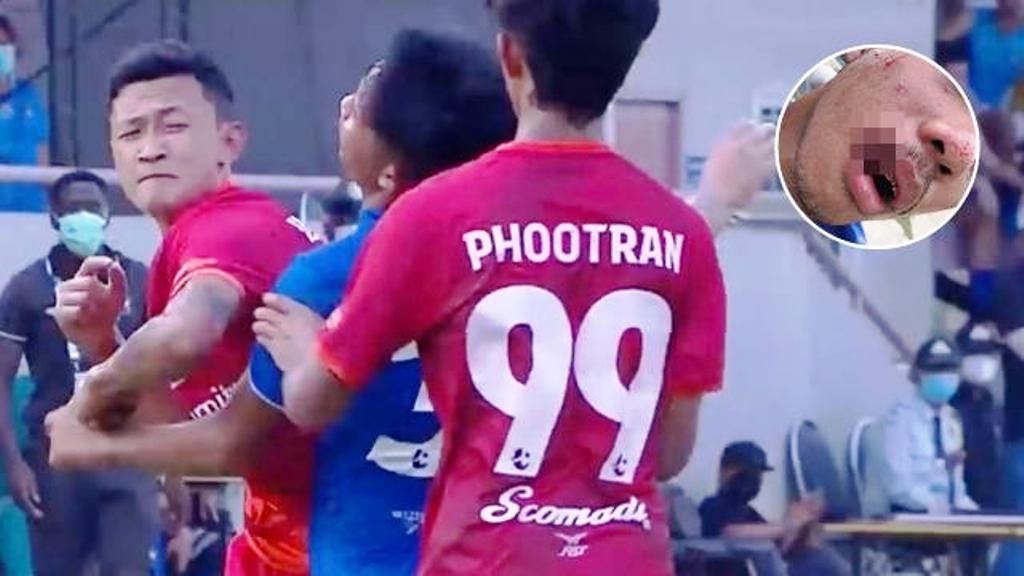 Soccer Live: Bangkok FC has terminated the contract of a player who gave an elbow strike to an opposing player during a live soccer game on Sunday afternoon.
Bangkok FC was trailing 3-0 in their live soccer Thai League 3 promotion play-off clash at North Bangkok University FC, Aitsaret Noichaiboon dropped the home side's Supasan Ruangsuphanimit with a brutal elbow to the face during the 5th minute of extra time.
The live soccer player Aitsaret was immediately red-carded and sent off the pitch by the referee. Players of the Bangkok Metropolitan region champions confronted him while Supasan lay motionless on the ground clutching his face.
Ruangsuphanimit, who needed 24 stitches after the live soccer match attack, had seemingly angered Aitsaret by clipping his heels seconds before as the soccer ball ran out for a throw-in.
Itisaret, who had come on to replace Supasan, ran up to an unsuspecting Supasan, threw an elbow at him, and knocked him to the ground.
"Bangkok FC would like to give a statement and not support the action," the club said on its official Facebook page. "The player's soccer visa contract has been terminated.".
"The club apologizes for the incident, and will do everything it can to prevent a repeat of it."
Supasan's condition was also updated on the North Bangkok University FC official Facebook page.
Player Received 24 Stitches after Live Soccer Match Attack
After being intentionally attacked on the face by player Number Six of Bangkok FC, Supasan underwent a physical examination at Bangpakok-Rangsit 2 Hospital.
"The doctor discovered that the upper lip area is severely wounded after seeing him. Therefore, the doctor stitched a total of 24 stitches to close the wound. Care and responsibility will be provided by the club."
Aitsaret's actions were not appreciated by Thai live soccer fans, who condemned his actions on Bangkok FC's Facebook page.
The player has "no professionalism", wrote one user, while another wrote that he "clearly lacks the qualities of being an athlete".
Another praised the club's actions but recommended the Thai soccer vista authorities pursue the case "because it is clearly intentional".
Another user said, "I have great respect for the management of the club that acts swiftly and decisively… [they] should not support those who use excessive violence."
There should be kindness and emotional control, to be a good role model for young people," one comment read. "This is an old club, having been around for a long time."
Supasan should take legal action and accept money as an apology, according to another user.
Related CTN News: