South Korea And Thailand To Boost 'Soft Power Cooperation'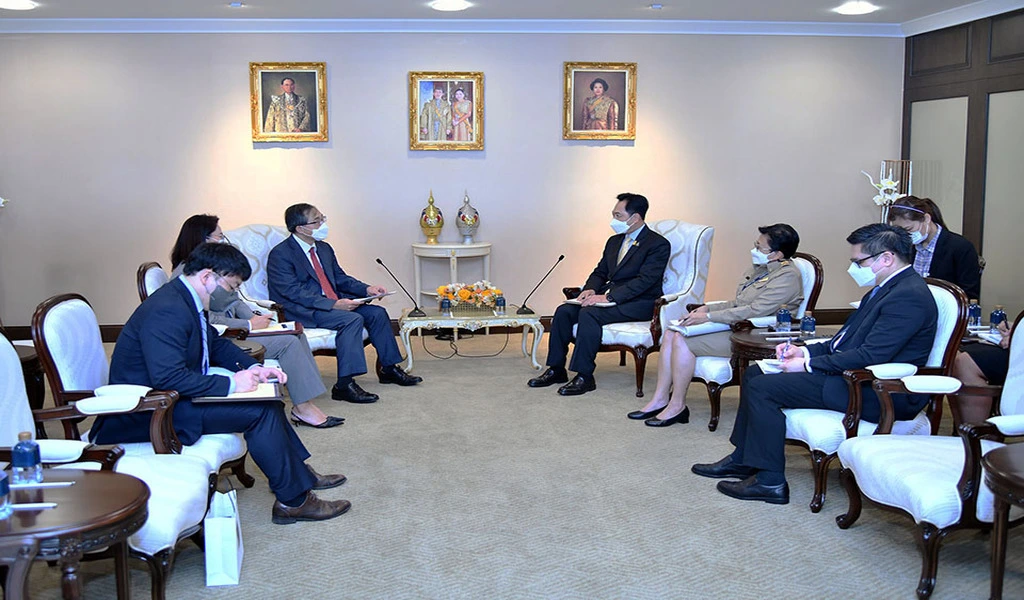 (CTN NEWS) – BANGKOK –  Anucha Burapachaisri, the acting government spokesperson and deputy secretary-general to the prime minister, met with H.E. Mr. Moon Seoung-hyun, the ambassador of the Republic of Korea (South Korea) to Thailand.
The Meeting's Main Points Are As Follows:
The Government Spokesperson greeted the Ambassador and expressed delight at learning that since taking office last year, the latter had met with several executives and leaders of both public and private institutions.
He believed that the Ambassador's experiences and knowledge would greatly advance the friendship and collaboration between South Korea and Thailand. Thailand is prepared to assist him in all aspects of his quest.
The South Korean ambassador praised the friendly ties and close cooperation between the two nations. President Yoon Suk Yeol and Prime Minister and Defense Minister Gen.
Prayut Chan-o-cha met during the ASEAN Summit in Cambodia last year and agreed to strengthen their bilateral relations and cooperation, including exchanging visits at all levels.
Both Parties Also Spoke About Additional Matters Of Relevance:
The Thai Minister of Higher Education, Science, Research, and Innovation visited South Korea to discuss space technology collaboration with the nation's concerned agency.
The South Korean Ambassador praised the Thai Government for giving the development of space technology top priority.
Regarding environmental cooperation, the Government Spokesperson was pleased that the Ambassador was interested in the subject because it is consistent with the BCG Economic Model, the government of Thailand's national agenda.
Additionally, all sides concurred that it is crucial to promote cyber security. The two countries foreign ministers met last year to explore collaborating on cyber security.
Thailand is the first nation in the region with whom South Korea has established cyber security cooperation.
The two parties agreed to advance their Soft Power collaboration, which has significant potential for the two nations. This might also include collaboration in the hospitality, dining, and entertainment sectors.
Regarding labor cooperation, the South Korean ambassador emphasized the importance of Thai labor to South Korea's economic growth and expressed satisfaction with the negotiation progress of the "Working Holiday Programme" initiative.
This should address illegal labor and encourage student exchanges between the two countries.
Also mentioned by the ambassador was South Korea's experience in EV production and related fields and their interest in increasing their investment in Thailand. This is pertinent given the Thai government's strategy to position Thailand as the region's center for EV production.
RELATED CTN NEWS:
Prosecutors Received 'Tuhao' Case Report; Immigration Cases To Follow