Reuters Tally Reports 5,331,860 People Have Died from Covid-19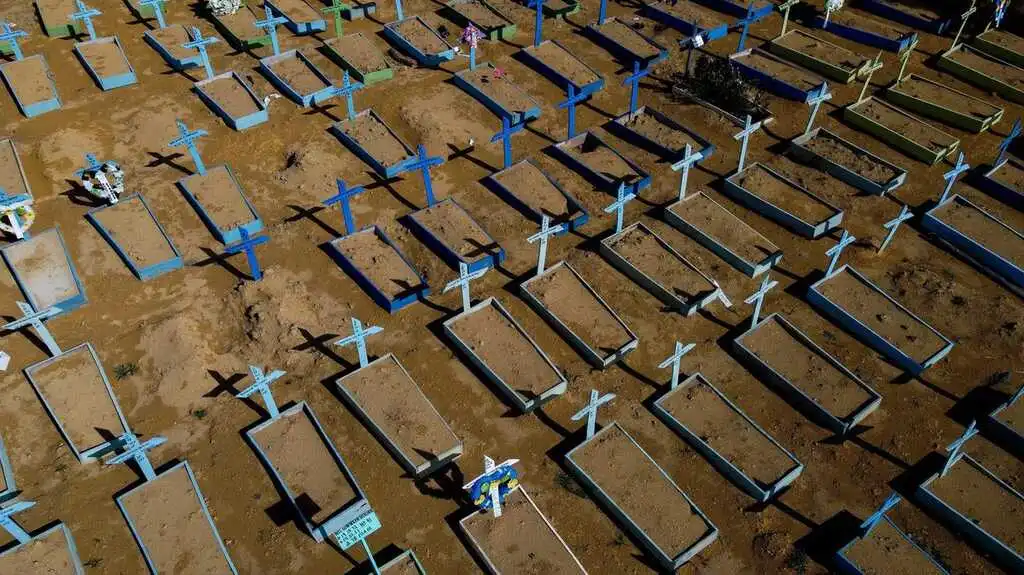 A Reuters tally reports 251.9 million people have been reported to be infected by covid-19 globally and 5,331,860 have died so far. Infections have been reported in more than 210 countries and territories since the first cases were identified in China in December 2019.
Interactive graphic tracking global spread of coronavirus: open tmsnrt.rs/2FThSv7 in an external browser. Eikon users can click here for a case tracker.
Reuters tally based on statements from health ministries and government officials.
Thailand logged 7,057 new Covid-19 cases and 55 new fatalities during the previous 24 hours, the Public Health Ministry announced on Saturday morning.
The number of cases went down by 248 from the previous day but the death toll rose by four.
A total of 84.09 million doses of Covid vaccines have been administered: 45.06 million, or 62.6%, as a first dose, 36.28 million (50.4%) as a second dose, and 2.74 million (3.8%) as a third shot, meaning 54.2% of the eligible population is now fully vaccinated, according to the Centre for Covid-19 Situation Administration.
On Friday alone, 773,944 doses were administered: 259,689 first shots, 481,230-second shots, and 33,025 third shots.
The 55 people whose deaths were reported on Friday — 27 men and 28 women — were aged 31 to 92. One of them was a Myanmar national and the rest were Thais.
Covid-19 deaths
Bangkok recorded seven more deaths, up to two from the previous day. Another six were in the adjacent provinces of Nonthaburi (2), Pathum Thani (2), Nakhon Pathom (1), and Samut Sakhon (1).
The South saw 18 deaths, up to two from the previous day. They were reported in Nakhon Si Thammarat (5), Yala (3), Songkhla (3), Pattani (2), Phatthalung (2), Phuket (2) and Narathiwat (1).
The Northeast saw four fatalities, down three from the previous day. They were in Ubon Ratchathani (2), Khon Kaen (1), and Roi Et (1).
The North had 11 deaths, up to two from the previous day. They were in Chiang Mai (3), Tak (3), Uttaradit (2), Phitsanulok (1), Sukhothai (1), and Nakhon Sawan (1)
Other provinces recorded nine more deaths, down 3 from the previous day. They were in Lop Buri (4), Prachuap Khiri Khan (2), Saraburi (1), Rayong (1), and Kanchanaburi (1).
Of the 7,057 new cases, 7,052 were local infections and 15 were imported cases. Of the local infections, 6,508 were confirmed at hospitals, 336 via mass testing, and 198 at prisons.
Bangkok again had the most single-day cases, at 667, down seven from the day before, followed by 463 in Songkhla (-12), 455 in Chiang Mai (+21), 377 in Pattani (+22), 346 in Nakhon Si Thammarat (-30), 251 in Samut Prakan (+46), 245 in Surat Thani (+29), 213 in Yala (-28), 189 in Chon Buri (-60) and 186 in Narathiwat (unchanged).
Covid-19 cases
The 15 imported cases were one each from Malaysia, Germany, Poland, and Singapore; two each from Russia and the United Arab Emirates; and seven from Cambodia. By nationality, they were two Russians, a Malaysian, a German, a Polish man, and 10 Thai returnees, seven of whom entered the country via natural border crossings.
On Friday, 7,393 patients were discharged from hospitals while 95,413 remained in hospitals, down 391 from the previous day. Of those who remained in hospitals, 1,818 were in critical condition (-6), 430 of whom were dependent on ventilators (+7).
Since April 1, when the third Covid wave began, Thailand has treated 1,982,468 Covid-19 patients, 1,868,503 of whom have recovered.
Since the pandemic started early last year, there have been 2,011,331 cases, with 1,895,929 complete recoveries.
The death toll is 19,989, with all but 96 of those deaths coming since April 1.
Single-day fatalities peaked at 312 on Aug 18 while the daily caseload hit a record 23,418 on Aug 13. Thailand is also ranked 24th globally with 2.01 million cases.
Source: Bangkok Post, Reuters