Police to Undergo Mental Health Screening After 27-Hour Siege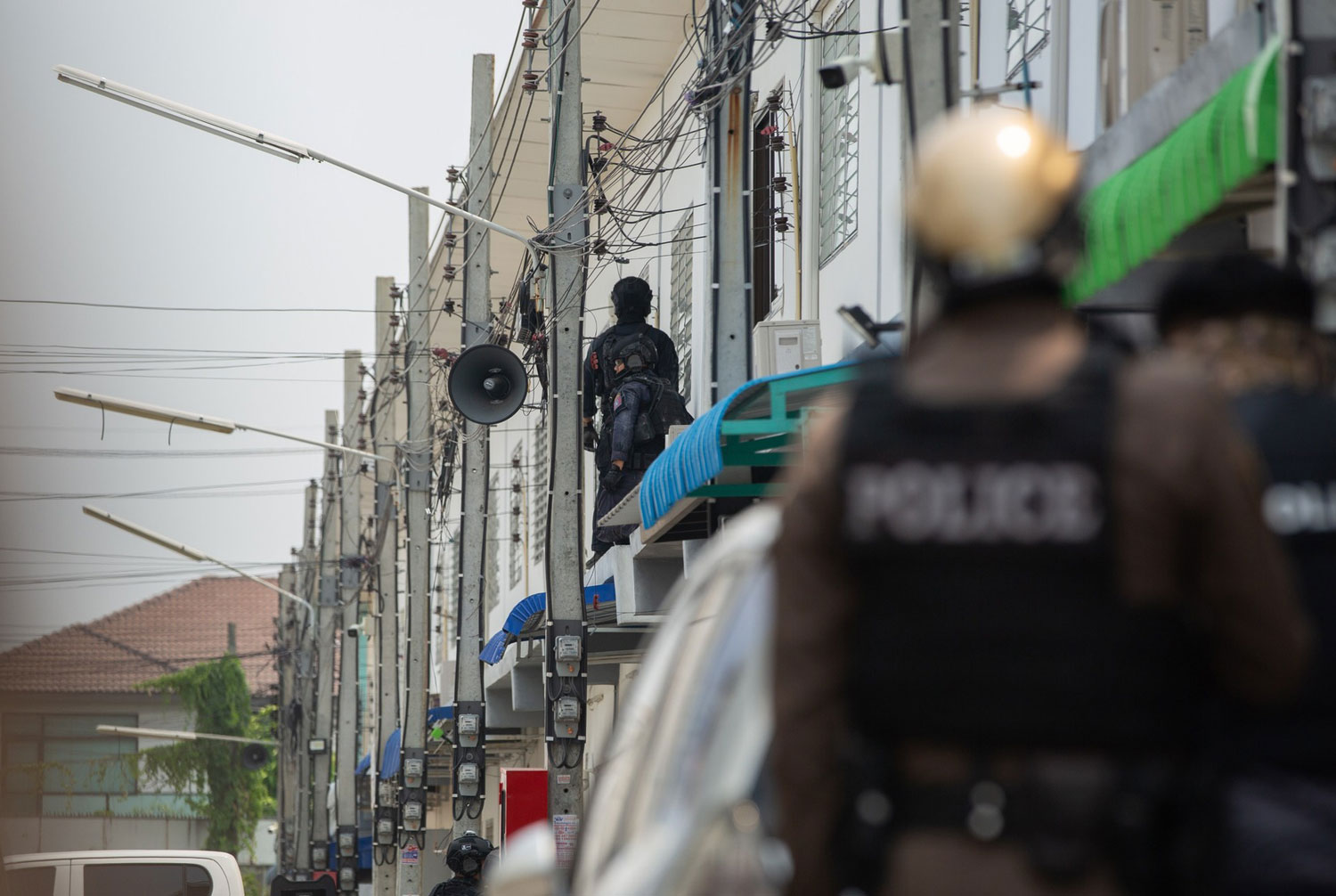 To avoid a repeat of this week's 27-hour police siege at a house in Bangkok, police officers across the nation will be subjected to mental health screening, Pol Maj Gen Sanatee Prayoonrat, OIG spokesman, said yesterday.
To ensure public safety and increase work efficiency, Pol Lt Gen Waratchai Srirattanawut, head of the Office of Inspector General (OIG), has assigned medical teams to conduct mental health checks on police officers nationwide, Pol Maj Gen Sanatee Prayoonrat, OIG spokesman, said on Thursday.
People who come across officers who appear to be mentally disturbed can file complaints with the Jaray Complaint Management System (JCoMs), according to the spokesman.
The mental health screening order was issued in the aftermath of an incident in Bangkok's Sai Mai district, in which a 51-year-old police inspector, Pol Lt Col Kittikarn Saengbun, had been firing shots into the air and inside his house since Tuesday morning before the siege ended on Wednesday. On the same night, the officer died from his injuries.
Anucha Burapachaisri, a government spokesman, said on Thursday that Prime Minister Prayut Chan-o-cha expressed regret over the death of the police inspector because he did not want to see any loss of life.
According to Mr Anucha, Gen Prayut directed the national police chief, Pol Gen Damrongsak Kittiprapas, to assist affected households in Sai Mai and instructed all police units to monitor the conduct of their officers to avoid a repeat of the incident.
According to the spokesman, the officer's gunfire prompted the deployment of police commandos and task force officers to the scene, affecting more than 20 families.
Pol Lt Col Kittikarn, a Lamphun native, previously worked at the Narcotics Suppression Sub-Division 2 before being transferred to the Police Education Bureau in 2019. He was transferred to the Special Branch Bureau last year. He was said to have sought mental health treatment at a Chiang Mai hospital. He stayed alone in this rented townhouse.

Police Arrest Investment Scammer
Police say a former model orchestrated an online investment scam, extorting more than 100 million baht (US$2.9 million) from victims in northern Thailand. She was charged with public cheating, fraud, and entering false computer data to obtain loans.
Wetika Jaija, 30, was apprehended at a residence in northern Thailand's Chiang Mai's San Sai district, according to Pol Maj Gen Phuthidej Boonkraphue, head of the Economic Crime Suppression Division (ECD).
Ms. Wetika, according to Pol Maj Gen Phuthidej, duped victims into investing in a Ponzi scheme by claiming to have won a world-class trading competition. She advertised her luxury items, cars, and home on her Facebook page in order to entice people to invest.
Victims were "guaranteed" a 100 percent return on investment. Initially, they received consistent dividends. Ms. Wetika, on the other hand, stopped paying their returns and removed her social media sites.
Over 100 people had transferred money to Ms. Wetika. According to Pol Maj Gen Phuthidej, the damage was estimated to be at least 100 million baht.
When questioned, Ms Wetika denied all charges. However, she was the subject of 11 arrest warrants issued in various provinces, including Chiang Mai, Phitsanulok, Pathum Thani, Tak, Sa Kaeo, and Chiang Rai, according to police records.
When people are offered an investment opportunity, Pol Maj Gen Phuthidej suggests they check to see if the company is licensed by the Securities and Exchange Commission. He also advised investors to avoid investments that promise unusually high returns.