Police Report 2 Dead, 1 Injured After Chevrolet SUV Crashes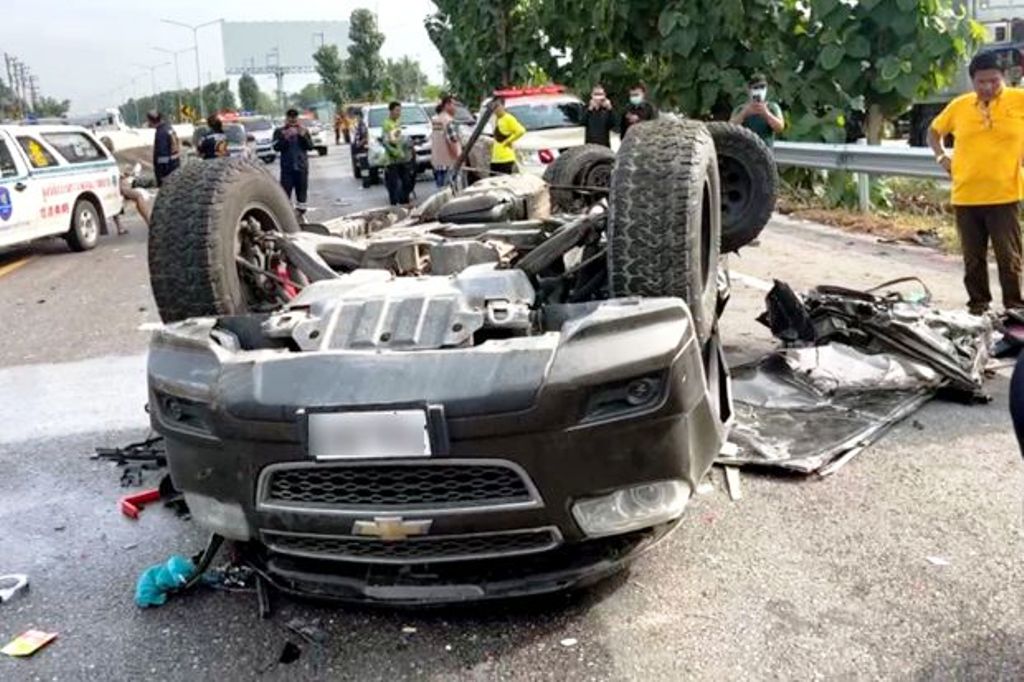 Police report 2 women were killed, and their male driver was seriously injured in a highway accident.
The accident happened around 2.30 p.m. In heavy rain, their Chevrolet SUV veered off the highway, collided with a roadside power pole, and overturned.
Two women were found dead on the road by rescuers dispatched to the scene. They were thought to be passengers thrown from the SUV by the impact.
According to the police report a seriously injured man remained trapped inside, clutching the steering wheel.
It took about 30 minutes for rescue workers to break open the wrecked car and remove the driver. He was taken to the Phra Chom Klao Hospital in Phetchaburi.
All three were from Myanmar, but their identities were not revealed to the public. Police said they are investigating the cause of the accident.
Bus Crash Kills Passenger
A tour bus carrying passengers to a temple in Thailand's Buri Ram province crashed into a roadside ditch after one of its tires burst.
When police and firefighters arrived on the scene, they discovered a double-decker bus in a ditch. One of the passengers was discovered dead and trapped inside.
Seven more people were injured, two of whom were seriously, and were taken to Nong Ki and Nang Rong hospitals in Buri Ram province.
Ms. Arom Saisawat, 59, of Hua Hin, said she and 48 neighbours boarded a bus from Hua Hin to attend a thod krathin robe-offering ceremony at Wat Suanpa Assamitham in Surin province's Samrong Thap district.
As they passed through Buri Ram, a tire burst, causing the bus to overturn and fall into a ditch. She claimed that the terrified passengers screamed.
The driver, who only went by Mon, 26, said the bus left Hua Hin around 6 p.m. on Friday and stopped at a few gas stations along the way.
He said that about 10 kilometres after his most recent stop, one of the tires burst, causing him to lose control of the tour bus.