Police Officer Killed After Shootout With Drug Suspects Armed with M-16 Rifles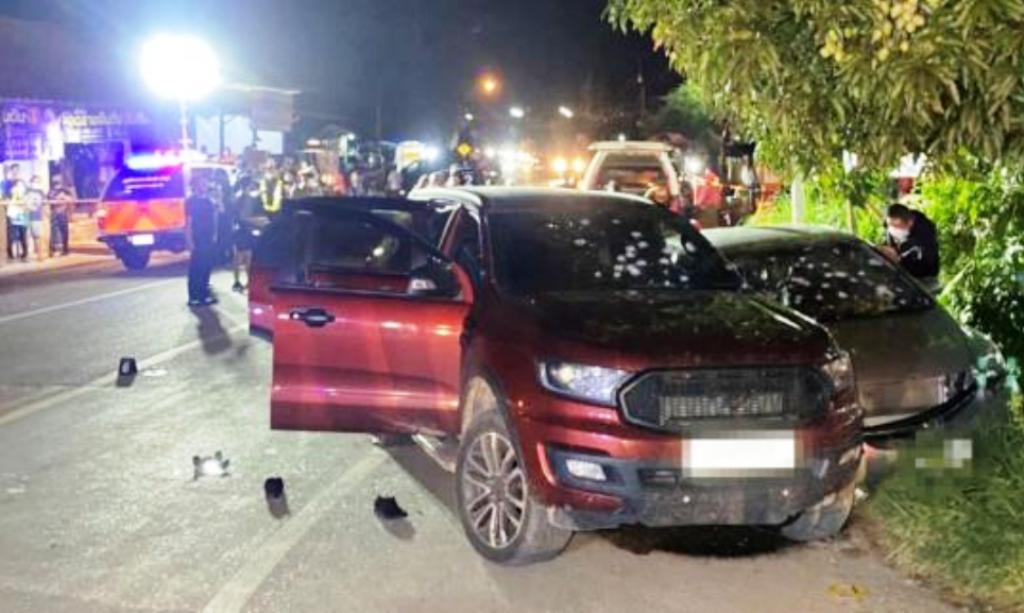 Police are searching for a drug suspect wanted for allegedly killing a police officer and injuring two others during a two-hour gunfight.
Pol Lt Gen Jirabhop Bhuridej, the commissioner of the Central Investigation Bureau, was leading the search for Jamras Rakchan, alias Chui Khaochan, following the incident on Wednesday evening, a police spokesman said.
Thai media reports, Gunfire with M-16 rifles erupted after undercover police officers from the Phatthalung Provincial Police and Crime Suppression departments attempted to arrest Mr. Jamras and members of a narcotics gang.
The incident was followed by a car chase and gunfight with the gang armed with M-16 rifles at Ban Tha Nang Phrom Intersection in Tambon Khok Muang of Khao Chaison district.
The officer fatally shot Watchara Ratanasuwan, 47, and injured two others, but Mr. Jamraswas escaped.
A bullet struck the head of Pol Snr Sgt Maj Anan Meesaeng and he died immediately. Another 2 officers suffered minor wounded.
Police Investigate Shooting in Samut Prakan
Meanwhile, Police in southern Thailand are hunting for two attackers who opened fire at a house in Samut Prakan, wounding three young men and a woman.
One woman and three men sustained gunshot wounds to their bodies, arms, heads, and legs. One of the men suffered serious injuries.
In the glass-enclosed room in front of the two-story house, police found evidence of gunshots. Bullet holes were visible on the floor from the front of the house to the kitchen. In the front room, four spent bullets were found, and two more were found inside the house.
Outside the house, a black holster was found on the road.
The owner of the house, Phhakkhawat Boonsudthong, 24, told police he and his friends were relaxing in the front room after working at a parcel delivery company. Early in the evening, they mainly played mobile games on their phones.
In the evening, a motorcycle was spotted riding from the back of the soi past the house before being parked nearby. A few moments later, two men wearing full-face helmets ran to the house and opened fire on Mr. Phakkawat and his friends sitting in the front room.
Shots were fired at them, and they fled inside the house.
The attackers later fled on the motorcycle, said Mr. Phakkawat, who escaped unhurt.
Neither he nor his friends had any conflicts. All of them worked at the same parcel delivery company and often gathered after work at his house.
The motive for the attack is still unknown. Officers are currently studying video from security cameras along the suspects' escape route.