Police Arrest Suspected Murderer After 7 Years on the Run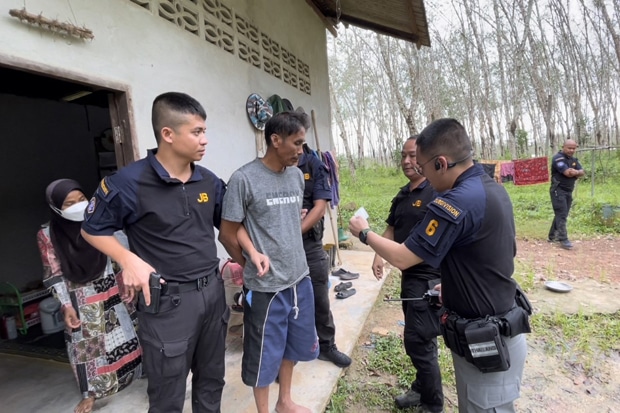 Police arrested a man suspected of shooting and killing a kindergarten teacher, 7 years after her murder in southern Thailand's in Phatthalung province. Ms. Jenjira Damkhun, 29, was shot to death on August 6, 2015.
Police believe that Mr. Veera Matchit, 50, Jenjira's boyfriend's elder brother, committed the crime, and detectives obtained an arrest warrant.
Mr. Veera fled to Chanthaburi before relocating to Songkhla, where he worked as a rubber tapper for three years.
On Monday, CSD police discovered his whereabouts and apprehended him at a rubber plantation in Moo 6 village, tambon Thung Mo, Sadao district.
According to police, Mr. Veera admitted to killing Jenjira due to a debt dispute.
Royal Thai Police Applaud New Law
Meanwhile, Thailand's Justice Ministry is preparing various government agencies for the implementation of a new law to prevent convicted felons of sexual and violent crimes from re-offending.
Mr. Somsak Thepsutin, Minister of Justice, stated that he had directed officials to expedite preparations for the law.
The Royal Gazette published details of the law to reduce recidivism among people convicted of sexual and violent crimes in late October.
The law, which goes into effect 90 days after it is published, allows for chemical castration of convicted rapists after they are released if they are deemed likely to re-offend.
The Justice ministry has also established the Justice Safety Observation Center (JSOC) to monitor two groups of released inmates.
The Department of Probation is in charge of enforcing the law.
Mr. Somsak stated that ministerial regulations would be issued under the law to cover all enforcement areas, including former inmates' rehabilitation.
Officials are being trained to become acquainted with the contents. The minister stated that manuals have been distributed to assist with enforcement and that departments outside the ministry will also be informed of what to expect.
Under a memorandum of understanding, the Justice Ministry has secured cooperation in law enforcement, Courts of Justice, prosecutors, Thailand's Interior Ministry, Thailand's Public Health Ministry, and the Royal Thai Police Office.
Justice Safety Observation Center
When they are released, 17,807 inmates will be subject to the new law. According to the Justice Ministry, 5,683 inmates were convicted on sex-related charges, while 12,068 were convicted on assault charges, 117 are scheduled to be released from prisons across the country between January and February 2023.
The Justice Minister stated that the courts and prosecutors would be kept informed by the Justice Safety Observation Center and if any former felons are ordered by the courts to be detained for re-offending after being released from prison.
Repeat offenders will be sought out by law enforcement and probation volunteers.
According to Mr. Somsak, the ministry has designated detention facilities for the change. The Klong Prem Central Prison in Bangkok will initially serve as a pilot detention facility before a similar facility is opened in major provinces such as Phitsanulok, Nakhon Ratchasima, Ratchaburi, Rayong, and Nakhon Si Thammarat.
"The ministerial regulations to supplement the law must be drafted and implemented within the 90-day window," Mr. Somsak said.