Catholics Nail 8 Devotees to Crosses For Good Friday in The Philippines
In a horrific Good Friday custom that draws thousands of followers and tourists to the Philippines, eight Filipinos were nailed to crosses to reenact Jesus Christ's agony despite being rejected by the Catholic church.
The real-life crucifixions in San Pedro Cutud, an agricultural community in Pampanga province north of Manila, restarted after a three-year hiatus owing to the coronavirus pandemic. Only eight men took part in the ceremony, including 62-year-old sign painter Ruben Enaje, who was nailed to a wooden cross for the 34th time in San Pedro Cutud.
Enaje added in a news conference shortly after his brief crucifixion that he prayed for the abolition of the COVID-19 virus and the end of Russia's war of Ukraine, which has contributed to global gas and food price increases.
"It's just these two countries involved in that war, Russia and Ukraine, but we're all affected," said Enaje, who appeared to be in good health and showed media his two bandaged hands.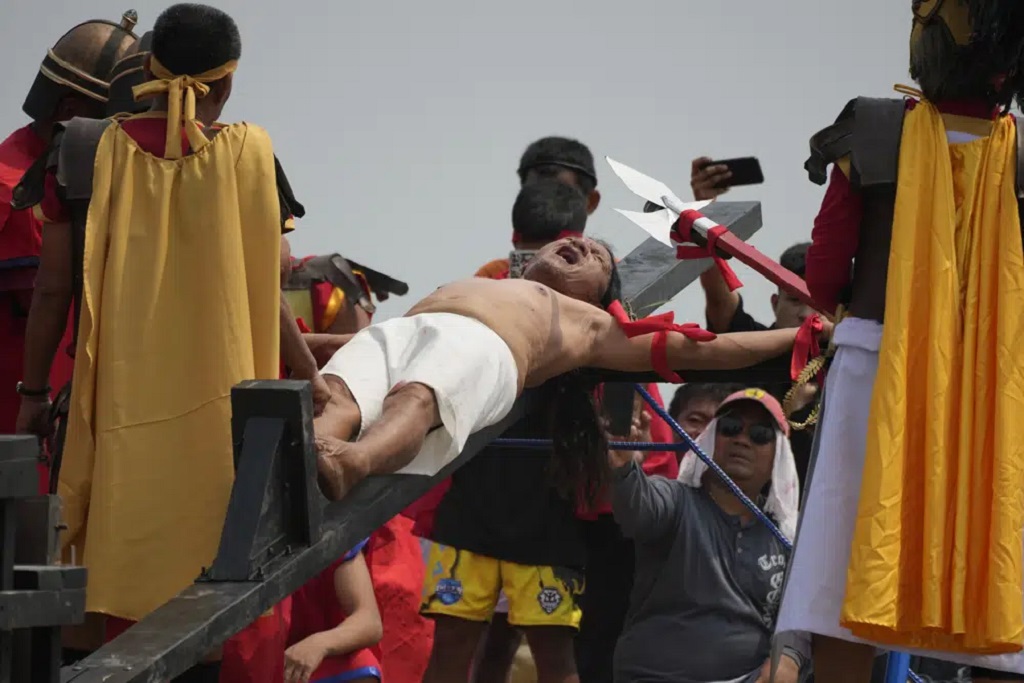 Because of his age, the father of four stated he wished to terminate his unusual penitence, but he would make a definitive decision before Lent next year. While the pain from the nailing was not as terrible as expected, he stated that he was always tense before each crucifixion.
"To be honest, I'm always nervous because I could end up dead on the cross," he told The Associated Press prior to the nailing on Friday.
"My body begins to feel cold when I'm laid down on the cross," he explained. "When I have my hands tied, I just close my eyes and tell myself, 'I can do this.'" 'I can do it.'"
After surviving a near-fatal fall from a three-story building in 1985, Enaje decided to go through the agony in gratitude for what he considered a miracle. He expanded the ceremony when one by one of his loved ones recovered from catastrophic illnesses, making him a village celebrity as the "Christ" in the Lenten recreation of the Way of the Cross.
Enaje and the other worshippers carried heavy wooden crosses on their backs for more than a kilometre (more than half a mile) before their crucifixion on a dusty hill, wearing prickly crowns of twigs. Later, village actors dressed as Roman centurions hammered 4-inch (10-centimeter) stainless steel nails through his palms and feet before hoisting him up on a cross for roughly 10 minutes in the sun.
Other penitents wandered through the village streets barefoot, beating their naked backs with sharp bamboo spears and bits of wood. In the past, some participants used shattered glass to open slashes in the backs of the penitents to ensure the ceremony was sufficiently bloody.
The macabre show exemplifies the Philippines' own brand of Catholicism, which combines church traditions with indigenous superstitions.
Many of the primarily underprivileged penitents participate in the ceremony to atone for sins, pray for the ill or a better life, and thank God for miracles.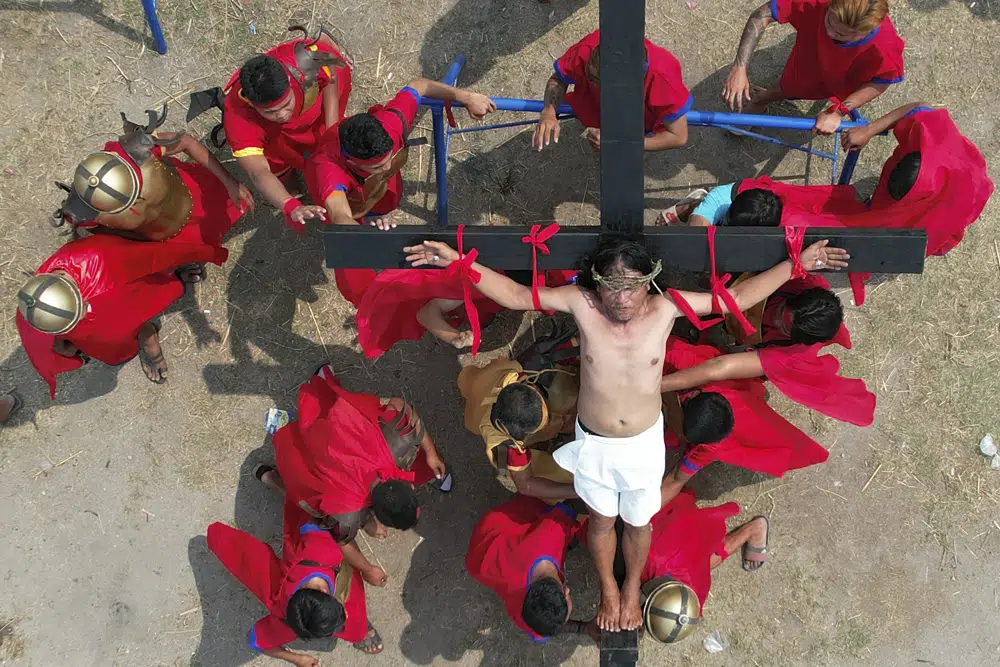 Church officials in the Philippines have condemned crucifixions and self-flagellations, arguing that Filipinos can demonstrate their great faith and religious commitment without injuring themselves and instead by performing charitable acts such as blood donation.
According to Robert Reyes, a famous Catholic priest and human rights activist in the Philippines, the violent rites represent the church's failure to completely educate many Filipinos on Christian beliefs, leaving individuals on their own to seek divine healing for a variety of ailments.
According to Reyes, folk Catholicism has become deeply embedded in the local religious culture, citing a chaotic procession of a black statue of Jesus Christ known as the Black Nazarene each January, which authorities say draws more than a million devotees each year in one of Asia's largest religious festivals. Many people bring towels to wipe on the wooden statue, believing it has healing abilities and may assure good health and a better life.
"The question is, where were we churchgoers when this started?" Reyes inquired, stating that the clergy should be more involved in communities and talk with residents on a regular basis. "Judging them will only alienate them."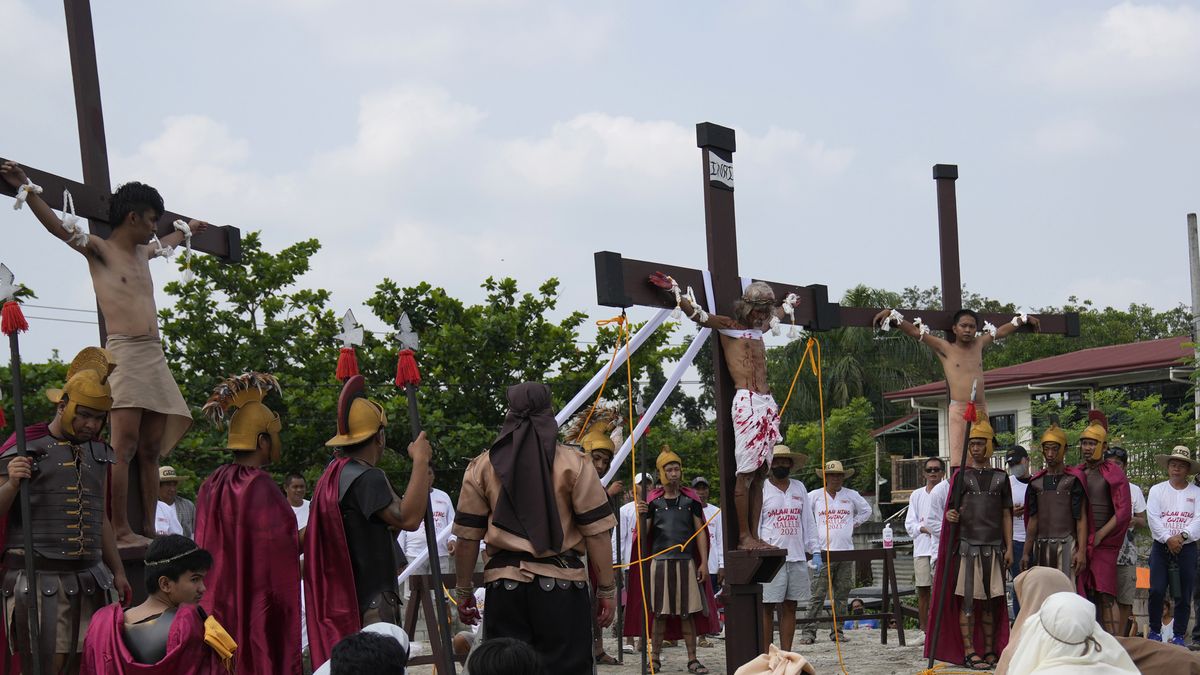 Meanwhile, the centuries-old crucifixion custom has elevated impoverished San Pedro Cutud — one of more than 500 towns in rice-growing Pampanga province — to national prominence.
According to organizers, about 15,000 foreign and Filipino tourists and worshippers converged in Cutud and two other surrounding towns for the cross nailings. There was a celebratory atmosphere as residents sold bottled water, hats, food, and religious artifacts while police and marshals maintained order.
"They like it because there's nothing else like it on the planet," said Johnson Gareth, a British tour organizer who brought 15 tourists from eight nations, including the United States, Canada, and Germany, to see the crucifixions. "It's not as horrible as people believe. They expect it to be terribly gruesome or repulsive, but it is not. It's done with utmost respect."
Gareth previously stated that tourists were "genuinely inspired, and I believe they left with a newfound respect for people's beliefs."
Philippines Gives US 4 Additional Locations for Military Bases