Pakistan Religious Court Rules Trans People Cannot Change their Gender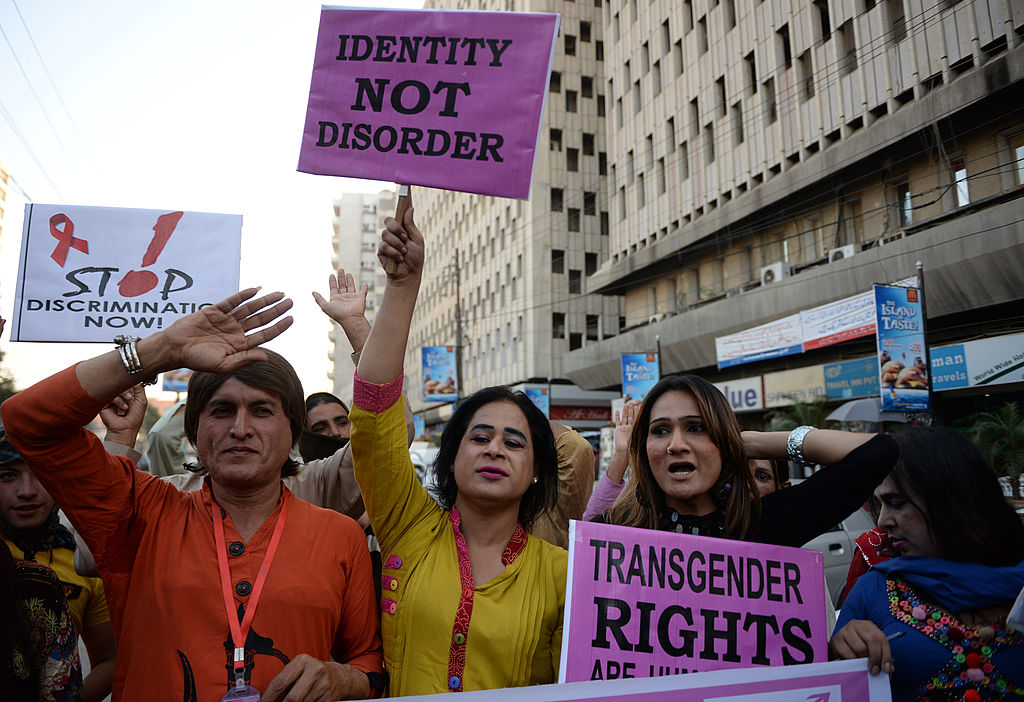 Transgender activists in Pakistan announced on Saturday that they want to file a Supreme Court petition challenging a verdict by Pakistan's religious tribunal that declared various transgender legal protections UN-Islamic and hence unconstitutional.
The Federal Shariat Court, which evaluates whether laws are in accordance with Islam, struck down three provisions of a 2018 act lauded for offering groundbreaking rights to the transgender community on Friday.
Parliament passed the Transgender Persons (Protection of Rights) Act in 2018 to protect the rights of transgender Pakistanis. It ensures, among other things, their access to legal gender recognition.
The 2018 guidelines were startlingly modest for the Islamic country, given that Pakistan also does not recognise same-sex marriage and forbids sex between men, among other restrictions.
Several elements of the historic law were ruled down by the Federal Sharia Court as "UN-Islamic." It determined that a person cannot change their gender based on their "innermost feeling" or "self-perceived identity" and must conform to the biological sex assigned to them at birth.
It rejected a law provision that allows the country's national database and registration authority to modify a person's biological gender from the one assigned at birth on identifying documents such as driver's licences and passports.
Trans discrimination in Pakistan
The court also concluded that the legal definition of "transgender" causes uncertainty. It addresses numerous biological variances, including intersex, transgender men, transgender women, and Khawaja Sira, a Pakistani name for individuals who identify as feminine but were born male.
According to the judges, a portion of the 2018 act prohibiting transgender discrimination jeopardises "the right to privacy of females in our society."
"This law will make it easier for criminals in society to commit crimes such as sexual molestation, sexual assault, and even rape against females," according to the findings.
The court, however, stated that Islamic law recognises the existence of intersex individuals and eunuchs and that they should be entitled to all of the fundamental rights guaranteed to Pakistanis in the constitution.
The Pakistan Human Rights Commission voiced outrage over the "regressive ruling," claiming that rejection of transgender people's rights to self-perceived gender identity aims the "erasure of an entire demographic and its fundamental rights."
It claimed that repealing the transgender bill would further marginalise and mistreat an already vulnerable minority in Pakistan.
Gender-diversity in Pakistan
Amnesty International has urged the government to halt all efforts to prohibit transgender persons from acquiring official documentation matching their gender identification without complying with oppressive and invasive conditions.
"This verdict is a setback for the already vulnerable group of transgender and gender-diverse people in Pakistan," said Rehab Mahamoor, research assistant at Amnesty International.
"This decision will increase incidents of violence against transgender people," said Shahzadi Rai of the Gender Interactive Alliance and the trans pride Moorat March organisation in Sindh province.
"Transgender people will be pushed further against the wall in society," Rai warned in a statement following the Supreme Court's announcement at the Karachi Press Club.
Many Pakistanis hold deeply held attitudes about gender and sexuality, and transgender persons are frequently seen as outsiders. To make ends meet, some are forced to engage in begging, dancing, and even prostitution. They are likewise terrified of being attacked.
According to the Human Rights Commission of Pakistan, 19 trans individuals were murdered in Pakistan last year, and the government has "cold feet" when it comes to community rights.
Transgender people, often known as hijras or khawaja siras, face distinct obstacles in Pakistan. While transgender individuals have a long history in the country, they have historically been marginalised and discriminated against. However, there have been some encouraging initiatives in recent years aimed at improving the rights and situations of transgender people in Pakistan.
In 2009, Pakistan's Supreme Court officially recognised a third gender category, allowing transgender people to identify as neither male nor female on official documents. This acknowledgement was a crucial step towards recognising transgender people's rights and defying established gender stereotypes.
Transgender people face hurdles
The Transgender Persons (Protection of Rights) Act was passed in 2018, with the goal of protecting transgender people's rights and addressing concerns such as discrimination, harassment, and assault. The law forbids discrimination in employment, healthcare, and education, and it permits people to self-identify as female or male without requiring medical or surgical intervention. It also provides for the development of safe houses as well as healthcare services and vocational training centres for transgender people.
Despite these legal advances, transgender people in Pakistan face numerous hurdles. The transgender community continues to experience discrimination, social stigma, and violence. Many transgender people struggle to obtain work and face impediments to healthcare and education. They frequently resort on begging, dancing, or sex work to make ends meet, exposing them to additional exploitation and vulnerability.
In Pakistan, there are also organisations and activists striving to push for transgender rights. Some non-governmental organisations (NGOs) provide support services such as healthcare, counselling, and vocational training to empower transgender people and improve their quality of life. To counter prejudices and encourage acceptance and understanding, awareness programmes, cultural events, and community activities are also being implemented.
Overall, while there has been progress in recognising transgender individuals' rights in Pakistan, there is still a long way to go in reaching full equality and eliminating discrimination and problems experienced by the transgender population.