Oil Tanker Explodes South of Bangkok, 1 Dead, 4 Injured, 7 Missing
On Tuesday morning, an explosion aboard an oil tanker killed one dock worker and injured 4 others at a dockyard just south of Bangkok on the Mae Klong river. Eight houses near the dock were damaged after an explosion aboard the tanker Smooth Sea 22 shortly after 9 a.m.
According to the Bangkok Post, a second body was discovered inside the oil tanker, burned beyond recognition. According to authorities seven people were still missing
The oil tanker Smooth Sea 22 was undergoing routine maintenance at Ruammitr Dockyard just south of Bangkok. The explosion could be heard and felt for several kilometers. Houses' glass windowpanes were shattered.
Authorities stated that the explosion occurred during welding while approximately 10 workers were aboard the ship and approximately 30 others were on the dockyard's bank.
One worker has been confirmed dead. The right leg of the deceased man was discovered about 500 meters from the tanker. Four other people were confirmed injured, one Thai and three Myanmar citizens. Six people from Myanmar and one Thai were still missing.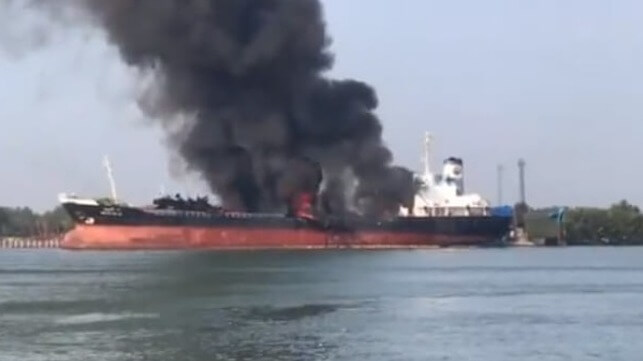 The governor said the tanker still had 25,000 liters of fuel oil and 20,000 liters of diesel onboard while moored for maintenance. It had previously been reported that it was empty.
The Marine Department announced about an hour later that the fire on the ship had been extinguished and that eight dockyard workers were missing.
The fire department was looking into the cause of the fire.
According to Mr. Niyom Songkaew, chief of the Department of Labour Protection and Welfare, the provincial labor protection office will question the employer and others to determine if the Occupational Health and Safety Act was violated.
Video of Oil Taker Explosion