North Korea Displays 'several' Number Of ICBMs In Military Parade
(CTN NEWS) – SEOUL – State media stated on Thursday that North Korea's Kim Jong Un presided over a significant military display that featured a record number of nuclear and intercontinental ballistic missiles, including what observers speculated would be a brand-new solid-fueled ICBM.
The official Korean Central News Agency stated that troops marched in unison to spell out "2.8" and "75" as part of the parade honouring the 75th founding anniversary of the nation's armed forces.
State media images showed Kim, his wife Ri Sol-ju, and daughter Ju Ae attending the march on February 8 as they were all dressed in the black coat and fedora combination that his grandfather and North Korea's founding leader Kim Il Sung used to wear.
Images showed the top commander saluting as troops and missile units passed by while standing surrounded by his top generals and inspecting rows of soldiers brandishing bayonets.
At least ten of the nation's largest Hwasong-17 ICBMs were on display, along with vehicles that appeared to be built to transport an ICBM with solid fuel, according to the Seoul-based specialized site NK News.
Long sought after by North Korea, a solid-fuel ICBM might help make its nuclear weapons more difficult to find and destroy.
Onlookers heard cheering when the ICBMs appeared in the square, according to KCNA, which also noted that a "tactical nuclear operation unit" was included in the display.
To commemorate significant occasions and holidays, North Korea has military parades, keenly watched by outsiders for signs of the development of its prohibited missile and nuclear weapons.
According to KCNA, the parade displayed "the country's biggest nuclear assault capacity."
At 9.05 p.m. Singapore Time on Wednesday, a giant North Korean flag and a crowd of thousands of people were seen in commercial satellite photographs acquired by Maxar Technologies.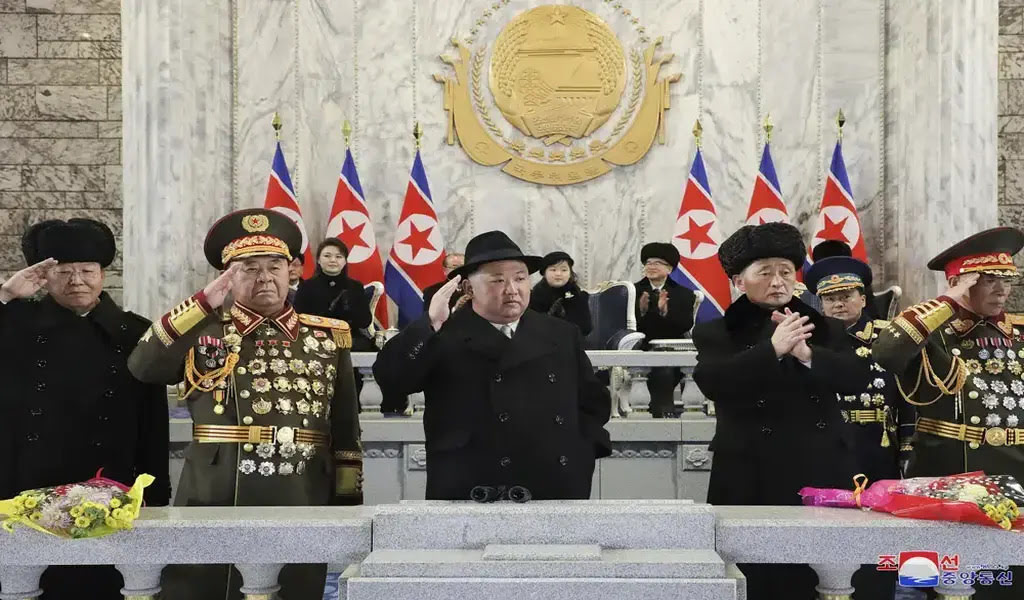 FLEXIBLE NUCLEAR POWER
According to analysts, the size and variety of the weaponry on exhibit demonstrated advancements that posed a threat to the United States.
According to US-based expert Ankit Panda of AFP, North Korea "showed more ICBMs in the most recent parade than they've ever revealed, consistent with a long-standing order from Kim Jong Un on mass building nuclear weapons and delivery systems."
He noted that this is problematic given that Washington designed its home missile defense system to counter a "limited" missile threat from North Korea.
He claimed North Korea has shown that its nuclear arsenal was far from being "limited."
Other observers claimed that Pyongyang was sending a clear message by flaunting more of Kim's most sophisticated Hwasong-17 missiles than had ever been seen before.
Leif-Eric Easley, a lecturer at Ewha University in Seoul, told AFP that North Korea was attempting to establish itself as a fully functional nuclear power.
UPCOMING GENERATION
Kim's children were never mentioned in Pyongyang's state media for years; according to Seoul's spy service, he and his wife Ri have three kids. However, in November of last year, at an ICBM launch, Kim unveiled Ju Ae.
Since then, the 10-year-old has made numerous high-profile appearances with her father, most recently at a gala on Tuesday to commemorate the army's foundation anniversary.
She is compared to a North Korean "royal," and analysts believe her father's frequent appearances with her suggest she is his chosen successor.
He was chosen as Kim Jong Il's successor over his older children because he closely resembled him.
The most recent of North Korea's four recent nighttime military displays were held last month.
The parade takes place after North Korea, which had a record-breaking year of nuclear tests, including the launch of its most capable intercontinental ballistic missile, pledged to increase and intensify military exercises to strengthen its readiness for war.
Kim reportedly requested an "exponential" expansion of Pyongyang's nuclear arsenal, calling for the mass production of tactical nukes and the creation of new missiles for nuclear counterattacks.
RELATED CTN NEWS:
Restrictions On Twitter Access Complicate Rescue Efforts In Turkey