Police Seize Crystal Meth Worth US$28.9 Million in Northern Thailand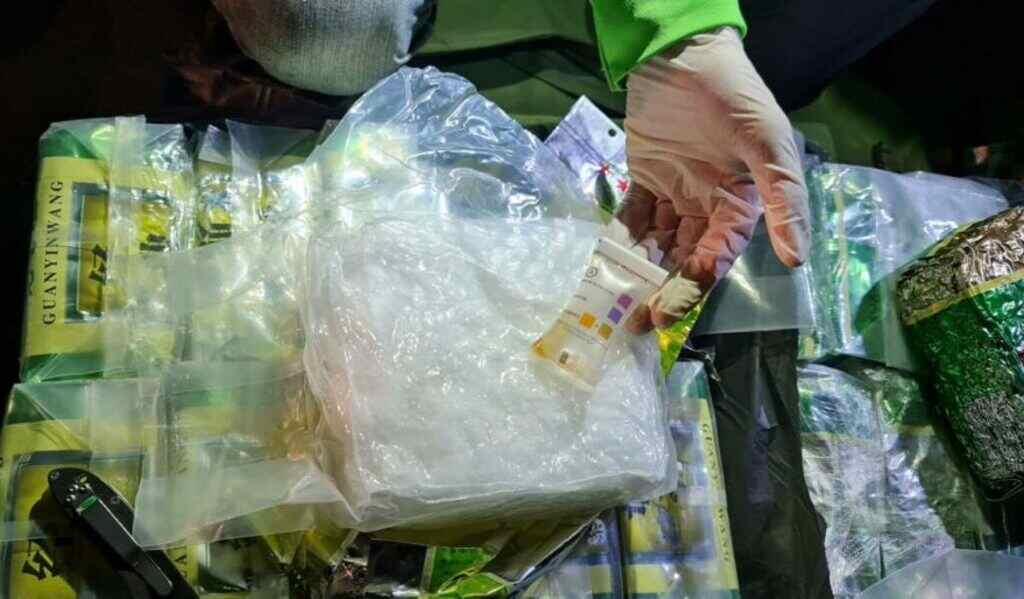 Two drug runners were apprehended early Monday in northern Thailand's Chiang Mai province after 281 kilograms of crystal meth were discovered in the pickup truck they abandoned during a police chase in Fang district on Sunday night.
According to the Northern Border Narcotics Control Operations Centre, police arrested Keng Pingyos, 36, and Nikorn Inchan, 37, both of Dok Kham Tai district of Phayao, at Kaeng Pantao checkpoint in tambon Mae Na of Chiang Dao district around 1.30am on Monday.
A pickup truck had been pursued by police and soldiers from Huai Mayom village in Fang district to Huai Bon village in the same northern Thailand district just a few hours before. The two men in the vehicle fled in another pickup around 10.20 p.m.
The chase team searched the abandoned vehicle and discovered 281 packages of crystal meth, each weighing approximately one kilogram, hidden inside 17 rucksacks and a fertiliser sack.
A black pickup truck with Phayao license plates was stopped at the Kaeng Pantao checkpoint in tambon Mae Na around 1.30 a.m. on Monday. Its two occupants were apprehended.
During questioning, the suspects admitted to fleeing the abandoned pickup truck found loaded with drugs, according to the operations centre.
They were turned over to narcotics officers for legal action. According to a source, the seized crystal meth is worth more than one billion baht (US$28.9 million) on the black market in Thailand.
Scammers stole US$898 million
Meanwhile, police said on Tuesday that online and phone-call scammers stole 31.58 billion baht (US$898 million) from 218,210 complainants in the previous year. The figures were gathered from March 1 last year to March 11 this year, according to Pol Lt Gen Sompong Chingduang, assistat police chief.
The greatest harm was caused by investment scams. Victims filed 16,460 complaints and told police they were duped out of 7.66 billion baht in total, according to Pol Lt Gen Sompong.
During the same time period, police received 29,945 complaints about job search scams, with complainants claiming a total loss of 3.32 billion baht.
There were 81,288 complaints about shopping scams, resulting in losses of 1.01 billion baht. There were also 24,821 reports of loan scams requiring victims to pay "upfront fees" totaling 1.03 billion baht.
Imposter scams resulted in 7,285 complaints and a total loss of 254 million baht. Meanwhile, there were 3,201 romance scams that defrauded victims out of 1.56 billion baht.
According to Pol Lt Gen Sompong, many scammers pretended to be government officials and duped their victims into providing personal information and clicking links that gave them control of their victims' bank accounts.
Scammers took advantage of people by claiming to facilitate subscription to the government's welfare schemes. The government recently announced that 14.6 million low-income people will be able to register for benefits under a new phase of the state welfare card program, which will begin on April 1.
Gangland murder arrests
Five men were arrested in southern Thailand for the gangland murder of four men whose bodies were discovered on February 21 in Narathiwat province's Waeng district.
The suspects arrested were Mahama Suwan-ayi, Asri Cheko, Esan Chenawae, and Methawat Arun from Waeng district, and Nathawut Wae-abdullah from Sukhirin district, according to Narathiwat police superintendent Pol Maj Gen Anurut Im-ab on Tuesday.
The search for two more suspects continued.
According to Pol Maj Gen Anurut, the five were involved in the murder of four men on February 21 at a house in an oil palm plantation in Ban Koso, Moo 1 village, tambon Waeng.
Muhammad Areeya Rohmad, 38, of Narathiwat's Sukhirin district, Niheng Prapeh, 27, of Sungai Kolok district, Asawee Muelee, 19, of Sukhirin district, and Museng Yako, 33, of Sukhirin district were the four men killed.
According to Pol Maj Gen Anurut, Mr Mahama, Mr Asri, and Mr Esan are accused of murdering the four men with a 9mm pistol and a shotgun.
Mr Methawat, Mr Nathawut, and the two other suspects still at large loaded the bodies of Muhammad, Niheng, and Asawee into the trunk of a car and drove to Jue Rae lake in tambon Mae Taeng's Moo 1 village. The car, which still had the bodies in the boot, was driven into the lake and abandoned.
The four returned to the oil palm plantation house. According to police, they then took Museng's body in Mr Methawat's pickup to the Kolok river near Ire Pase, the Moo 7 village in tambon Kholo, Waeng district, and dumped the body in the river.
According to Pol Maj Gen Anurut, the five suspects confessed to their roles in the murders. He claimed that forensic examination of spent 9mm cartridges, blood stains, and fingerprints collected at the scene provided sufficient evidence against them.
The motive was thought to be a feud between gang members.
The investigation into the murders was ongoing, as was the search for the remaining suspects.
Over 1.3 Million People Sickened By Air Pollution in Thailand