Landmark Non-Monogamy Case Big Score for Polyamory Community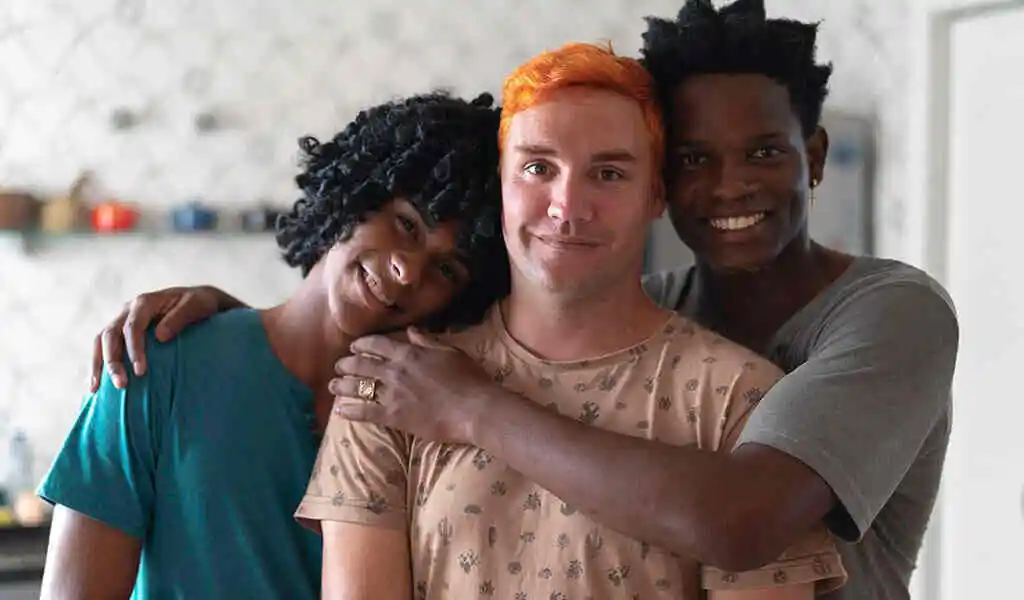 When Erez Benari, a 48-year-old engineer from Redmond, Washington was sued by his former spouse over being polyamorous, things seemed dire. The lawsuit, spanning almost 1400 pages, accused Benari of exposing his child to polyamory and asked the court to restrict his time with his child and have his visitation be supervised. However, in a landmark decision, King County Judge Jason Holloway ruled in favour of Benari, thereby cementing the civil rights of polyamorous people in the state, with potentially far-reaching impacts to the entire polyamory movement and community.
"I knew my ex-wife was vehemently against polyamory, but I never thought it would come to this," said Benari in an interview. The lawsuit filed is based on a clause entered by his former spouse into their divorce decree which reads "If the relationship is non-monogamous, the father and his partner shall not divulge that fact or discuss it with the child. The father will not include the child in a social gathering where such information may be divulged accidentally or discussed.", which Benari's former spouse claimed he broke. "It was clear to me right away that the clause is a violation of the 1st amendment," said Benari, "and even though I was against it, a family law attorney advised me it is unenforceable, so I didn't put up much of a fight, "he added. About a year after the divorce was finalized and ratified by the Seattle family court, Mrs Benari filed a lawsuit through her attorney Juliana U. Wong, a junior attorney at Bellevue law firm Inslee Best Doezie & Ryder. The lawsuit claimed Benari "exposed" his child to polyamory, though the case was unspecific whether any actual harm was done from that. As a result, the judge who initially reviewed the case refused to convict Benari or award damages to Mrs Benari.
Approximately a year later, Mr Benari filed to change custody over the child following reports of arising conflict with Mrs Benari's new boyfriend and his child. Benari was unable to win custody, but Mrs Benari retaliated by re-filing her own case, accusing him once again with contempt of court. This time, the case was supported by an affidavit from the child's therapist, Dominique Walmsley, who claimed exposure to polyamory was confusing to the child. When presented to the court, the presiding commissioner rejected the evidence vehemently, citing that it was hearsay evidence, as it was prepared by the plaintiff explicitly for the purpose of the hearing. The commissioner also pointed out to Mrs Benari and her attorney that basing their entire case on hearsay is highly frowned upon by the court ruled that Mr Benari did not violate the parenting plan and cleared him of all wrongdoing.
"Naturally, I'm glad to be over this harassment, "admits Benari, "but even more so, I'm glad that the court clearly illustrated to both Mrs Benari and to anyone else who considers attacking polyamory that in the 21st century, you can't expect a court to try to control love. Just like you can't be fired for being Gay or Trans in this day and age, no one should be kept away from their children because of who they go home to," said Benari.
Polyamory, which is a type of open relationship, has been growing in popularity all over the world over the past few years. Historically, most human civilizations have practised some sort of non-monogamy, but the advent of Christianity led to the adoption and spread of monogamy, with most of the western world coming to think of it as the only way. However, around the 1960s, the United States experienced a resurgence of non-monogamy, visible in the form of the values of free-love practised by the hippie movement of that era. The idea spread, alongside various forms of non-monogamy that vary in their level of ethics and openness. Part of this value system was symmetric non-monogamy, meaning that women were free to engage in multiple relationships, as opposed to more traditional non-monogamy, where only men were permitted to have multiple partners.
While the term Polyamory itself was coined all the way back in the 70s, Polyamory has only really gained strong popularity in the last 5 years, as it has started to receive more and more media attention. In addition to news coverage of the topic, non-monogamous relationships received screen-time in movies and TV shows, including some very high-profile programs such as House of Cards, which featured non-monogamy sub-plots and storylines in its 4th season, broadcast in March 2016.
Due to the massive media coverage, more and more individuals started exploring polyamory, and it is currently estimated that at least 5% of Americans practise it regularly, and at least 15% have been in a polyamorous relationship at some point in their lives. These numbers are also estimated to be even higher in certain areas, such as Oregon and Washington in the Pacific Northwest, as well as some parts of California and New York. However, as experienced by Benari, not everyone is as open and accepting, and many individuals have had to deal with legal challenges related to divorce, child custody and property ownership in such scenarios.
Another realm that has caused challenges to many is that of employment benefits. Most companies don't recognize polyamorous relationships as legitimate, and so benefits that normally extend to an employee's domestic partner (whether married or not) are often withheld from a 3rd or more partners, regardless of their marital or domestic status. But the climate is changing, as the growing prevalence of polyamory is wide-reaching. In the state of Massachusetts, several cities have enacted legislation in support of non-monogamous partnerships over the last two years, and there are several other cities that are in the midst of planning similar steps. Even some states have taken certain steps, such as the state of California, where a court recently permitted a polyamorous family of three to have all listed as legal parents of a child born to the family. Legal experts estimate that western civilization is likely only a few years away from full adoption of polyamory into law on a federal level, thus permitting legal union of 3 or more individuals in a similar fashion to marriage. According to said experts, the Internal Revenue Service, despite its monolithic and archaic image, is actually often at the forefront of progress, legally speaking. As it pertains to polyamory, legal polyamorous unions could lead to an increase in tax collection and revenue, thus giving the IRS a good reason to support such changes in legislation. While polyamorous families already conduct unofficial union ceremonies commonly, those are not legally binding, but this could change quite soon. Times will tell!
People Also Read:
Learning the Necessary Documents to Get a Forex License
Top 5 Unique Offers by eToro Forex Trading