King Charles III Crowned at Westminster Abbey "Long Live the King"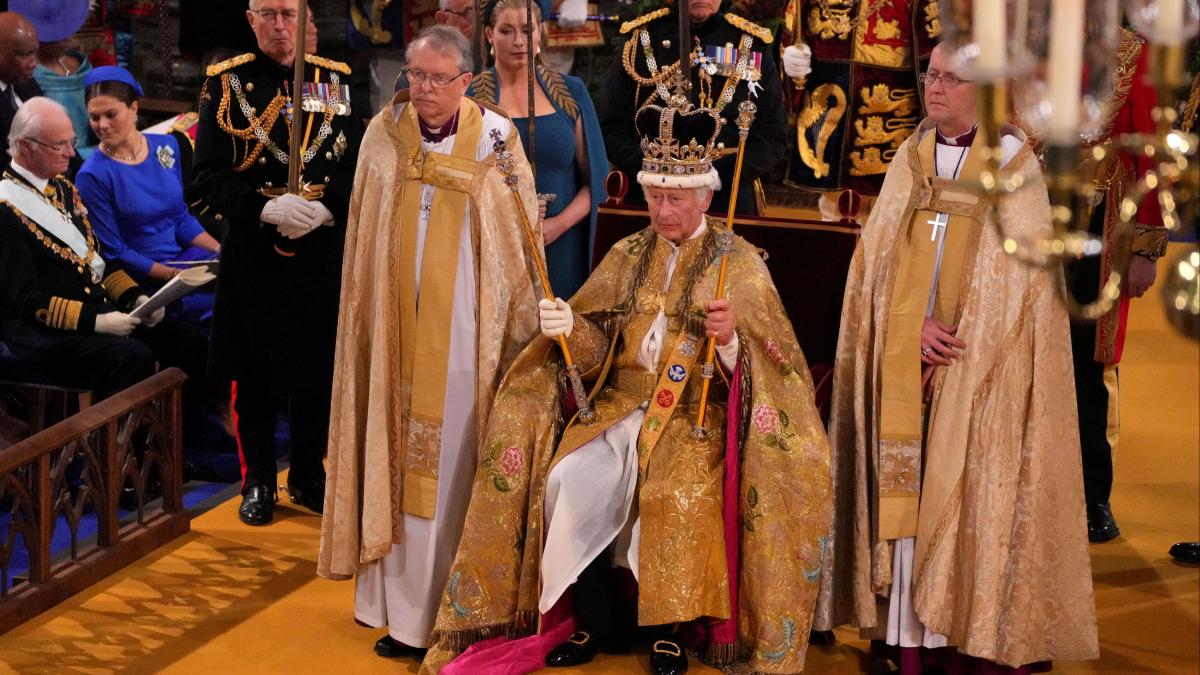 At a time when the monarchy is struggling to remain relevant in a broken modern Britain, King Charles III was crowned Saturday at Westminster Abbey in a ceremony steeped in old ritual and filled with glitter.
Charles was handed an orb, a sword, and a sceptre at his coronation, and the solid gold, bejewelled St. Edward's Crown was put atop his head as he sat on a 700-year-old wood chair.
The queen said, "I come not to be served, but to serve," in front of world leaders, foreign royals, diplomats, and a smattering of stars, and was presented as Britain's "undoubted king."
Inside the medieval monastery, trumpets rang out, and the assembly of around 2,000 people sang, "God save the king!" Thousands of troops, hundreds of thousands of spectators, and scores of demonstrators gathered outside.
It marked the end of the king's seven-decade journey from heir to monarch.
The event, code-named Operation Golden Orb, was a show of legacy, tradition, and spectacle unparalleled in the world, according to the royal family and administration.
It was an opportunity to be a part of a historic event for the crowds assembled under stormy sky, thousands of whom had tented overnight.

Dignitaries Watch Coronation of King Charles III
The monastery was buzzing with excitement as the day began, and it was adorned with fragrant flowers and colourful headgear. Notables in attendance were US first lady Jill Biden, Ukrainian first lady Olena Zelenska, French President Emmanuel Macron, eight current and previous British prime ministers, judges in wigs, troops with gleaming medals, and celebrities such as Judi Dench, Emma Thompson, and Lionel Richie.
During a slightly modified Anglican ceremony, Charles, dressed in red and cream velvet and ermine-trimmed robes, swore on a Bible that he is a "true Protestant."
However, a prelude to the coronation oath was added to state that the Anglican church "will seek to foster an environment where people of all faiths and beliefs may live freely." It was the first ceremony to involve Buddhist, Hindu, Jewish, Muslim, and Sikh dignitaries, as well as the first to include female clergy.
Before being presented with the Sovereign's Orb and other regalia, Charles was anointed with oil from the Mount of Olives in the Holy Land, a part of the rite so sacred that it was hidden behind screens.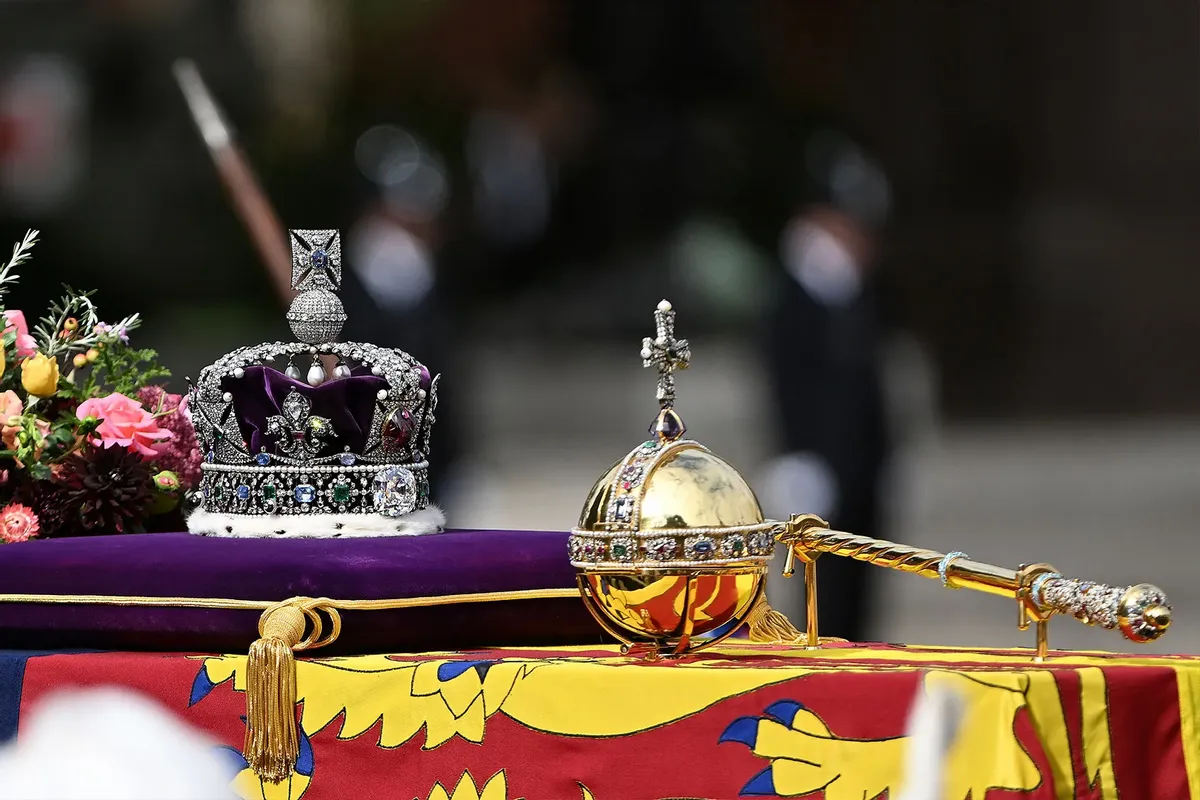 St.Edwards Crown
The crown was then placed on Charles' head by Archbishop of Canterbury Justin Welby while he sat in the Coronation Chair, which was formerly golden but is now weathered and engraved with graffiti. Underneath the seat lay a hallowed stone known as the Stone of Scone, which was used to crown ancient Scottish monarchs.
Such spectacular rites have confirmed the authority of British kings to rule for over 1,000 years. Charles was the abbey's 40th ruler – and the oldest, at 74 years old.
Since Charles automatically became monarch with the death of his mother, Queen Elizabeth II, in September, the king no longer has executive or political power, and the service is strictly ceremonial.
The king remains the head of state and a symbol of national identity in the United Kingdom, and Charles will have to struggle to unite a multicultural nation and shore up support for the monarchy at a time when it is dwindling, particularly among younger people.
While most Britons see the monarchy with apathy to mild interest, some are vehemently opposed to it. Republic, an anti-monarchy organisation, said six of its members, including its chief executive, were arrested on their way to a protest in central London.
Police said they made 52 arrests after warning that they would have a "low tolerance" for anybody attempting to disrupt the day. Arrests of peaceful protestors were described by Human Rights Watch as "something you would expect to see in Moscow, not London."

Less Expensive Royal Machine
The multimillion-pound cost of all the pomp — the actual sum is unknown — also irritated some in the midst of a cost-of-living crisis in which many Britons are struggling to pay their energy bills and buy food.
King Charles has aspired to head a smaller, less expensive royal machine for the twenty-first century, and his coronation was a shorter, more intimate occasion than his mother's.
The royal family's usually squabbling members put on their own show of solidarity. Prince William, the next in line to the throne, his wife Kate, and their three children were all present. William knelt before his father near the end of the ceremony and promised fealty to the monarch before kissing him on the cheek.
Archbishop Welby then encouraged everyone in the abbey to pledge "true allegiance" to the queen. He added anyone watching on television may also pay their respects — however that element of the ceremony was toned down after some criticized it as a tone-deaf attempt to make Charles take a public oath of fealty.
Prince Harry, William's younger brother who has publicly feuded with the family, arrived alone. His wife Meghan and their children stayed in California, where the couple has resided since leaving the royal family in 2020.
After the ceremony, as Charles and the other prominent royals joined a beautiful military procession, Harry stayed outside the abbey until a car arrived to whisk him away.
Large crowds cheered as Charles and Queen Camilla travelled in the Gold State Carriage from the abbey to Buckingham Palace, preceded by a parade of 4,000 troops and military bands performing upbeat tunes. The king and queen waved from the royal balcony to a sea of people cheering and shouting "God Save the King!"
The Crowning Moment of King Charles