Japan Perplexed Over Sphere Media is Calling "Godzilla Egg" that Washed Ashore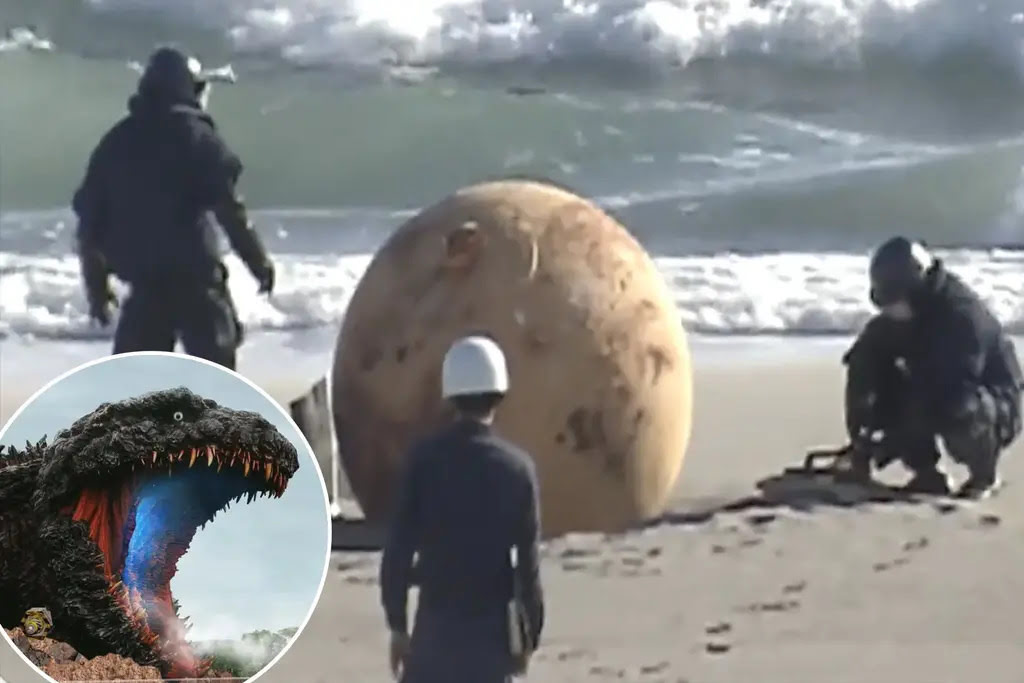 Residents and authorities in Hamamatsu Japan are perplexed after a large metal sphere the media has labelled "Godzilla Egg" washed ashore earlier this week onto Enshuhama beach. The sphere was first spotted by a passerby who reported it to the authorities.
After noticing the unusual 1.5m-wide spheret on Enshuhama beach, an unidentified local man alerted the police. When the authorities arrived on the beach, the bomb squad was dispatched to investigate the sphere.
NHK, Japan's public broadcaster, aired footage of two officials on the beach inspecting the russet sphere, which appears to be rusted and made of metal. The police have cordoned off the area and X-rayed the sphere.
They have stated that it is not a bomb and poses no threat. Its origins, however, are unknown, and it will be removed from the beach soon.
According to the Asia One, photographs of the object have been sent to the Self-Defense Forces and the Japan Coast Guard for further investigation.
A mysterious metal ball spotted on a beach in Hamamatsu City this week prompted local police to scramble the bomb squad. A careful examination revealed it is not a threat — but shed no light on what it actually is. pic.twitter.com/ytClWsP0bw

— NHK WORLD News (@NHKWORLD_News) February 21, 2023
An unidentified runner told NHK that the commotion surprised him because the sphere had been on the beach for quite some time.
"That ball has been sitting there for a month. "I tried to push it, but it wouldn't budge," the man explained.
The sphere has been dubbed "Godzilla Egg," "mooring buoy," and "from outer space" by Hamamatsu residents. Others thought it was an unidentified flying object that had fallen from the sky and resembled something from the popular Japanese manga series Dragon Ball.
After Japan said it "strongly suspected" several Chinese spy balloons had been spotted over its territory in recent years, the TV footage of the sphere sparked speculation on social media.
Japan expressed its concerns to China on Wednesday about suspected surveillance balloons spotted over its skies at least three times since 2019 — an allegation it made last week. Beijing denies any espionage.
The defence ministers of both countries met on Wednesday (Feb 22) for the first senior bilateral security dialogue in four years. Both parties agreed to work together to establish a communications hotline this spring.
The sphere's discovery coincides with the spotting of objects in various locations since the United States shot down what it claimed was a spy balloon earlier this month. The balloon was spotted over Montana, causing concern as the US government tracked its path across the state. It was shot down near South Carolina's coast and recovered in the Atlantic Ocean.
Japanese Government Considers Raising The Age Of Consent From 13