Massive Forest Fire Engulfs 2 Mountain Tops in Central Thailand
Authorities in Thailand used helicopters to try to put out a forest fire that had engulfed two mountains on largely undeveloped forest in Nakhon Nayok province northeast of Bangkok last night.
The fire broke out Wednesday night in Nakhon Nayok province, 114 kilometers (70 miles) northeast of Bangkok, but firefighters were unable to directly combat it because the mountains are too steep to safely climb, especially at night, according to provincial Governor Bancha Chaowarin.
"Aside from the wind's direction, I must also consider the lives and safety of those carrying out the operation." "After reviewing the situation, we had to retreat to standby because it is on a mountaintop," Bancha said late Wednesday night.
At least ten firefighting vehicles were dispatched to fight the fire, and they were joined Thursday afternoon by at least two helicopters, which surveyed the situation and dropped water.
Initially, efforts to put out the fire focused on building firebreaks.
According to Coconuts Bangkok, Bancha stated that the fire could be brought under control in five days but that he would try to do so in three.
Other forest fires have erupted in provinces further north in recent days as seasonal temperatures rise, a recurring issue that contributes to dangerously high levels of air pollution.
By noon Thursday, the fire had burned about 700 rai (about 275 acres, or 112 hectares) of forest in Nakhon Nayok, according to Bancha.
The fire started on a high point of Khao Chaplu mountain and spread to the neighbouring Khao Laem mountain. According to local media, it burned easily because much of the vegetation was bamboo, and high winds fanned the flames.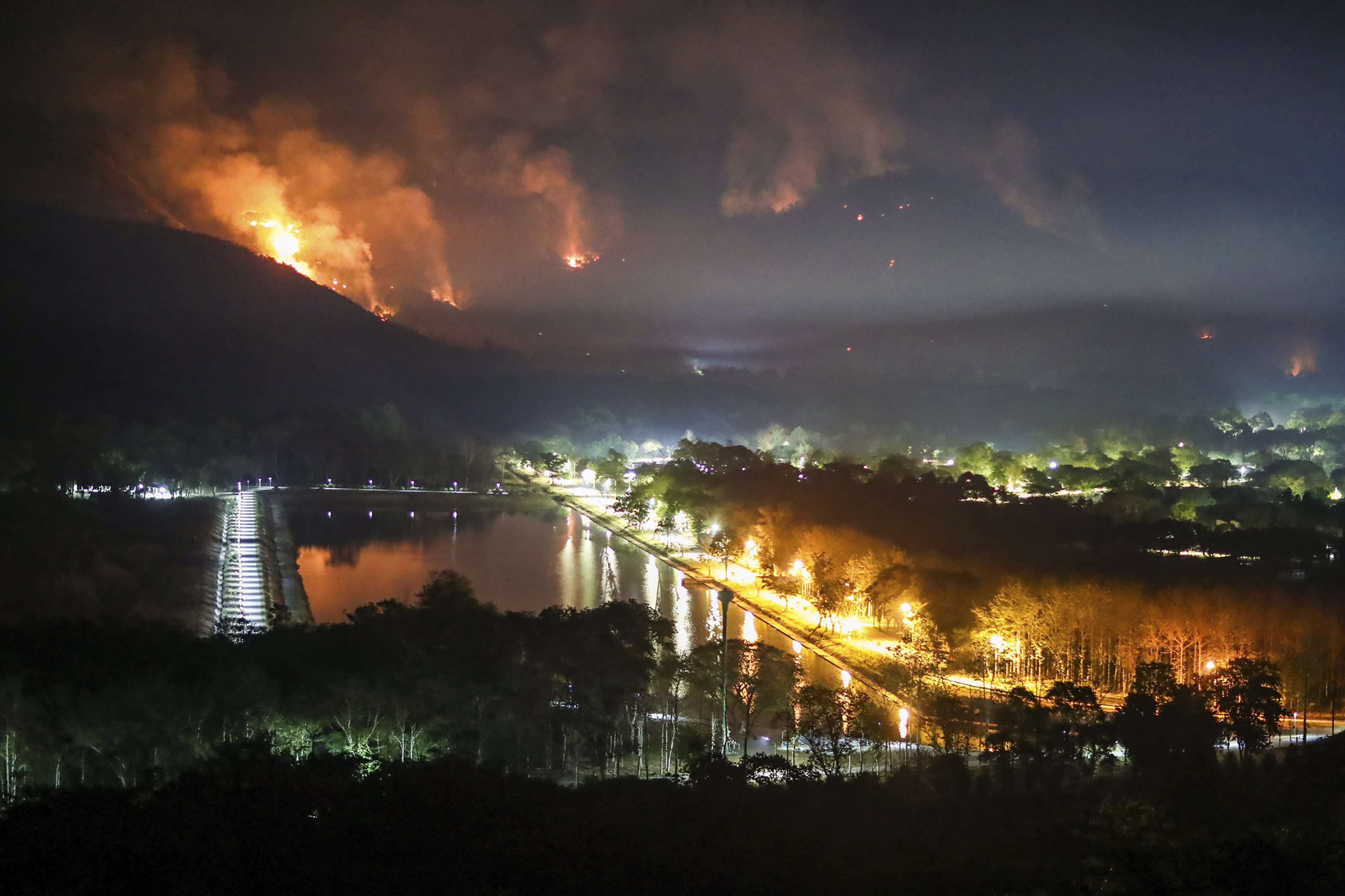 The mountains are located on a large plot of land near one of Thailand's most well-known nature reserves, Khao Yai National Park. The Chulachomklao Royal Military Academy, Thailand's version of West Point, is close to where the fire started, and a village of about 500 people is about 1 kilometre (half a mile) away, according to Thai Rath. Residents were warned to notify authorities if they saw any wild animals fleeing the burning forest.
According to government spokesman Anucha Burapachaisri, Prime Minister Prayuth Chan-ocha was closely monitoring the situation and had ordered officials and the army to mobilize to stop the fire's spread.
He went on to say that Prayuth had directed officials to keep an eye out for anyone deliberately lighting fires to clear land for farming or other purposes, a practice that has been blamed for previous fires. The cause of the fire in Nakhon Nayok was unknown, though some local media reports suggested it was caused by lightning.
According to Bancha, a storm on Tuesday ignited a fire nearby, and strong winds blew to the Khao Laem area.
Separate forest fires have been raging further north, according to Anucha, including in Chiang Mai province, where water was dumped from the sky Wednesday in an attempt to put out the flames.