FDA Advisors Recommend AstraZeneca and Sanofi Antibody for Protecting Babies from RSV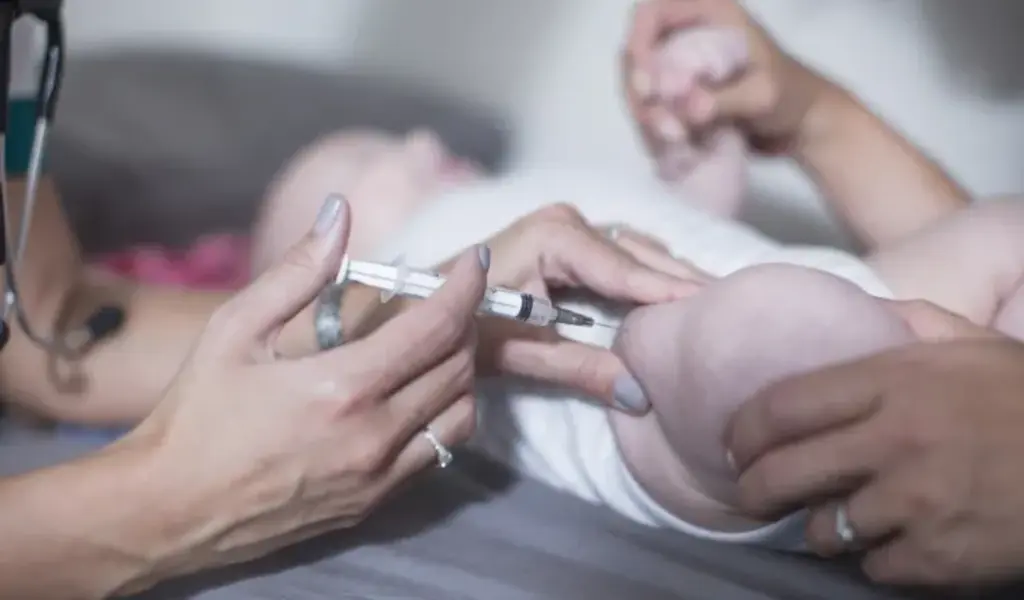 (CTN News) – Among the top causes of newborn hospitalization is an (RSV) respiratory syncytial virus, and a panel of independent advisors to the FDA unanimously recommended Thursday that the antibody nirsevimab be licensed to protect infants from the virus.
Nirsevimab Could Be the First Medical Intervention for RSV Protection in the US
If nirsevimab receives FDA approval, it will be the first medical intervention in the United States capable of protecting all infants from RSV. The FDA is likely to reach a final decision on nirsevimab in the third quarter, though it is under no obligation to do so.
AstraZeneca produces a monoclonal antibody called nirsevimab. Sanofi would be responsible for marketing the drug.
The panel unanimously (21) agreed to recommend acceptance.
Separately, the advisors voted to use nirsevimab in children younger than 2 susceptible to RSV during their second RSV season. The final tally was 19-2.
Scientists estimate that RSV kills about 100 American infants annually.
Hospitalized infants with RSV frequently need respiratory support from a ventilator, oxygen therapy, and intravenous fluids.
The virus poses a serious risk to public health. There were calls for the Biden administration to declare a public health emergency last year after an outbreak of respiratory syncytial virus swamped children's hospitals.
Hospitals already feel the strain when respiratory syncytial virus (RSV) spreads simultaneously as influenza and Covid-19.
Another anti-RSV monoclonal antibody, named palivizumab, has been developed. However, this antibody is reserved for extremely vulnerable newborns born prematurely or with preexisting lung or heart abnormalities. In addition, palivizumab needs to be injected once a month.
In contrast, nirsevimab would be given to healthy infants, who account for most hospitalizations. The single-dose format also simplifies administration.
Since nirsevimab is a monoclonal antibody, it cannot be classified as a vaccination.
Since nirsevimab is a medication, it is uncertain if the government Vaccines for Children program will cover the cost of providing the antibody to uninsured and underinsured children.
Canada, Europe, and the UK have all given their stamps of approval to nirsevimab.
The expert on infectious disease drugs, Nimish Patel, said nirsevimab worked "extraordinarily well" in both premature and full-term infants.
"The once-seasonal dosing is a huge advance and this is probably the closest thing to an RSV vaccine that we have and it really moves the field forward," said Patel, who is on the FDA committee and a professor of clinical pharmacy at the University of California, San Diego.
The FDA found that nirsevimab reduced the risk of hospitalization by 78% and reduced the risk of lower respiratory tract infections by 75%.
The FDA estimated more modestly that the antibody would be 48% effective against serious lower respiratory tract infections. This estimate was based on the hypothesis that individuals missing health outcome data suffered from a medically significant case of lower respiratory tract infection.
A single injection of nirsevimab, the amount determined by the infant's weight, is required. For the first RSV season, infants weighing less than 5 kilograms would get an injection of 50 mg, while those weighing 5 kilograms or more would get an injection of 100 mg.
A 200 mg injection of nirsevimab would be given to children younger than 2 years old who continue to be at risk for severe RSV in their second season.
In their evaluation of nirsevimab, the FDA found no evidence of any safety issues.
Hypersensitivity responses, including severe allergic reactions and skin rashes, have been linked to various monoclonal antibodies.
Nirsevimab studies showed a low rate of skin rash and hypersensitivity reactions in newborns. However, the FDA could not uncover any incidences of significant adverse reactions.
However, an FDA official, Dr. Melissa Baylor, has indicated that these side effects will likely occur if nirsevimab is given the green light.
In the trials of nirsevimab, twelve newborns perished. The FDA found no evidence that the antibody caused any of these deaths.
Eight people lost their lives; four to heart disease, two to gastroenteritis, two to what is presumably SIDS, one to a tumor, one to Covid, one to a skull fracture, and one to pneumonia.
According to Baylor, "most deaths were due to an underlying disease." "Nirsevimab did not appear to be involved in any of the deaths."
Due to previous setbacks, safety concerns have been prioritized during RSV vaccine research. In the 1960s, researchers attempted to create a vaccine using an inactivated virus; however, this shot worsened RSV sickness in some children when they received their first natural infection, and it was ultimately responsible for the deaths of two infants.
Unanswered Questions and Future Considerations for Nirsevimab and RSV Vaccines
According to AstraZeneca's head of patient safety Manish Shroff, "Safety is of utmost importance," and the company will be careful to check on the safety of nirsevimab through a massive worldwide monitoring system.
According to Baylor, it is also unclear how nirsevimab would react with experimental vaccines designed to safeguard a developing fetus by having the mother receive an injection.
The safety and efficacy of administering nirsevimab to infants whose moms have received these RSV vaccines is unknown, Baylor noted.
In May, the FDA's advisory committee gave their stamp of approval to Pfizer's RSV vaccination for pregnant women. In August, the FDA is likely to rule on Pfizer's injection.