Double Decker Bus Transporting 15 Tourists Erupts into Flames in Bangkok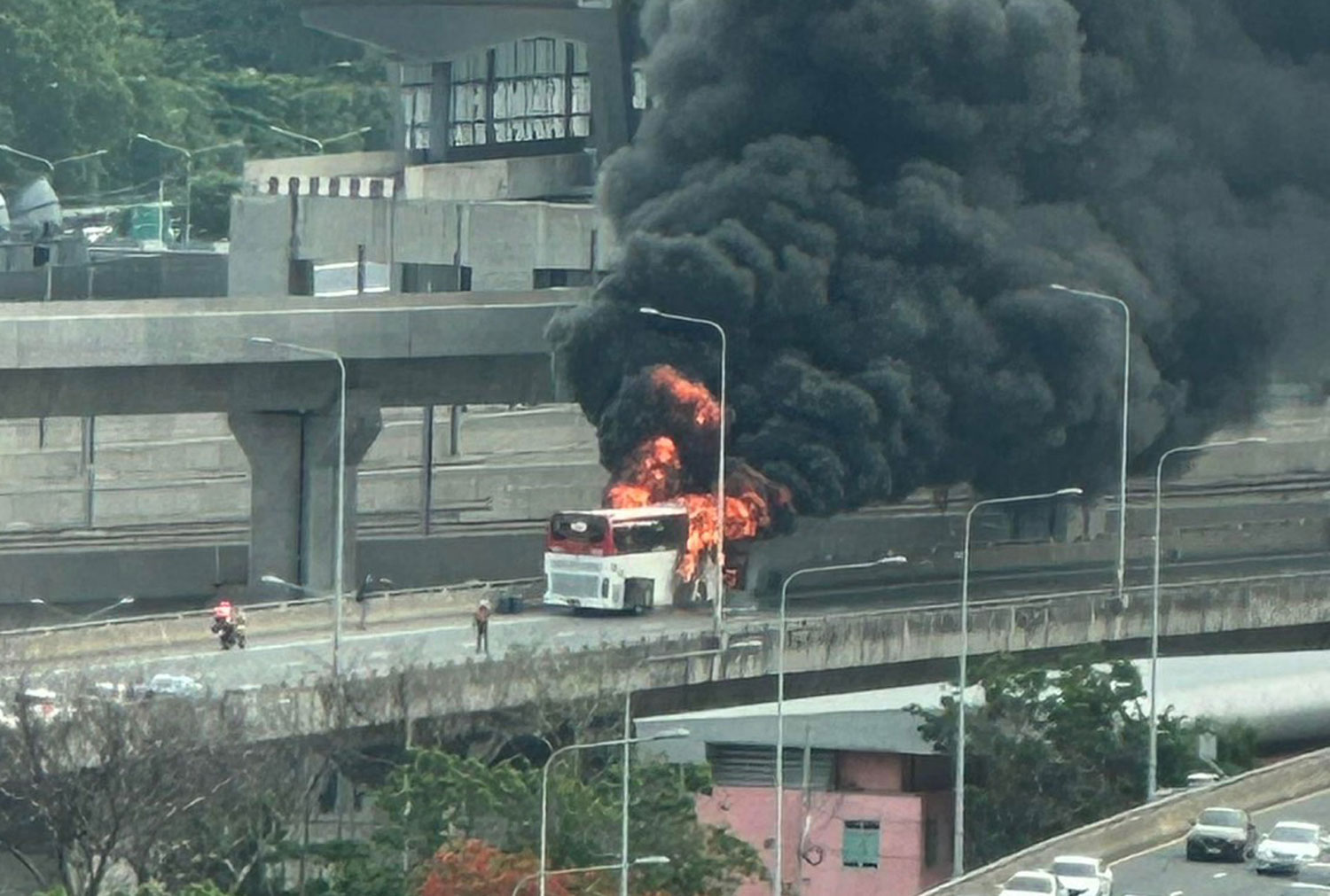 On Wednesday morning, a double-decker bus carrying Polish visitors to Ayutthaya erupted into flames and burnt to the ground on a motorway in Bangkok's Chatuchak district.
The white and red tour bus carried 15 Polish tourists and their Thai guide. There were no reported casualties, although several guests had their luggage destroyed by the fire.
According to traffic radio FM91 Trafficpro, the bus caught fire while driving outbound on the Si Rat Motorway, near the exit to Kamphaeng Phet 2 Road, at 7.55 a.m.
A fire vehicle and crew, as well as a motorway rescue squad, were dispatched to the area. It took them around 20 minutes to extinguish the fire. The vehicle had been completely destroyed by that point.
The fire created significant traffic congestion on the motorway.
The bus driver, Khuanchit Kaewmanee, 46, said he picked up the 15 visitors and their guide at the Bangkok Palace Hotel in the Ratchathewi district's Makkasan sector. They were on their way to the province of Ayutthaya.
A little time later, while driving outbound on the motorway, he noticed smoke emerging from a luggage compartment and the odour of something burning. He promptly parked the bus on the expressway's left side and got out to check. All occupants were instructed to exit the vehicle as well.
Mr Khuanchit stated that he was able to take several passengers' baggage from the bus before it caught fire and caused them to flee. The bus was completely demolished. The cause of the fire was being investigated by police.
Double Decker Buses Banned in Thailand
In 2016, Prime Minister Prayut Chan-o-cha has ordered a moratorium on new double decker tour buses, as well as tighter road worthiness assessments for other public transport vehicles.
The prime minister stated that the Transport Ministry must stop registering double decker buses because they had been involved in too many accidents. Thailand's 4,800 existing double-decker buses and 16,000 single-deck buses with a height of more than 3.6 metres must all pass a stringent tilt test on a 30 degree slope.
Those who fail the test must be removed from service.
The prime minister ordered all public transport vehicles to be equipped with a global positioning system (GPS) for effective monitoring of driver habits, as several accidents were caused by irresponsible driving.
He also directed the Land Transport Department to suspend or cancel the licences of reckless drivers and to impose harsher sanctions on bus operators, such as tour bus firms, who operate inadequate buses.
Thailand is known for its vibrant and diverse transportation system, and double-decker buses are a common sight in several cities and tourist destinations. These buses offer a unique and elevated view of the surroundings, making them a popular choice for both locals and tourists.
The most prominent city in Thailand where you can find double-decker buses is Bangkok. The Bangkok Mass Transit Authority (BMTA) operates a fleet of double-decker buses that serve various routes across the city. These buses are often used for longer journeys and provide a comfortable and spacious seating arrangement for passengers.
Additionally, double-decker buses are also utilized in other popular tourist destinations in Thailand, such as Phuket and Pattaya. These buses are commonly seen on sightseeing tours, allowing visitors to explore the attractions and landmarks of these areas while enjoying an elevated view.
It's worth noting that the availability of double-decker buses may vary depending on the location and specific routes. While they are more commonly found in major cities and tourist hotspots, they may not be as prevalent in smaller towns or rural areas.
If you plan to travel by double-decker bus in Thailand, it's recommended to check the local transportation authorities or bus companies for the most up-to-date information on routes, schedules, and fares.