Thailand's Health Ministry Accuses Rural Doctor of Inciting Unrest on Facebook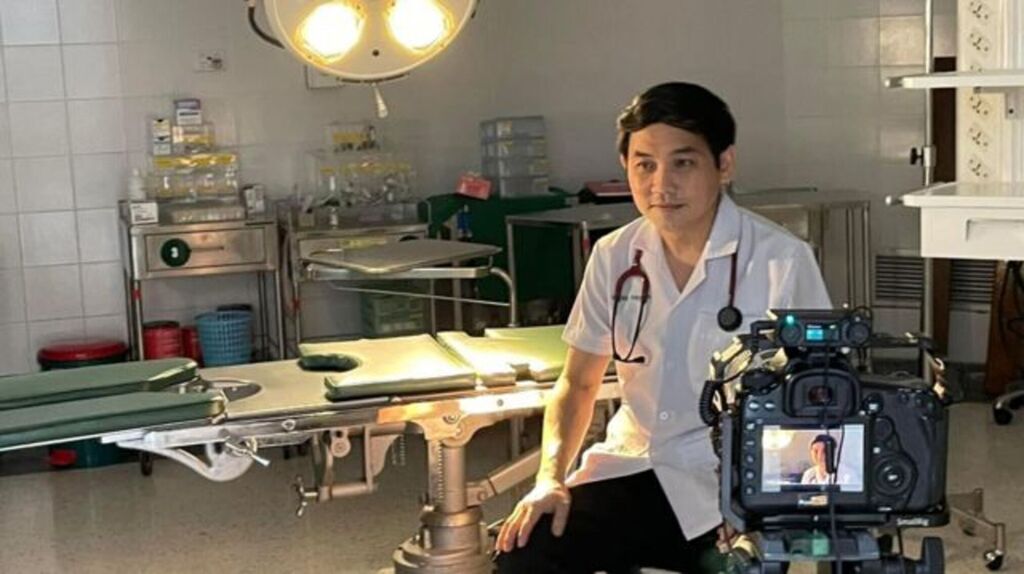 Thailand's Public Health Ministry has lodged a police complaint against the Rural Doctor Society Facebook Page and government critic Dr Supat Hasuwant tokit, accusing them of inciting unrest and endangering the public health system.
Dr. Supat is the president of the Rural Doctor Society (RDS) and has publicly criticized the ministry over his recent transfer under his own name.
According to the ministry it has closely monitored the Rural Doctor Society's Facebook page and concluded that it did not provide useful information to society. It was being used to incite social unrest, but it only led to confusion.
The ministry believed the Facebook page had a hidden political agenda and was primarily concerned with attacking others and spreading false information negatively impacting the country's public health services.
According to Dr. Rungruang Kitpati from the Health Ministry, the Facebook page violated RDS guidelines established decades ago, which focused on the welfare of rural people and the public health system.
"Now, the page is considered a threat to the country's public health system, spreading false information and inciting unrest for the benefit of some people," a ministry spokesman said.

Facebook Page Disputed
The ministry decided to file a complaint against the page and Dr Supat, in his capacity as RDS president, despite his repeated claims that he had nothing to do with the Facebook page and had no knowledge of any posts made on it.
Dr. Rungruang, believes his remarks demonstrated a lack of responsibility.
"The ministry wishes to inform people about the Rural Doctor Society Facebook page. Nobody is responsible for any posts made on its page. Any information on it should not be trusted. It appears to be a ghost page, an illegal one that must be dealt with legally," said a ministry spokesman.
According to him, the most recent post on the page accused Deputy Prime Minister and Public Health Minister Anutin Charnvirakul of issuing an order to close the ministry's gates in order to prevent protesters from entering. He claimed that the order was not issued by the minister. It was a joint decision made by ministry executives and police.
Dr. Rungruang said, the gathering would cause problems for people who came to see government officials and would prevent people from receiving the Covid-19 vaccine service at a unit within the ministry.
Dr. Supat has complained about his transfer from Songkhla's Chana Hospital to the same southern province's Saba Yoi Hospital. He claimed it was because of his role at the RDS, which was highly critical of the ministry's policies on cannabis use, Covid-19, and vaccine management.
Threatening to Sue in Administrative Court
Dr. Sawat Apiwachaneewong, an inspector-general at the ministry, insisted the transfer was legal and said he was unconcerned about Dr Supat's threat to sue in the Administrative Court. He stated that a new director to succeed Dr. Supat has already been chosen.
Dr. Supat stated on his Facebook page that he was excited to be working in the Saba Yoi district of Songkhla, but he regretted the lack of good governance and lies at the ministry regarding his transfer.
He insisted his transfer was unjust and had shaken the morale of community hospital directors across the country. Good governance was critical to the country's administration. A fair system was required by all.
"My transfer undermines the fundamental principle (of good governance) and serves only to satisfy one person's desire for power," Dr. Supat penned a letter.
Dr. Supat was quoted in news reports on Tuesday as being unmoved by the ministry's police complaint while standing firm on his threat to sue over his transfer in the Administrative Court.
He stated that he had to begin working at Saba Yoi Hospital within 15 days of receiving the transfer order. He was still at Chana Hospital, finishing up his work and preparing to hand over to his replacement. He planned to visit Saba Yoi the following week.