Chinese Rush to Renew Passports After Dropped COVID Border Controls
(CTN News) – After the Chinese removed COVID border regulations that had essentially kept its 1.4 billion inhabitants from traveling for three years, people began to line up in huge lines outside immigration offices in Beijing on Monday, ready to renew their passports.
One of the final phases in China's "zero-COVID" regime's dissolution, which started last month following historic demonstrations against restrictions that prevented the virus but stoked massive resentment among its populace, is Sunday's reopening.
Chinese dropped quarantine for visitors on Sunday.
Yang Jianguo, a 67-year-old retiree waiting in line with more than 100 others to renew his passport in the Chinese capital, told Reuters he intended to see his daughter in the US for the first time in three years.
"We could not get over to her wedding last year, so the event had to be postponed. We are very happy to be able to go, "Yang said while standing next to his wife.
On Monday, investors anticipated that the reopening would boost a $17 trillion economy experiencing its worst growth in over fifty years. This led to a strengthening of the Chinese yuan and stock markets.
Beijing's decision to eliminate quarantine regulations for visitors is anticipated to increase outbound travel since locals won't be subject to the same limitations when their return.
However, flights are limited, and some countries require visitors from China to submit to negative testing to stem an epidemic that has overstretched many of China's hospitals and cemeteries.
Travelers must also have negative COVID tests before leaving China. Top health authorities in China and state media have frequently said that COVID infections are high nationwide and that the illness is no longer dangerous.
The People's Daily, the Communist Party's official newspaper, said in an editorial published late on Sunday that the government's anti-virus initiatives had advanced beyond "preventing infection" to "preventing serious sickness," declaring that "life is going ahead again!"
"The virus is weak today, but we are stronger."
Chinese stocks, yuan rally on growth hopes
As of January 8, China has officially recorded just 5,272 COVID-related deaths, one of the lowest infection-related fatalities worldwide.
However, the World Health Organization has claimed that China is understating the epidemic's scope, and foreign virus specialists predict that more than one million Chinese citizens may succumb to the illness this year.
In defiance of such pessimistic predictions, Asian markets reached a five-month high on Monday, while the value of the Chinese yuan strengthened to its highest level versus the dollar since mid-August.
Shanghai Composite Index (.SSEC) increased by 0.5%, Hong Kong's Hang Seng Index (.HSI) increased by 1.6%, and China's blue-chip index (.CSI300) increased by 0.7%.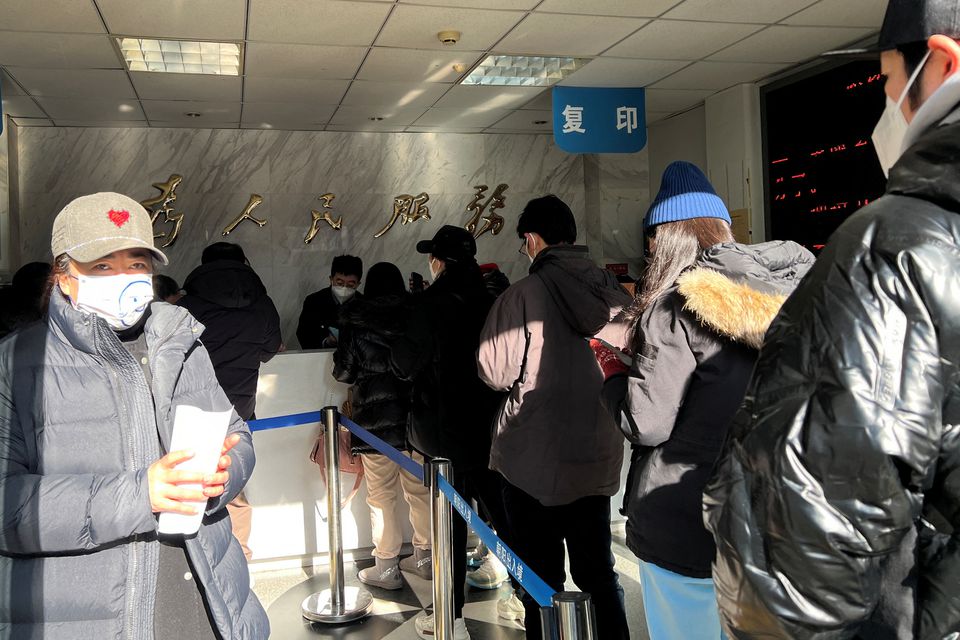 At the Swiss bank's annual Greater China conference on Monday, Ralph Hamers, global executive officer at UBS, said that eliminating the zero-COVID policy "is… likely to have a hugely beneficial effect on domestic spending."
"We think those dedicated to investing in China have a lot of opportunities."
'HUGE RELIEF'
"It's a big comfort to be able to get back to normal," said Michael Harrold, 61, a copy editor in Beijing, upon his arrival on a trip from Warsaw on Sunday. "Just come back to China, get off the aircraft, find yourself a cab, and just go home."
Harrold said that when he departed for a Christmas vacation in Europe in early December, he had been prepared to return to quarantine and undergo many rounds of testing.
On Sunday, China's official television network CCTV claimed that direct flights from South Korea were almost completely booked.
The article on the Chinese social media platform Weibo rapidly became the most-read one.
The few flights to and from China, now at a tiny fraction of pre-COVID levels, may hinder a rise in traveler demand shortly.
According to Flight Master statistics, China had 245 foreign incoming and outgoing flights on Sunday, down 91% from 2,546 flights on the same day in 2019.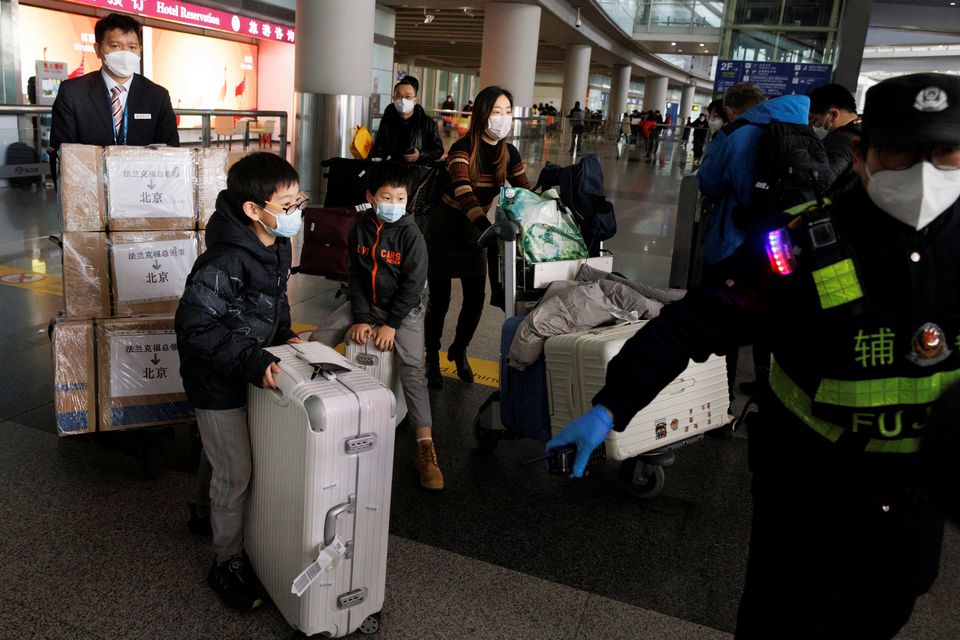 Korean Air said earlier this month that it was stopping a plan to expand flights to China due to Seoul's wariness of Chinese tourists.
Similar to many other nations, South Korea now demands that travelers from China, Macau, and Hong Kong provide negative COVID test results before departure.
Taiwan reported on Monday that roughly 20% of individuals tested so far have COVID, having begun testing arrivals from China on January 1.
However, according to a study published on Sunday by China News, the number of incoming and outgoing trips is predicted to rebound to just 30-40% of pre-COVID levels this year.
In 2023, China's domestic tourism income will likely recover to 70-75% of pre-COVID levels.
Related CTN News:
China Reopens Borders in Final Farewell to Zero-COVID