Chiang Rai Suffers Worst Wildfire in 20 Years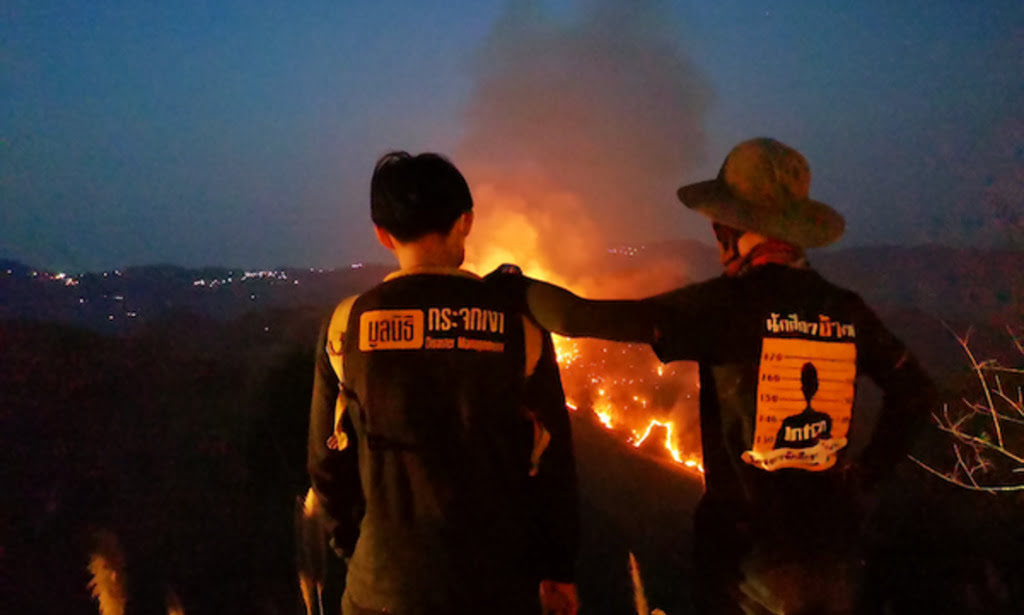 A wildfire has destroyed more than 600 Rai (240 Acres) of forest in Chiang Rai's Doi Tung mountain, which residents describe as the greatest such calamity in two decades.
The fire broke out at 3 p.m. on Wednesday after a high-voltage cable fell on some dried bamboo, sparking the blaze. The situation was compounded by strong winds, which allowed the fire to spread quickly through local fire barriers and wreak havoc on at least 500 rai of land.
The Pa Doi Tung forest fire control station raced to the scene, together with local officials, the Pha Muang task force, volunteers, and eight fire engines, to extinguish and confine the forest fire along the Thai-Myanmar border near Ban Pha Bue and Ban La Ba in Mae Fa Luang.
The fire was reportedly 70% suppressed at 11.40 p.m.
The Pha Muang task force also sent personnel to contain the fire near the road leading to Ban La Ba.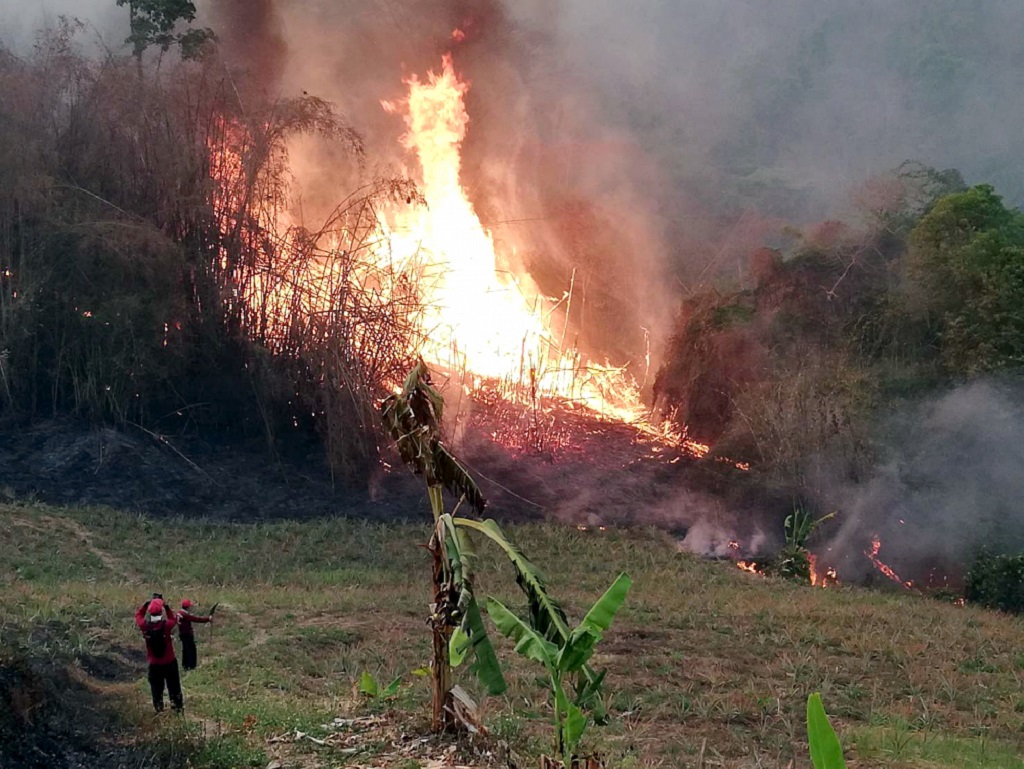 According to station chief Piyapong Sornchai, officials attempted to contain the fire to prevent it from spreading further and bolstered natural fire barriers such as the Lam Huay stream and a neighbouring coffee plantation with the assistance of two local villages.
Officials also sprayed water in specific areas to keep the fire from spreading to important landmarks. The worst wildfire in 20 years, according to locals.
Aerial inspections will be performed to assess the damage, with 600 rai estimated to be severely impacted.
More than 100 authorities would be deployed to search the region, with air support utilized to drop water on the same location to prevent flare-ups, according to Mr Piyapong.
Aside from Doi Tung, fires were also raging on Doi Jorrakhe in Mae Chan district and Pa Doi Phra Bat in Muang district, though local reports indicate that the blazes in these areas have since been 70-80% suppressed. The woodland in Doi Luang National Park near Ban Tham Pa Sang in Phan district was also burnt by the fire.
Chatchawan Panya, deputy governor of Chiang Mai, said the province had recently taken steps to tackle its record haze problems. Despite tight restrictions, he noted, unlawful burning and hotpots can still be seen in numerous areas across the province.
For the previous three weeks, Chiang Mai has had the world's worst air pollution, with PM2.5 levels average 332 microgrammes per cubic metre.
According to an air pollution report, 233 hotspots have been identified in national parks, restricted forests, Sor Por Kor agricultural area, and neighbouring towns.
PM2.5 levels have reached the "unhealthy" red zone throughout the North and upper Northeast, with the highest level exceeding the safe threshold of 50 microgrammes per cubic metre (g/m3) by more than eight times, as people in Chiang Mai and Chiang Rai have been urged to stay indoors and work from home.
As of 11 a.m. on Friday, the Pollution Control Department (PCD) stated that PM2.5 levels in the North ranged from 94 to 416 g/m3. The lowest was in Phitsanulok's Muang district's tambon Nai Muang. The highest was in Nan's Chalerm Prakiat district's tambon Huai Kone.
PM2.5 levels were 384 g/m3 in Mae Hong Son's Pai district's tambon Wiang Tai, 340 g/m3 in Chiang Rai's Mae Sai district's tambon Wiang, and 321 g/m3 in Chiang Rai's Chiang Khong district's tambon Wiang.
Chiang Mai governor Nirat Pongsitthithaworn issued an order late Thursday night requiring all governmental organizations in the province to have their officials work from home, with the exception of those providing direct public services.
The governor also asked residents of the northern province to stay inside and work from home in order to protect themselves and reduce the health impact of PM2.5 particles.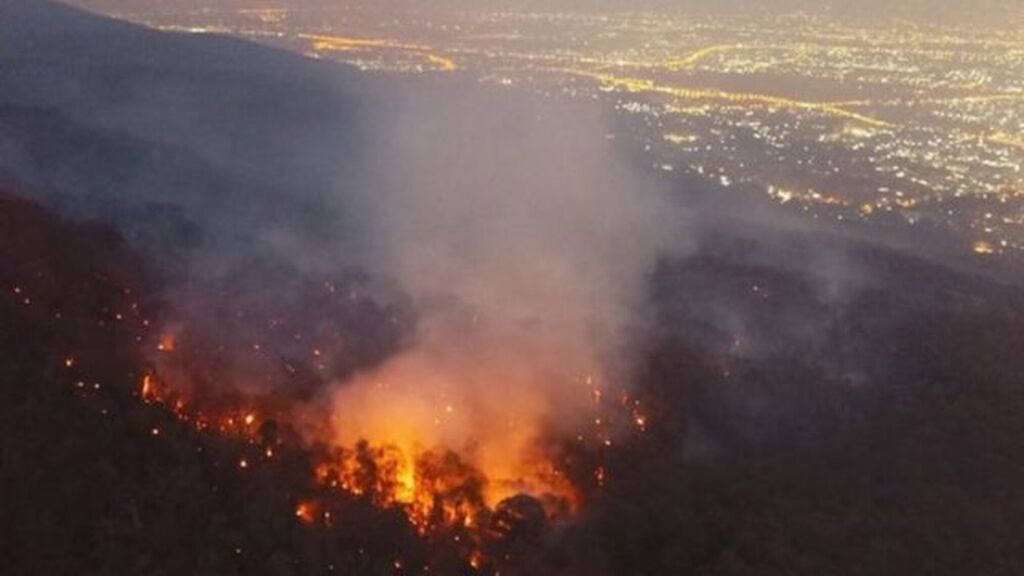 Chiang Mai's Muang district reported a PM2.5 measurement of 233 g/m3 in the last 24 hours.
Pinsak Suraswadi, director-general of the PCD, blamed the accumulated air pollution on local forest fires, hotspots in adjacent nations, and stagnant air. He expects thick smog to persist in the North, particularly in border regions, until April 14.
On Friday morning, the air monitoring website IQAir named Chiang Mai the world's most polluted big city, surpassing regular hotspots like Delhi and Lahore.
According to IQAir, levels of the most harmful PM2.5 particles, which are so small that they can enter the bloodstream, were more than 66 times higher than the World Health Organization's yearly guideline.
Thailand has been suffering from an increase in air pollution since the beginning of the year, which has been caused in part by seasonal agricultural burning.
According to the Public Health Ministry, about two million individuals have required medical care this year for respiratory diseases caused by air pollution. In February, officials ordered Bangkok citizens to stay indoors and work from home because the city was blanketed in toxic haze.