A 49-year-old Canadian woman has been killed when she and her bicycle were struck by a speeding pickup truck in central Thailand on Saturday.
Kanchanaburi Muang police said on Saturday that Mrs. Marnie Scott, 49, from Sault Ste. Marie in Ontario, Canada died at the scene of the accident.
Police and a doctor from Kanchanaburi's Paholpolpayuhasena Hospital pronounced her dead at the scene.
Mrs. Marnie Scott was hit by a speeding pickup as she was changing lanes on the ring road in preparation for a U-turn, police said.
Her husband Joseph, 50 a retired Canadian military officer said cycling gave them a chance to enjoy nature and get exercise.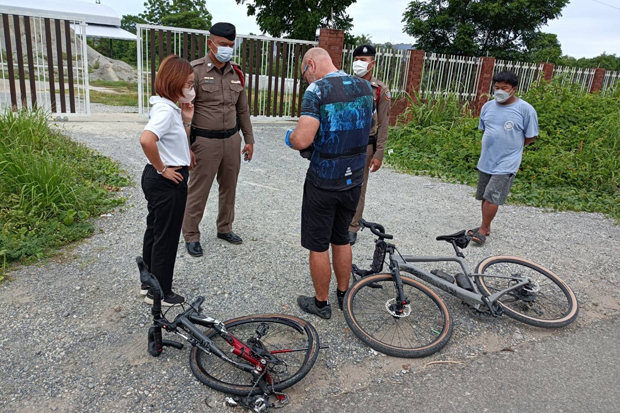 Joseph successfully made the U-turn before the speeding pickup slammed into Marnie and her bicycle. Marnie was wearing a helmet at the time.
The Scotts founded Victory Bible Academy in Mae Sot, Thailand, a ministry of Christian Freedom International and Growth and Opportunity Foundation of Thailand.
The family was taking a final trip around Thailand before the youngest daughter Maija was to return to Canada.
Maija and Kiera, their daughters, were also traveling with them, but they were not present when the crash happened.
Joseph told police the pickup hit his wife while traveling at high speed and he did not hear the vehicle braking when it hit her.
Marnie and Joe celebrated their 26th anniversary just four days ago.
Her birthday was one week ago.
"I'm so broken," Joe said.
"She was my world. My best friend since we were 13."
The driver Chaiwat Chutoh, 23, believed the cyclist would yield after he sounded his horn. He told police he couldn't apply his brakes quick enough to prevent his truck from hitting Marnie and her bicycle.
According to police, the driver was charged with negligent driving causing death. He added that police were considering charging him with other crimes once they had more evidence to support their investigation.