Boris Johnson Faces Removal from Parliament Over PartyGate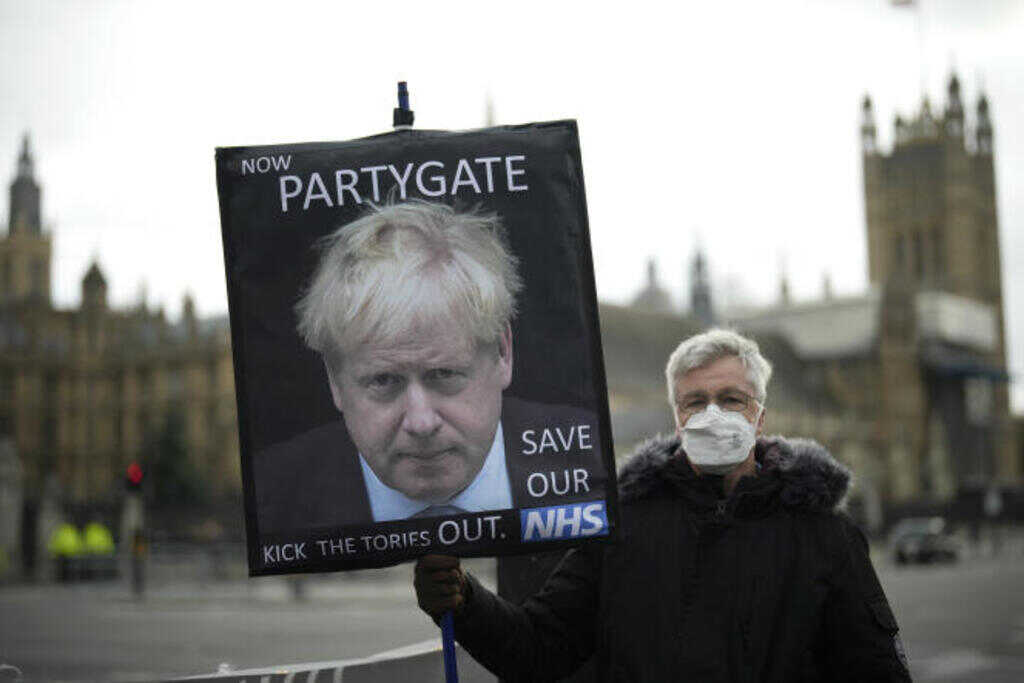 A parliamentary committee in the UK has announced that they will question former Prime Minister Boris Johnson about whether he lied about "PartyGate," in an inquiry that might result in his removal from parliament.
The "privileges" committee of parliament said in a preliminary report released after eight months of investigation that the evidence so far undercut Johnson's assurances of innocence to the House of Commons.
"The evidence strongly implies that violations of (lockdown) guidelines would have been clear to Mr Johnson at the time he was at the gatherings," according to the report.
It noted that "there is evidence that the House of Commons may have been mislead" on many occasions in a summary of the investigation so far ahead of Johnson's questioning.
The committee has called the former Conservative leader to give public testimony commencing March 20.
Johnson, who resigned as prime minister last summer after "PartyGate" and other scandals, claimed the study showed he was "vindicated" and had not "committed any contempt of parliament".

Boris Johnson Denies PartyGate
Johnson denied in parliament several times that he or his staff had violated his own Covid lockdown restrictions by attending drunken celebrations in 10 Downing Street. But, following a criminal investigation, police fined scores of Downing Street personnel, and Boris Johnson became the first serving UK prime minister to be found to have broken the law over one of the events.
The privileges committee is made up of four Conservative MPs, two Labour MPs, and a Scottish National Party representative. If it eventually determines that he purposefully misled the House of Commons, it may propose various sanctions for all MPs to vote on.
A suspension of 10 sitting days or more would result in a petition to remove Johnson as a lawmaker. If 10% of registered voters in his west London constituency sign the petition, a by-election will be held.
The events follow news on Thursday that senior civil servant Sue Gray, who led the government's own investigation into "PartyGate," has resigned to work for the leader of the opposition Labour party.
With relation to the committee investigation, Johnson described it as "surreal" that the panel planned to depend on material "culled and organized" by Gray.
Over the dispute, her report found "a failure of leadership and judgement" in Johnson's Downing Street operation, but the committee argued it had its own evidence.
It revealed WhatsApp communications, including one from a top aide who suggested an excuse supplied by staff instead "blows another enormous gaping hole in the PM's account".

Who is in charge of the investigation?
The privileges committee is made up of seven Members: four Conservatives, two Labour MPs, and one SNP MP. The MPs are elected to the committee by their peers and represent the political makeup of the House.
Sir Chris Bryant of Labour usually chairs the committee, but he recused himself from this probe because he had already made several public comments regarding the topic.
Harriet Harman, a senior Labour backbencher and mother of the House, will take his position. Following a public appeal for written evidence last summer, the committee has started collecting and analyzing it.
It also requested evidence from Downing Street with a July deadline last year, but did not receive it until November. The next stage will be to get oral testimony from those involved.
The committee has confirmed that Mr Johnson will be summoned in the week beginning March 20, although it has not yet stated who else will be questioned.
It has said the hearings would take place in public to make sure the probe is "transparent", while requests to hear testimony anonymously or in private "will be addressed on a case by case basis".
The committee will compile a report of its findings after hearing all of the evidence. What authority does the committee have?
Theoretically, the committee's only authority is to submit the report to the Commons for consideration by MPs.
It can decide in its conclusions that an individual has "committed a contempt" by misleading the House and can recommend sanctions ranging from an oral or written apology to suspension for a specific period or even expulsion from the Commons.
But, it will be up to Lawmakers to determine whether to accept the report's findings and impose any sanctions.
If MPs agree to a suspension of 10 sitting days or 14 calendar days or more, Mr Johnson's constituents in Uxbridge and South Ruislip will be able to vote on whether to stage a by-election for his seat.
Other Trending News: