[VIDEO] Asiana Airlines Passenger Opens Emergency During Landing, 12 Injured
Asiana Airlines, reports a passenger on board an Airbus A321-200 opened the emergency exit door as the plane was preparing to land on Friday. The plane landed safely, although numerous passengers were transported to the hospital.
On a domestic trip, the plane was carrying approximately 200 passengers when it neared the runway at Daegu International Airport in South Korea, roughly 240 kilometres southeast of Seoul.
A customer sitting near the emergency exit "opened the door manually by touching the lever" when the jet was about 200 metres above the ground, according to a spokeswoman for the airline.
Some passengers experienced breathing issues as a result of the event, and several people were sent to a hospital following the landing, according to Asiana Airlines, who added that there were no severe injuries or damage.
Daegu police confirmed to AFP that they had detained a man in his thirties for interrogation in connection with the incident.
According to South Korea's transport ministry, 12 individuals were sent to hospital after the jet landed to be treated for "discomfort and breathing problems."
The government acknowledged that a passenger intentionally opened the jet door while the plane was still in flight.
"Police are questioning him jointly with the land and transport ministries over violations of aviation safety laws," police said in a statement.
"Under these laws, a person who opens a plane door without authorization faces a maximum prison sentence of ten years."
SkyNews Agency broadcast a video of the incident filmed by a passenger on board the Asiana Airlines Airbus A321-200.
It showed wind ripping through an open door in mid-air, with fabric seat-back flapping violently and passengers' hair fluttering wildly as some people shouted in surprise.
Another video circulated on social media showed passengers being buffeted by high gusts while sitting in the emergency escape row adjacent to an open door.
The two male passengers, who were wearing seatbelts, were wincing as the wind blasted over them, clutching the armrests and attempting to turn away from the door.
According to a 44-year-old passenger, there was "chaos" aboard the flight once the door was opened.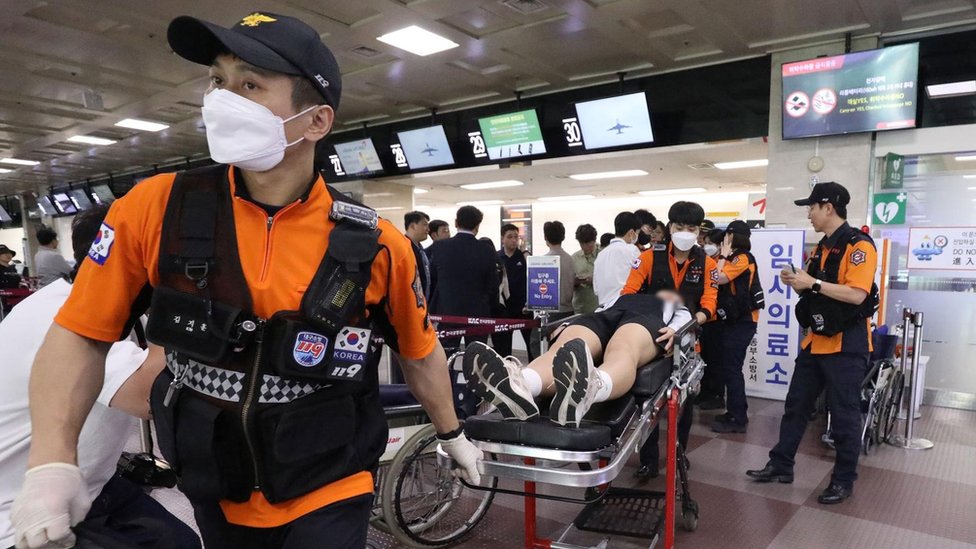 "It was chaos, with people close to the door appearing to faint one by one and flight attendants calling out for doctors on board through broadcasting while others were running down the aisle in panic," the passenger added.
"I thought the plane was going to blow up." "I thought I was going to die this way."
According to a transport ministry official on the aviation safety team, this was "the first such incident" in Korean aviation history. Experts state South Korea's aviation industry has a strong safety record.
Asiana Airlines, founded in 1988 as a competitor to Korean Air, was involved in a severe disaster in San Francisco in July 2013.
At the time, Asiana Airlines Flight 214 from Seoul impacted a sea wall with its landing gear before crashing and exploding, killing three passengers and injuring 182.
The ailing airline is currently slated for acquisition by Korean Air, which announced in 2020 that it would purchase Asiana for $1.6 billion as the Covid epidemic wrecked havoc on the global aviation business.
The EU has raised alarm over the agreement, claiming that it will reduce competition on passenger and cargo lines.