A Comprehensive Guide on Mobile App Development for Start-up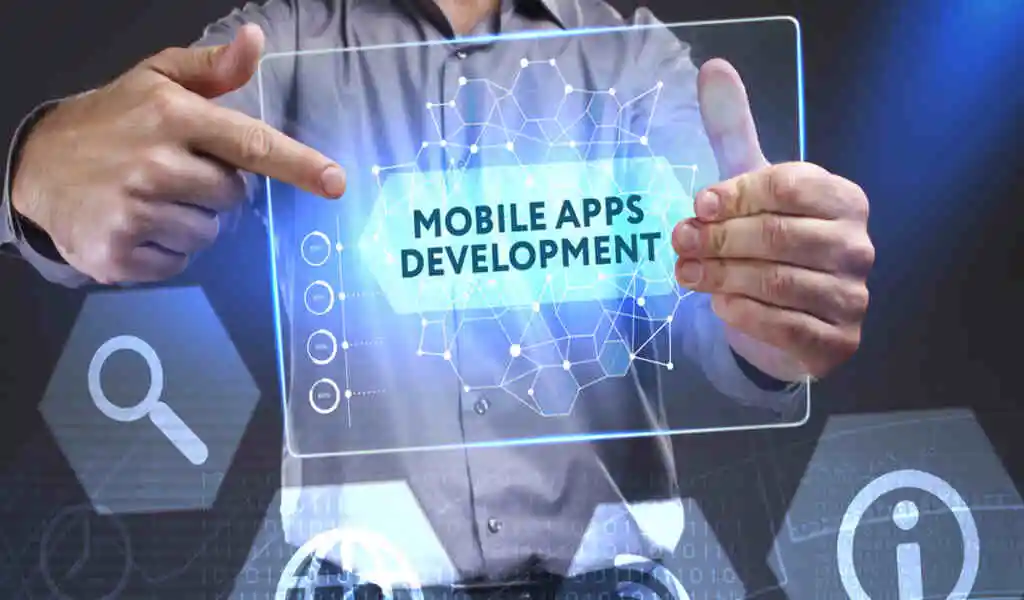 Are you soon going to convert your business idea into live-action? Then Take the leverage of the digital platform to increase your business reach, and move your first step towards success. Read this article; it will prove a great start, as it is an explicit guide on mobile app development for start-ups.
According to Statista research, the number of smartphone users in 2021 is 6378 million, and it is expected to increase to 7516 million by 2026.
Number of Smartphone Users Worldwide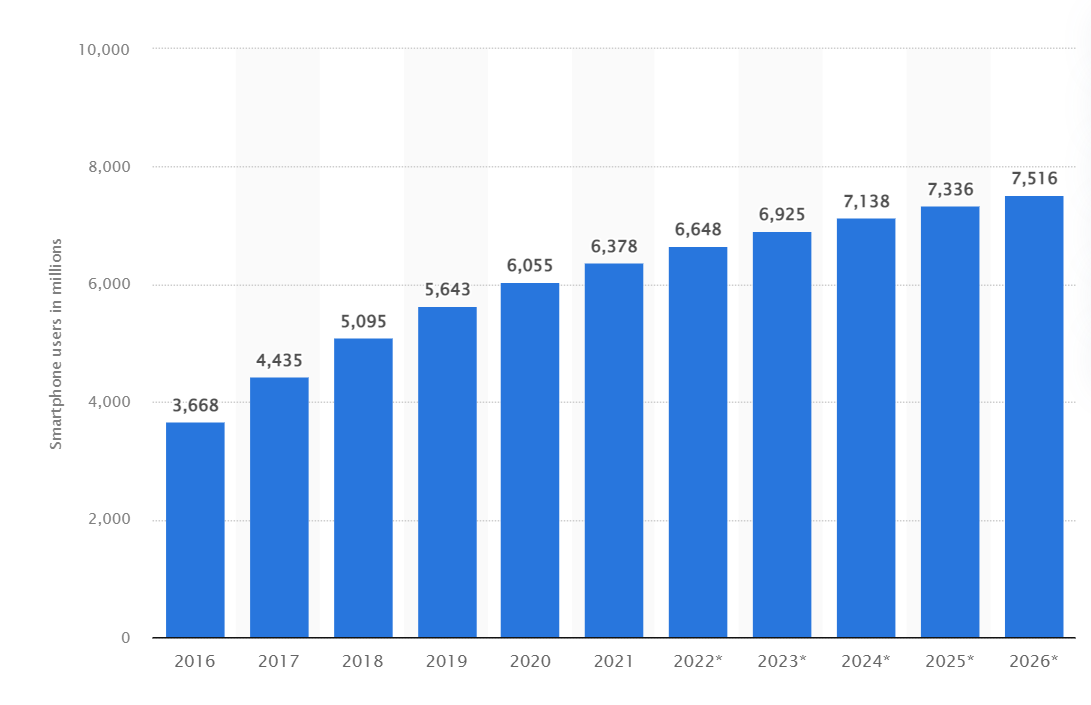 Source: statista.com
The above stats proved that the number of smartphone users is increasing, giving a great opportunity for startup enterprises to reach out to the target audience through their unique and innovative mobile apps.
Mobile app development for start-ups is a quick and efficient way to increase their business reach in less time. These mobile applications have the potential and power to grant your business the success it deserves. All you need is just to get in touch with a profoundly experienced mobile app development company, those who understand your business needs and convert them into desired deeds.
Mobile apps are becoming the backbone of the business. The effective reach and high traffic is driven through these apps push the startup or an established business to develop more than one app.
If you still have any doubts about mobile app development for startups, here are the top reasons why you should invest in iOS and Android app development to grow your startup and get a high return on investment.
Benefits of mobile app development for startup business
Customer Engagement
This is one of the biggest benefits of a mobile app to enterprises of all sizes. It allows effective and direct communication between businesses and potential customers. It acts as a bridge between the target audience and entrepreneurs. Through these apps, customers can reach out to you regarding their complaints and issues. By resolving their all concerns, you can enhance customer engagement and loyalty towards your newly started venture.
Build Brand Awareness
The mobile app is one of the powerful tools for building brand awareness. The feasibility of smartphones allows customers to be involved with your product and services via mobile apps. The more frequently and easily they can visit your online venture, the more trust will build up towards your products/services. But your app should be appealing enough with a great UI and precisely explain all your services so that customers are eager to visit it again and again.
Increase Accessibility
These apps play a major role in increasing business accessibility. It enables the business to update the customers about new services or products or any ongoing offers. It does so by sending timely notifications. All within the mobile app businesses can establish strong relationships by offering special discounts for old customers. Hence these apps help not only in gaining customers but to retain them also.
Stand Out From the Competition
Although everyone understands the potential of mobile apps, they are still uncommon among start-ups and SME(Small and Medium Enterprises). Hence by developing a mobile app for your start-up, you can get a leap up on your competitors. Provide your customers with great service through mobile apps. This forward-thinking approach of yours will surely impress them.
Easy to Track Customer Activities
Mobile app development for startups is useful in one more way; that is, it helps keep the record of customers. For example, based on the more frequently buying products of any particular company, business owners easily record the customer interest, which will help them make future decisions effectively. Additionally, customer feedback on the product quality will help you to make your product more customer-oriented.
Enhanced Revenue
According to a survey, 70% of the customers choose a product based on the interaction and experience with the brand. A mobile app is a fastest and efficient tool that spreads awareness about your product and services. It helps startups and established enterprises by generating leads and increasing the conversion rate, which results in an increase in overall revenue.
Visibility & Loyalty
A feature-rich mobile app with seamless functionality can significantly increase the visibility of your startup business. An app customized as per your business requirement can attract more customers in less time, with its flawless performance, user-friendly features, and easy navigation. The personalized experience customers receive through the app helps in gaining their loyalty towards your services/products.
After going through these benefits of mobile app development for startups, you are surely planning to develop a unique app for your business. But do you know the app industry is too dynamic? No matter what targets you set to achieve, it's always too competitive.
For a startup, mobile app development is not smooth but full of obstacles. They have to make space in this digital world with limited budgets and resources. But there is always a smart way to go about successful app development. A custom-mobile application designed with the help of a prominent mobile app development company is a sure way to bring your start-up venture to the next level.
For startups on a tight budget, they can follow a mobile app development cost roadmap that guarantees success. Let's move on to discuss this roadmap.
Road -map for successful mobile app development for startups
Recognizing Target Audience Pain Points
Before developing an app, the first step is to understand your purpose of mobile app development and ask yourself what customer problem you want to solve through the app. If you don't understand their pinpoint, how can you provide top-notch solutions to them? Do proper research on your target audience. This research will uncover a lot of core areas for your app. This further helps you a lot in developing the right app with clear goal sets in mind.
Market Research
Once you have finished the audience research, move ahead to look into the current market trends. Market research is essential before the development phase to validate how unique and impactful your app idea will be.
Try to find out the answers to the following questions during market research:
What strategy will drive the target audience?
Who are your biggest competitors?
Have you analyzed your services & products?
Is there a market for your app?
Who will download your app?
To get the answer to these questions, you can :
Check on Google Trend and find out if the keywords related to your app are ranking or not?
Check your competitor's app and see what is best and what is missing in them?
To get a clear idea of the targeted prospect, roll out a survey with various questions revolving around your app idea.
Wireframing
A technique for designing a web site's structure is called wireframing. This structure shows how functionality and content on a website should be displayed considering the user's requirement in the account. In a nutshell, a wireframe is a two-dimensional illustration of your app's UI and UX. Once wireframing is done, you can determine the possible errors and any missing features in it. In total, wireframes help you refine usability.
Designing your App
After wireframe testing and finalising all the details, it's time to start mobile app development for startup. The foremost step in app development is to decide the tech stack that can hold all your app requirements.
The leading tech stack in app development is React Native, Ionic, Flutter, etc. Which one to choose? The answer to this question is depends on your project needs like React Native is a good choice if you want your app with a native-like look and feel. In case you want to develop a mobile app for both platforms(Android and iOS), then cross-platform technology Flutter and Ionic will work for you.
Choosing the right tech stack at the initial stage is important as it will going to affect the overall look and functionality of your app. You can take consultation from an experienced app development company or individual developers if you are left with any doubt regarding your choice for the right techstack.
Make sure your app design is intuitive enough that users are excited to explore the app's functionality. Keep in mind if the app for your startup doesn't add value to users, they will not take time to delete it from their mobiles. Hence it is crucial to ensure that emphasis is placed not only on aesthetics but also on the overall design and usability of the app.
Building the MPV
Minimum Viable Product (MPV) is the version of your app that has basic functionality but handles the user's problems efficiently. Building an MVP before going full steam development of your app will save money and help in rectifying the mistakes you want to avoid. You must be thinking about why to go via MPV as you did the hard work on your app development and got the best features pinned and devised an intuitive UI. The reason is that your app still has scope for improvement decided by the users, and based on their feedback, you can make your app more user-friendly.
Best practices to follow while developing an MPV
A clear understanding of your goal
Make Your Functional Requirements Identifiable
Research on the current market trends
Having a clear Business plan
Scope for improvement
Monetization
Being a startup, ROI is a critical part of your project. Hence, right from the beginning, make sure to put a strong monetization strategy in place. This might be something that already established brands may ignore since they already have a good image in the market, and people look out first for established brands for any project. But startups should explore different monetization strategies like in-app purchases, freemium apps, paid apps, etc. Determine the one that goes best with your business model, because not every strategy works for every business.
Launch and Market your App
Now the time has come to go live with your app. Plan a solid marketing strategy with your marketing team to bring the app in front of more and more users. This is the time to concentrate all your marketing efforts on the different marketing channels to yield a positive outcome. Some of the low-cost strategies to promote your app are Email Marketing, Social media marketing, SMS marketing, PR and App Store Optimization, or ASO
Keep Checking App Metrics
Even though you may have created a fully functional, feature-rich app, it is essential to keep checking certain app metrics for its timely performance. These metrics will help you determine user, friction points, behaviour, challenges, etc. Once you have this data in front of you, it becomes easier to take future decisions. These metrics are categorized into four heads. Those are:
User Engagement
Customer Acquisition
Customer Satisfaction
App Performance
Continuous Support and App Engagement
Based on customer feedback, keep changing and updating your app to keep it live in their eyes. With the increasing number of options available in the market, app abandonment rates are high, and so is the competition within the market. The below-given points should be part of your long-term app success strategy to remain in the race.
Expand the functionality by adding new features timely
To reduce the risk of errors and to ensure stability control, stress on quality assurance
Keep a continuous eye on competitors and analyze what new they are bringing in their app.
Review the business model and make sure that you are updated on every level.
Conclusion
Mobile app development for startups is a tricky process because with ideology reflection and need catering, the app should be of great creativity. Along with that, as the business is new to the market, hence it will take time in getting customers' trust and loyalty.
Each startup is unique, and you have to smartly raise awareness of your idea with limited time and resources without compromising quality and design. Having identified the roadmaps to success for mobile app development for startups, every new business should focus on methods that best align with their values and long-term goals and strategies. With the support and right guidance of an experienced mobile app development company, it is easier for startups to manifest the competitive idea into a substantial mobile application.
For additional information, please visit the local digital business.
People Also Read: