Police Seize 650Kg of Crystal Meth, 12 Arrested in Central Thailand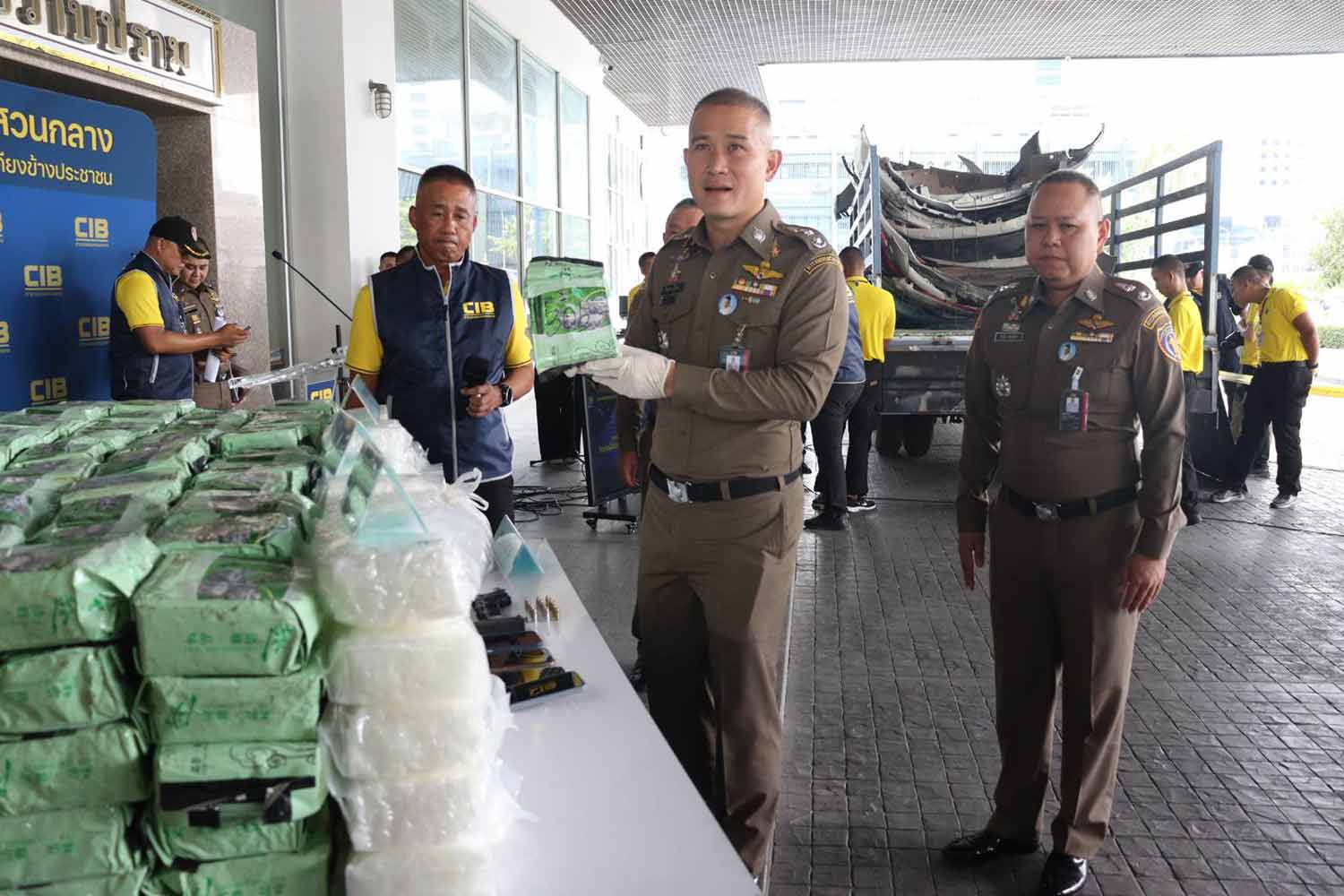 Police in central Thailand Saraburi province have apprehended 12 suspects and recovered 650 kilograms of crystal meth after stopping a convoy of three trucks for a search on Sunday.
The Central Investigation Bureau (CIB) commissioner, Pol Lt Gen Jirabhop Bhuridej, told the Bangkok Post on Monday that the action was taken in response to a tip that a big quantity of drugs will be carried from the Northeast to Bangkok by a convoy of three trucks over the May 4-7 long vacation.
On Sunday, three trucks travelling together were stopped and checked at kilometer 3.5 on the Mittraphap highway in tambon Talingchan of Muang district, Saraburi province. In the middle truck, the searchers discovered 650kg of crystal meth.
A gun and ammunition found in the possession of twelve suspects travelling with the convoy were seized.
According to police, the main suspect is a 33-year-old man named Mr. Anurak, alias Taek. The other suspects claimed they were employed by a member of the "Baka" narcotics gang and was paid 350,000 baht to transport crystal meth from the Northeast to an agent in Bangkok.
They claimed Mr. Anurak paid them each 20,000 baht, claiming they have done this three times.
The suspects were first charged with possessing a category 1 substance with intent to sell, illegally possessing a gun and ammunition, and carrying the firearm in public.

Drug Running in Thailand
Drug running, or the illegal transportation of drugs, is a serious problem in Thailand. The country is known to be a major hub for drug trafficking in Southeast Asia, with drugs such as methamphetamine, heroin, and marijuana being smuggled into and through the country.
Drug trafficking is a serious crime in Thailand, and those caught can face severe penalties, including long prison sentences and even the death penalty. The Thai government has implemented various measures to combat drug running, including increasing border security and cracking down on drug trafficking networks.
Despite these efforts, drug running remains a major problem in Thailand, and the country continues to be a key transit point for drugs being transported to other countries in the region. Drug running not only poses a threat to public health and safety, but it also fuels organized crime and corruption, which further undermines the stability and security of the country.

Meth Production
Crystal methamphetamine, sometimes known as crystal meth, is a prohibited narcotic in Thailand. The Thai government has enacted tough anti-drug legislation, including heavy punishments for anybody caught in possession of or distributing drugs.
Despite these precautions, Thailand has been a significant Southeast Asian hub for the production and distribution of crystal meth. The substance is frequently imported into the country from neighbouring countries like Myanmar and Laos and distributed through criminal networks.
Crystal meth use has been a severe problem in Thailand, with many people becoming hooked to the drug and suffering from its negative effects. To address this issue, the Thai government has taken a number of steps, including expanding access to drug treatment programs and launching public awareness campaigns to educate people about the hazards of drug usage.
Golden Triangle in Thailand
The Golden Triangle is a region in Southeast Asia that encompasses parts of Myanmar, Thailand, and Laos. It is known as a major producer and supplier of illicit drugs, including opium, heroin, and methamphetamine.
Opium poppy cultivation has been a long-standing tradition in the region, with farmers using the crop as a source of income. However, the production and distribution of opium and its derivatives have been illegal in most countries since the mid-20th century.
Despite the efforts of governments and law enforcement agencies, drug trafficking in the Golden Triangle continues to be a significant problem. The area's remote location, rugged terrain, and porous borders make it difficult to monitor and control drug production and trafficking activities.
In recent years, the production and distribution of methamphetamine have increased in the region, with organized criminal groups using the Golden Triangle as a base of operations. The drug is often produced in large quantities in makeshift laboratories and then smuggled into other parts of Asia and beyond.
The drug trade in the Golden Triangle fuels organized crime, corruption, and social problems, such as drug addiction and related health issues. Governments in the region are working to combat drug trafficking and reduce the demand for illicit drugs through law enforcement efforts, public education, and drug treatment programs.