Vehicle Collision Leaves 2 Students Dead,15 Injured in Northeastern Thailand
Police in northeastern Thailand report 2 students were killed and 15 others, including their driver, were injured in a three-vehicle collision in Phichit province on Monday afternoon.
The accident happened around 5.30 p.m. on Highway 115 in Phichit province involving a sedan, a school passenger van, and an SUV.
Ms. Kesorn Khamintakul, the sedan driver, told police she attempted to overtake the van on the left side of the road. She was unable to do so and ended up crashing into the school passenger van's left side, forcing the van to veered to the right, crossing the center line and colliding with an oncoming SUV head on.
All three vehicles were severely damaged, particularly the van transporting 17 students from Phichit's Sak Lek district.
Police said it took about an hour for rescue workers to cut open the wrecked van in order to help the trapped students. The driver and all 17 students were seriously injured.
They were taken to Phichit Hospital in an ambulance. Two of the students were pronounced dead at the hospital around 8 p.m.
An investigation was underway Ms. Kesorn, is facing charges of driving without due care and attention or careless driving, and Vehicular homicide.
Police in Thailand Introduce demerit point system
Meanwhile, the Royal Thai Police (RTP) introduced a demerit point system on Monday in an effort to improve driving discipline and road safety in the kingdom.
According to Rachada Dhnadirek, deputy government spokeswoman, every driver license holder will receive 12 points under the new system.
Speeding, riding without a helmet, using a cell phone while driving, failing to fasten seat belts, or failing to stop for pedestrians will result in a one-point deduction, according to Ms Rachada.
Running a red light or driving on the wrong side of the road will result in two demerit points, she said, adding that more serious traffic violations, such as a hit-and-run, will result in three demerit points.
Driving while impaired by alcohol or illegal drugs, as well as illegal street racing and reckless driving, will result in the highest penalty of four demerit points, she said.
Furthermore, if violators fail to pay the associated fines for their driving violations, one point will be deducted. If a driver loses all of his or her points in a year, their license will be suspended for 90 days.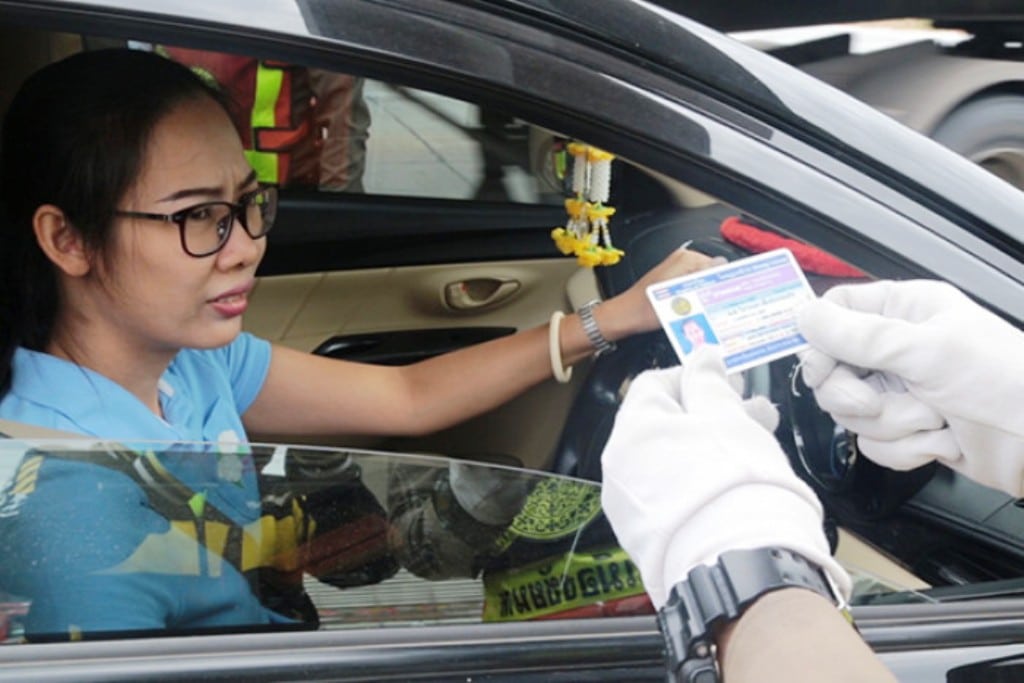 Drivers who do not comply with the suspension order face up to three months in jail and/or a fine of up to 10,000 baht.
If a driver commits the same offense three times in three years, their license may be suspended for more than 90 days. Their license will be revoked for a fourth offense.
Ms Rachada stated that points would be restored after a year.
If a driver's points are reduced to zero, their points will only be stored to a maximum of eight points unless they attend a training course at the Land Transport offices.
Motorists can check their remaining points on the "ptm.police.go.th/eTicket" website or the Khub Dee app, and they can pay their fines using the government's Paotang e-wallet app, she said.
The points-based penalty system in Nakhon Ratchasima has received positive feedback from locals, despite the fact that most people were unaware of such a rule.
Taweesak Phosantia, a motorcycle taxi driver, told reporters that he supported the new demerit point system because it would encourage people to follow traffic rules and reduce accidents on the road.
Meanwhile, Prasong Ritdee, a local, urged law enforcement officers to treat everyone equally when enforcing the system.