Japan To Relax COVID-19 Mask Regulations On March 13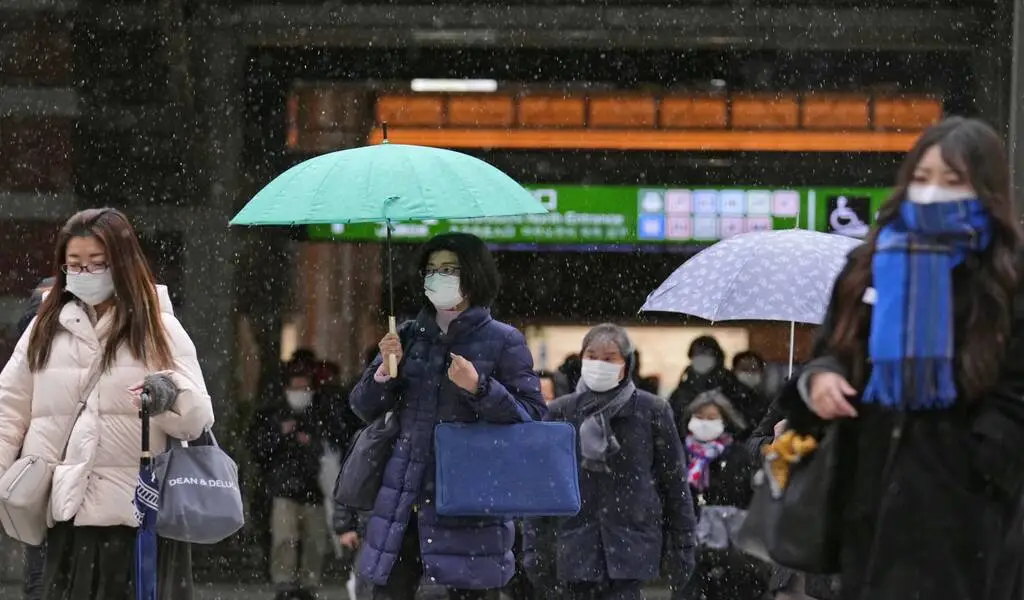 (CTN NEWS) – TOKYO –  As Prime Minister Fumio Kishida works to remove health restrictions for commercial and social activities, the Japanese government decided Friday to significantly relax COVID-19 requirements on mask-wearing on March 13.
Including those for public transportation and schools.
By the new regulations, people will only be advised to use face masks on trains and buses during rush hour or when public transportation is very crowded, but not during school events.
In a significant policy adjustment in reaction to the outbreak that started in early 2020, the government downgraded COVID-19's legal standing on May 8 and placed it in the same category as other infectious diseases like seasonal flu.
In Japan, wearing a mask has never been required, but it has been a common practice for the past three years. Kishida, who assumed office in October 2021, has stated that it will be up to individuals to decide whether to wear a mask inside or outside.
Although the new recommendations are intended to give people the freedom to decide when to wear a mask daily.
It will still be advised that they do so in some circumstances, such as when they exhibit signs of the condition or visit a medical facility.
Government authorities noted that when older persons or other people at risk of developing serious illness symptoms are present in crowded areas, wearing a face mask will be promoted as a practical way to safeguard oneself and others.
Passengers utilizing public transportation won't be required to wear a face mask, even on long-distance buses and shinkansen bullet trains when seats are frequently reserved for specific passengers.
But while concerns over exposure to the new coronavirus persist, there is growing skepticism that the latest move by the Kishida administration would convince Japanese people to cease wearing face masks outside.
"We will have to remain wearing a mask out of regard for them when we meet with individuals outside of our firm," a worker for a Japanese manufacturer told Kyodo News.
READ MORE: South Korea Lifts Visa Restrictions On Short-Term Travelers From China
An employee of East Japan Railway Co "Most passengers are anticipated to keep their masks on for some time. It's unlikely that the scenery at stations will alter considerably."
Students won't need to wear masks in class anymore, although they can if they're worried about their health. Earlier Friday, Kishida declared that the government would not encourage students and teachers to wear masks to the March graduations.
According to Kishida, students and teachers won't be required to wear protective face masks during the next school graduation ceremonies, except when singing in groups, provided that preventative health measures are put in place, such as adequate ventilation in rooms.
He told reporters in Saitama Prefecture, close to Tokyo that the government would propose that schools not insist students take off their masks.
Currently, when it is challenging to maintain a safe distance from others indoors, the education ministry of Japan advises pupils to wear face masks in class. Using a mask while outdoors is not thought to be necessary.
Also, Japan finally lifted the entry ban in October 2022 that had been in place for about three years and is promoting policies to recover depressed inbound demand. For example, Japan is planning an integrated resort with a casino that will open in the late 2020s in order to attract more international visitors.
With the proliferation of online casinos in Japan and other factors, casinos are becoming more popular and increasing demand for domestic travel in Japan as well. It is important to relax this mask regulation in order to bridge the awareness gap between tourists and Japanese people because more and more countries outside of Japan do not wear masks.
RELATED CTN NEWS:
Hong Kong's Lee Faces A Stern Test Over US$3.4 Billion Housing Deal
China's Officials Seek 'bold' Measures To increase Birth Rates