Floods Continue To Ravage Pakistan, Affecting More Than 30 Million People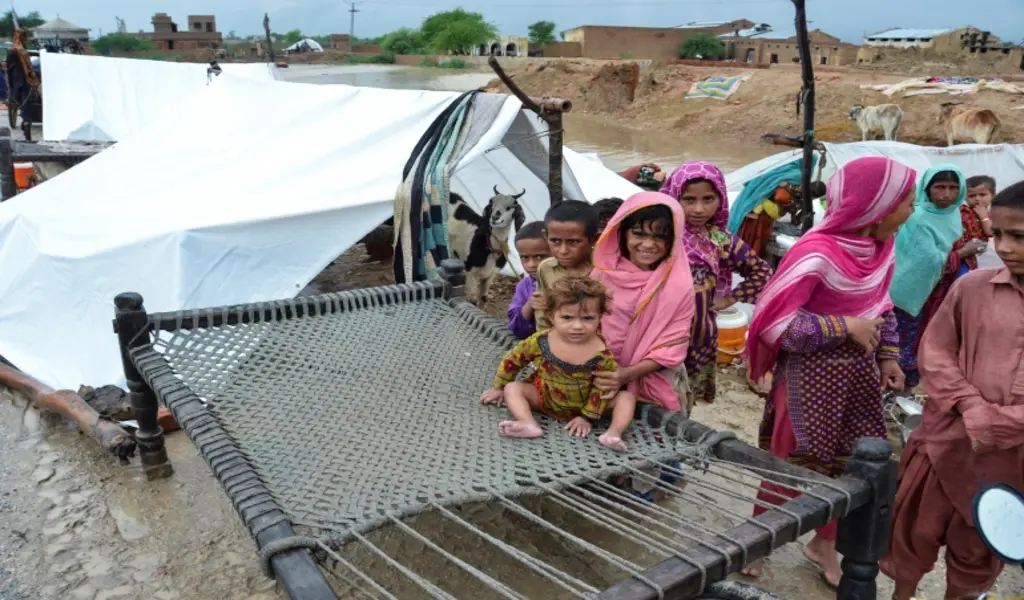 (CTN News) – More than 30 million Pakistanis have been affected by historic monsoon rains and flooding in the last few weeks, the country's climate change minister said Thursday.
As more than 900 people have been killed as a result of torrential rains that have triggered massive floods in Pakistan since last month, the international community has been urged to help with relief efforts.
A total of 33 million people have been affected in different ways. According to climate minister Sherry Rehman, the final number of homeless people is still being assessed.
Rehman described the floods as a "humanitarian disaster of epic proportions" that had left thousands without food and shelter.
It is beyond the ability of any one government or administration to rehabilitate and manage the rescue and relief, she said.
There should only be one singular focus in Pakistan right now: that is the resourcing,coordination & provision of relief to millions stranded by the #monstermonsoons hitting Pakistan in a cascade of catastrophic cycles.Latest cumulative figures show Sindh hit highest at 784 % 1/2 pic.twitter.com/tmFfLHpe8F

— SenatorSherryRehman (@sherryrehman) August 25, 2022
According to Ahsan Iqbal, the South Asian country's minister for planning and development, 30 million people were affected.
Pakistan's disaster agency says 903 people have been killed and about 50,000 have become homeless as a result of heavy rains since mid-June.
Soldiers, local disaster workers, and volunteers rescued tens of thousands whose homes were swept away, and they now live in tents far from their devastated villages and towns.
126 people have died in flood-related incidents in the past 48 hours, mostly women and children, according to the National Disaster Management Authority. Pakistan's economic crisis has been exacerbated by the flooding.
Merciless sky'
The majority of the damage occurred in Sindh, a province in the south.
In Hyderabad, the second largest city in Sindh, a woman who declined to be named said, "The rain has not stopped for three months… We are living in a rickshaw because our mud house's roof is leaking."
In August, Sindh received 784 percent more rain than the monthly average.
In addition, OCHA warned that floods warnings, river overflows, and landslides had been issued in several areas of Pakistan, and heavy rainfall was forecast for the next two days.
Kalam's iconic hotel collapses, washes away in a floods
A major hotel in Khyber Pakhtunkhwa's Swat district was swept away by flood waters on Friday in Kalam valley.
Swat River ran along the bank of the hotel. The building was evacuated in a timely manner, and no casualties were reported, according to Geo News. Following the incident, other hotels near the river were also evacuated.
Tourists have been advised against visiting Bahrain and Kalam in Swat, according to a National Highway Authority (NHA) alert.
Due to heavy rains, a flood-like situation has developed in the district.
The N-95 and N-90 highways between Bahrain and Kalam have been severely damaged by the downpour.
NHA spokesperson said flooding has affected the Bahrain bridge and approach road, in addition to the Bahrain-Kalam road and surrounding tracks.
It is recommended that tourists and locals in Swat avoid unnecessary travel.
KP govt declares emergency
Due to the devastation caused by the flooding in Swat, the Khyber Pakhtunkhwa government has declared an emergency.
Relief efforts in flood-affected areas of Swat will be under state of emergency until August 30, according to a notification from the KP relief department.
Mahmood Khan has directed the Provincial Disaster Management Authority (PDMA) to expedite relief efforts in the area and provide groceries, cooked food, and other items to those affected.
Swat's district administration reports damage to communication bridges in Matta, Sukhra, and Lalko.
PM announces Rs15bn for Sindh
PM Shehbaz Sharif visiting floods affected areas of Sindh, and Interacting door to door with floods affected children and women to ensure relief work. pic.twitter.com/5QLJeDzyo9

— PML(N) (@pmln_org) August 26, 2022
The Sindh government decided to fund a grant of Rs15 billion from the federal government on Friday to assist with the heavy losses caused by rains.
Amidst a crowd of reporters flanked by Sindh Chief Minister Murad Ali Shah and federal ministers such as Bilawal Bhutto and Syed Khurshid Shah here at Sukkur Barrage, the prime minister said the flood victims needed to be helped beyond politics.
Related CTN News: