Economic Growth In China Falls To 3%, But Slowly Improves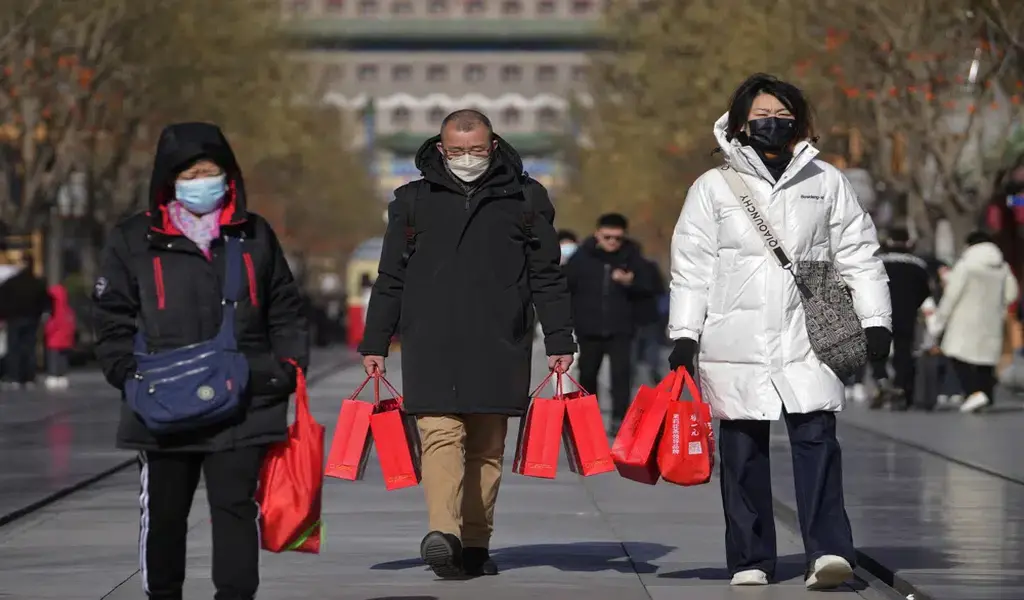 (CTN NEWS) – BEIJING –  China's economic growth dipped to its second-lowest level in at least four decades last year due to anti-virus regulations and a real estate collapse, but activity is rising after restrictions that kept millions at home and caused demonstrations were relaxed.
Official figures showed Tuesday that the world's second-largest economy increased by 3% in 2022, down from 8.1% in 2021.
After 2020, the coronavirus epidemic lowered growth to 2.4%, which was the second-lowest yearly rate since the 1970s.
Due to China's decline, oil, food, consumer goods, and other imports have fallen. Global suppliers facing the Western recession would benefit from a resurgence.
The National Bureau of Statistics announced that economic growth fell to 2.9% from 3.9% in the December quarter.
After the Communist Party abruptly lifted "zero-COVID" regulations, consumer spending recovered but remained weak in December.
ING's Iris Pang reported that 2023 GDP growth prospects had strengthened.
The ruling party has also eased anti-monopoly and data crackdowns to boost the economy. That campaign took billions of dollars off Alibaba and other international stock exchanges.
After tighter debt constraints slowed economic growth in 2021, the government loosened real estate finance controls.
Asian stocks fluctuated after the announcement. Tokyo rose as China, and Hong Kong fell. Australia and South Korea plummeted.
After peaking at 14.2% in 2007, China's economic growth has declined due to an aging workforce, security concerns, and restrictions on Western technology.
According to Tuesday's official figures, China's working-age population 16–59 fell 5% from 2011 to 876.6 million last year. From 70% a decade before, 62% of 1.4 billion people were working-age.
The International Monetary Fund and private analysts estimate 4% economic growth for the rest of the decade.
Retail sales declined 1.8% year-over-year in December, compared to 5.9% in November. Amid a COVID-19 pandemic that has filled hospitals, shoppers and diners are returning slowly.
After falling 0.5% in November, investment in factories, real estate, and other fixed assets rose 0.5% in December.
Oxford Economics' Louise Loo reported that stabilization is underway.
5% growth is expected this year. Economists say that real estate is an economic powerhouse, and exports are sluggish.
Factory output climbed 3.6% in 2022, down from 4.8% in the third quarter as U.S. and European demand for Chinese goods fell under pressure from interest rate hikes to reduce record-setting inflation.
In November, the Communist Party promised to lower the cost and disruptions of "zero COVID."
It isolated all sick people. It reduced China's infection rates. It closed Shanghai and other cities for up to two months in early 2020 to fight breakouts, affecting production and trade.
Growth fell to 0.4% in April-June a year earlier before rising to 3.9% in the following quarter.
In October, a new infection wave forced officials to close industries and keep millions of people home. Shanghai protests erupted. Shanghai protesters wanted Xi Jinping to resign.
The ruling party has lifted quarantine, testing, and other travel restrictions. When large-scale tourism resumes is unknown.
Even after such limitations were lifted, numerous firms and eateries closed for weeks in December owing to a scarcity of non-infected workers.
To "promote stable growth," the Cabinet promised entrepreneurs tax cuts, bank loans, and other help on Saturday.
Goldman Sachs analyst Andrew Tilton predicted a growth boost after reopening. Goldman forecasts 5.2% growth this year, up from 4.5%.
Others are wary. This month, the World Bank lowered its 2023 China growth prediction to 4.3% from 5.2% in June. It cited COVID-19 uncertainties and the depressed real estate market.
The debt crackdown drove smaller developers out of business in a sector that accounts for 25% of China's GDP. Bigger competitors missed bond payments. Sales plummeted as nervous purchasers awaited developer status.
Evergrande Group, the world's most indebted firm, is trying to restructure $300 billion in debt to banks and bondholders. Financial markets are watching.
RELATED CTN NEWS:
Vietnam President Nguyen Xuan Phuc Resigns Over Corruption Allegations