COVID Death Toll Rises During Lunar New Year In China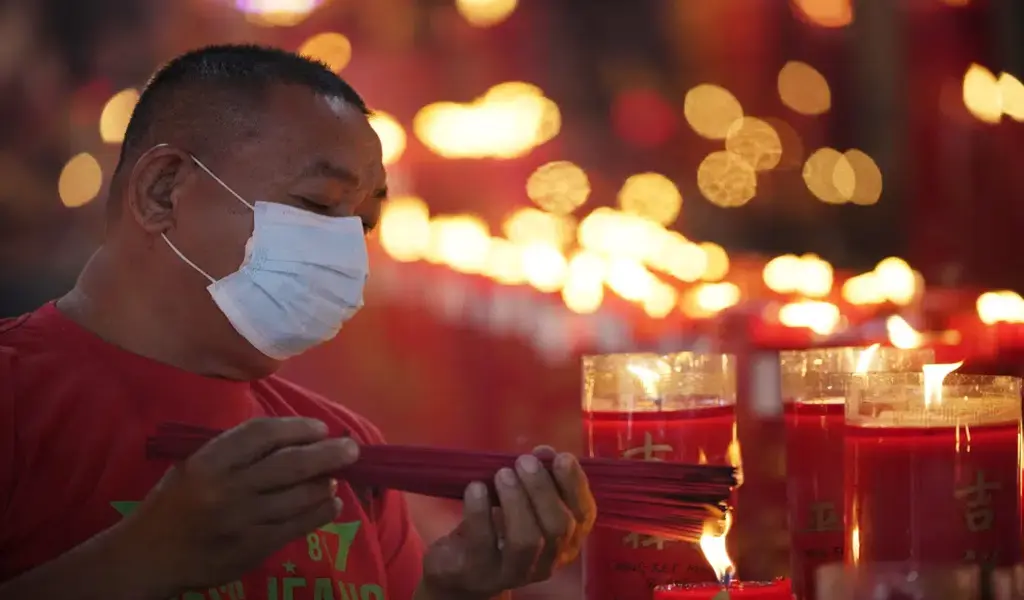 (CTN NEWS) – BEIJING – After three years of stress and financial difficulty due to the pandemic, China celebrated the Lunar New Year on Sunday with its people wishing for health.
According to officials, the virus was responsible for about 13,000 more deaths from January 13 to January 19.
Thousands of people waited in line outside the famous Lama temple in Beijing, which had been regularly closed before COVID-19 restrictions eased in early December, awaiting their chance to pray for their loved ones. The line spanned nearly one kilometer (a half-mile).
A resident of Beijing expressed her hope that "wellness for everyone" would come with the year of the rabbit.
The 57-year-old, who only provided her last name, Fang, added, "I hope this wave of the epidemic is gone." "My spouse and the rest of my family contracted the illness, but not me. I still believe that we should defend ourselves."
In addition to the roughly 60,000 deaths that occurred in the month or so prior, officials had announced that about 13,000 COVID-related hospital deaths occurred between January 13 and January 19.
According to Chinese health experts, the country's illness wave has reached its apex.
The most recent death toll information is from China's Center for Disease Control and Prevention, which continues to be incredibly low by international standards despite concerns about Beijing's data transparency.
After China abruptly reversed its policy on COVID limits and mass testing on December 7 in response to long-standing demonstrations over the curbs, hospitals and funeral homes were overburdened.
Those who passed away at home are not included in the death toll given by Chinese authorities, and some doctors claim they are discouraged from listing COVID on death certificates.
On January 14, China reported approximately 60,000 COVID-related hospital deaths between December 8 and January 12. This is a significant rise from the 5,000 or so deaths previously recorded for the whole pandemic period.
According to records, one of the signs of COVID's fatal impact in China is that funeral establishments spend more on everything from body bags to cremation ovens.
According to some health experts, more than a million Chinese citizens will pass away from the illness this year. British health data company Airfinity predicts that this week, COVID mortality could reach 36,000 each day.
Health experts are particularly worried about individuals living in China's vast rural, where medical services are subpar compared to those in the wealthy coastal districts, as millions of migrant workers return home for Lunar New Year celebrations.
The first 15 days of the 40-day Lunar New Year travel rush are anticipated to have seen almost 110 million passenger trips on trains, up 28% from the same period last year, according to the People's Daily, the Communist Party's official newspaper.
According to state-run CCTV, 26.23 million journeys were made on the night of the Lunar New Year, half the pre-pandemic number but an increase of 50.8% over the previous year.
Wu Zunyou, a head epidemiologist at the China Center for Disease Control and Prevention, stated on the social media site Weibo that the pandemic may spread during the holiday season and increase infections in some locations.
A second COVID wave is unlikely shortly.
Given that 80% of the population has been infected, there is little chance of a significant COVID resurgence in China during the next two to three months, according to Wu.
Some Chinese also made travel plans after China reopened its borders on January 8.
The tourist attractions of Asia have been preparing for the return of Chinese visitors, who, before the pandemic, spent $255 billion annually worldwide.
We hadn't left China for three years due to the pandemic, said Kiki Hu, a 28-year-old tourist and company owner in Krabi on Thailand's southwest coast.
"I feel thrilled and emotional now that we can travel and spend time here."
RELATED CTN NEWS:
China's Re-opening Boosts Emerging Market Inflows
North Korean Man Sentenced For Aiding Kim Jong Un's Regime