China Targets A 5% Economic Growth Rate For This Year
(CTN NEWS) – As the China legislature began its annual session on Sunday, which will further tighten President Xi Jinping's control over the economy and society, the Chinese government unveiled plans for a consumer-driven recovery of the country's faltering economy.
Following the termination of anti-virus regulations that kept millions of people at home and led to protests, Premier Li Keqiang, the top economic official, but this year's GDP target at "about 5%".
The second-smallest rate of growth since at least the 1970s, 3%, was recorded in the second-largest economy in the world last year.
Li emphasized the importance of prioritizing the expansion and recovery of consumption in a speech on government initiatives delivered before the ceremonial National People's Congress in the Great Hall of the People in the heart of Beijing.
NPC's Annual Full Meeting
The NPC's annual full meeting, attended by all 2,977 members, is the most well-known occasion of the year, yet its agenda consists only of supporting Communist Party policy decisions and presenting official initiatives.
After the 69-year-old president extended his status as China's most powerful figure in decades by appointing himself to a third five-year term as party general secretary in October, possibly preparing to become a leader for life.
The NPC is expected to approve the appointment of a government of Xi loyalists this month, including a new premier. In October, free-market proponent Li was ejected from his position as the second-ranking party leader.
The difficulties facing Xi's new leadership team range from restrictions on access to Western processor chips because of security concerns to lackluster export demand globally and ongoing U.S. tariff rises in a dispute over technology and security.
Separately, the Ministry of Finance announced a 7.2% budget rise, the 29th consecutive annual increase, for the People's Liberation Army, the military wing of the ruling party, to 1.55 trillion yuan ($224 billion).
China The Second-Highest Military Budget In The World
After the United States, China has the second-highest military budget in the world. According to the Stockholm International Peace Research Center, the two nations spend half of all military budgets worldwide.
Li's study recommended improving household incomes to increase consumer spending, but he provided no further information in his unusually succinct address of 53 minutes.
Compared to prior years, it was less than half as long.
The premier emphasized the need for "building up our country's strength and self-reliance in science and technology,".
An area where Beijing's state-led efforts to foster rivals in the telecoms, clean energy, electric cars, and other industries have strained ties with the United States and other trading partners.
They claim China violates its promises to open its markets by stealing technology from international firms, pressuring them to hand it over, and unlawfully subsidizing and protecting its up-and-coming rivals.
Earlier, during the ruling party's economic planning meeting in December, Xi singled out the need to entice uneasy consumers and business owners to spend and invest.
China must "completely liberate consumption potential," Xi reportedly stated in a text made public last month.
Xi has pushed for the ruling party to play an even more hegemonic role since coming to office in 2012. He has urged the party to " rejuvenate the great Chinese nation" and return to its "original purpose" as China's political, social, and economic leader.
Xi has suppressed opposition, increased information censorship and control, and tightened authority over Hong Kong.
With anti-monopoly and data security crackdowns that reduced the value of e-commerce and other tech companies' stock markets by billions of dollars, Xi's administration tightened control over these industries.
Beijing pressures them to contribute to government programs to advance technology and social welfare. This has led to fears that the economy may grow less quickly.
Li's Sunday report made the state industry's value even more clear. It pledged to assist business owners who create jobs and wealth.
But it also stated that the government would "improve the core competitiveness" of state-owned firms that control sectors like banking, energy, steel, and communications.
Li also urged "resolute steps" against Taiwan's formal declaration of independence, an island democracy that Beijing claims are part of its sovereignty.
He urged the "peaceful reunification" of China and Taiwan, which separated in 1949 following a civil war, but made no specific plans.
Although Taiwan has never been a part of the People's Republic of China, Beijing asserts that it must reunite with the mainland, if necessary, by force.
By flying fighter jets and bombers close by and firing missiles into the ocean, the administration of Xi has stepped up its efforts to terrorize the island.
Since mid-2021, China's economy has struggled to grow due to tougher regulations on debt, which Beijing fears are dangerously excessive and has caused a downturn in the massive real estate sector, which provides millions of employment.
Global financial markets became concerned as smaller developers were forced into bankruptcy and some defaulted on obligations.
Plans to enhance China's wealth and worldwide influence are under threat since the workforce has been declining for longer.
Although consumer spending is progressively improving, the IMF and several private sector analysts predict that economic growth will be far lower this year, at 4.4%, than the government's stated goal.
In February, a gauge of industry activity increased to a nine-year high. Among other activity indicators, the number of express deliveries and subway users increased.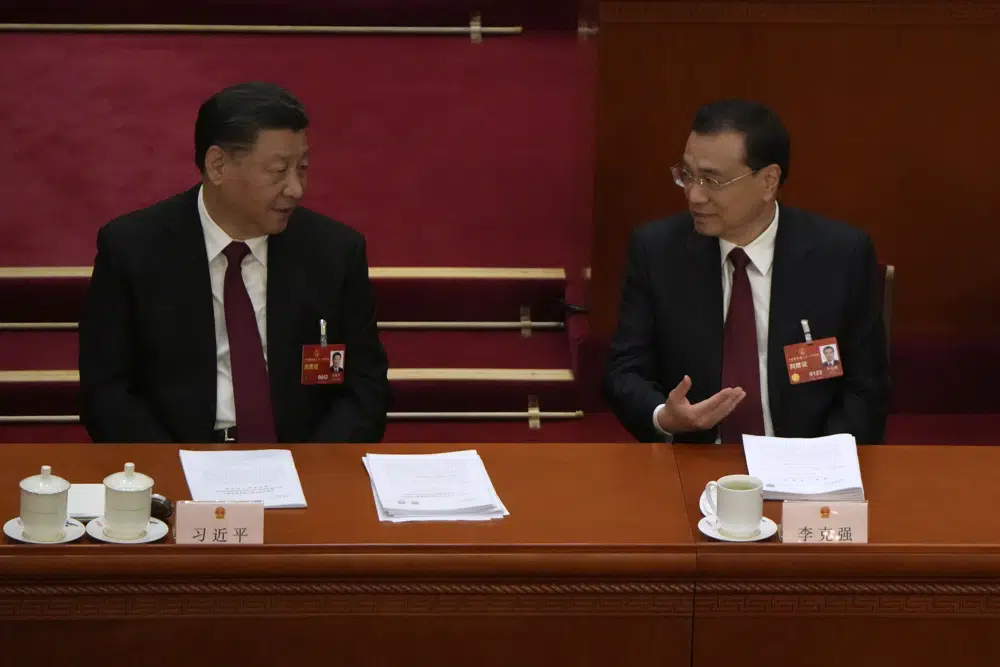 According to a central bank official, lending for construction and home buying is increasing as real estate activity is rebounding.
Consumer spending will likely drive a slower rebound than government stimulus programs or a surge in real estate investment.
But, Chinese policymakers aim to foster self-sustaining growth based on consumption rather than exports and investment and are working to prevent reigniting a surge in debt.
Li Qiang, a former Shanghai party secretary close to Xi but has no background in national politics, is in line to become premier. In October, Li Qiang was designated the party's No. 2 leader.
That reflects Xi's emphasis on elevating individuals with whom he has a personal relationship rather than adhering to party tradition that leadership contenders must hold national or Cabinet-level positions.
The official growth forecast, if met, would represent an improvement over last year but a dramatic decline from the 8.1% of 2021.
Last year's global economic downturn impacted China, lowering demand for imports of food, oil, and other products and sales of consumer goods like cars.
Auto sales declined by double digits in January despite lifting anti-virus restrictions, and retail sales declined.
Increased political controls have alarmed businesspeople and foreign corporations.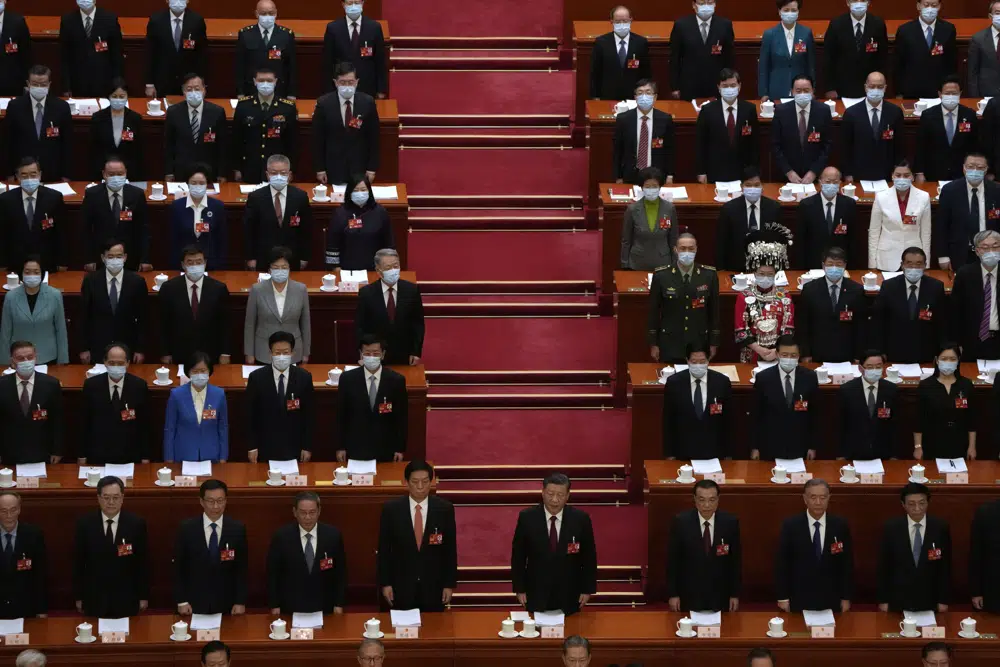 International business associations claimed that because of travel restrictions, multinational corporations were diverting their investment plans away from China last year.
Premier Li made explicit commitments to expand market access in China and reaffirmed promises of equal treatment for foreign and domestic businesses to reassure foreign investors.
For international businesses, "China will undoubtedly present even more economic opportunities," he said.
The party has suggested that its effort to tighten political control over the business is ending but hasn't stated that it is abandoning it.
Midway through February, a prominent banker named Bao Fan, who was engaged in some of the biggest IT deals, vanished, sending entrepreneurs into a state of shock once more.
His business stated last week that Bao was "cooperating with an investigation," but it provided no further information.
RELATED CTN NEWS:
Malaysia Floods Leave 4 Dead And 40,000 Displaced
Syria's Earthquake Caused $5.1 Billion In Damage: World Bank