What Should I Do If Disney Plus Keeps Logging Me Out of TV?
Why Disney+ App Keeps Logging Me Out
Why Disney+ App Keeps Logging Me Out on Smart TV and Android TV. Here is the Simple Guide to Fix
Disney Plus
Keeps Logging Out On TV.
Despite being a newer streaming service, Disney Plus has achieved significant growth. Its elegant design and uninterrupted streaming experience provide the greatest experience for users.
However, when it comes to Disney Plus, consumers have recently reported that Disney Plus continues logging them off on TV. While logging in and out is a security precaution, it may also result in you being logged out accidentally.
So, for whatever reason, imagine you are going to watch your favorite movie/series after a long day and you are unable to log in to your account.
That does seem frustrating, doesn't it? So, if you're in a similar position where Disney Plus shuts you out every time you try to log in, let's see if there are any workarounds.
What to Do if Disney Plus Keeps Logging you Out on TV?
One of the reasons Disney+ keeps logging you out is the number of devices your account is linked to. In general, Disney Plus allows you to use your account on a maximum of ten devices.
However, if you use the same account on too many devices or across too many family members, you may experience such issues from time to time.
As a result, it is common to experience such problems with your Disney Plus account. In such a situation, you must log out of all devices before logging back into your TV.
However, you cannot do this directly on your TV because it must be done through the Disney Plus website. So, if necessary, go to your laptop or mobile device and complete the steps outlined below.
Click on your Profile and go to Account Details.
Click on Log Out of All Devices.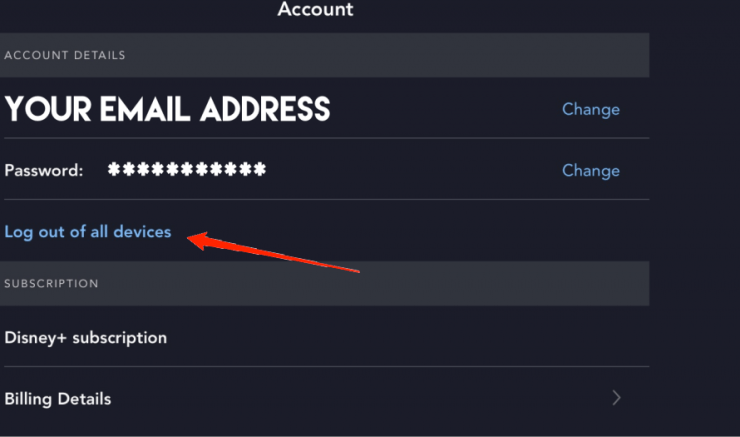 Finally, enter your password to confirm.
Once you have successfully logged out of all devices, now go back and try logging in on your Smart TV.
Clear Cache of Disney+ App
It is good to clear the cache of the Disney Plus app on Android TV. Android TV offers an option to delete the cache of the apps installed to fix any issues with the app's functioning.
Re-Install the App
Another best solution is to delete the app and re-install it again. This will give the Disney Plus app a fresh start removing all unwanted app data that might have caused frequent account logouts from the app.
Final Words
Disney Plus logging you out is a rather regular issue. Fortunately, it is not a significant problem, and simply logging out of all connected devices will resolve it. Do let us know if this post was useful, and please leave a comment if you encounter any further troubles.
If you have any opinions on Disney Plus Keeps Logging Me Out On TV: What to Do? please leave them in the comments section below. Also, for video instructions, please subscribe to our DigitBin YouTube channel. Cheers!
Related CTN News:
5 Best Nvidia and AMD Graphics Card Deals for Holiday Sale 2022