The 12 Most Popular Trends In Business Gifts
The 12 Most Popular Trends In Business Gifts –  Giving Gifts is a universal practice, not just at Christmas and other celebrations.
The Trends intention behind giving Gifts , whether they be given on special occasions like Corporate Gifts, birthdays, weddings, anniversaries, and holidays or given as rewards for work performance, is always the same:
to express gratitude. Although the intention is the same, the corporate gift ideas keep evolving. Neither will the year 2023 be an exception.For exciting gifts visit here.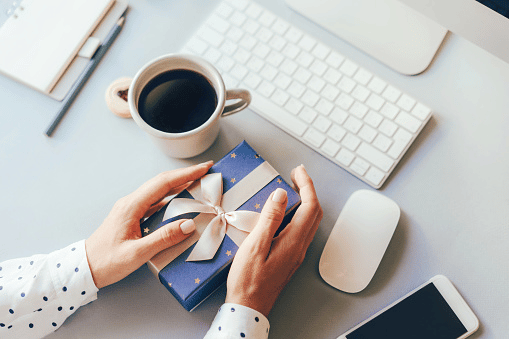 Organizations that truly value their workers' dedication to the company's success should consider giving them gifts as a means of showing appreciation.
It used to be reserved for holidays like Diwali and Christmas, but now it's used year-round. In recent years, it has also proven effective in attracting and retaining top talent in the workplace.
Eco-Friendly And Long-Lasting Gifts

It is a perennial fad to present high-end corporate gifts that are also good for the environment.
Employees take pride in working for environmentally conscious businesses, and customers prefer to do business with companies that demonstrate concern for the natural world.
Environmental preservation and economic success may both benefit from sustainable practices. Please refer to the comprehensive gift guide for businesses of all sizes and budgets.
Food Baskets As Presents
There is no better gift than the gift of delicious food, making food hampers a safe bet. Gifts of salty and savory snacks, rather than traditional sweets, are on the rise.
The contents of each gift basket are selected with the recipients' individual tastes in mind.
To put it simply, they are the pinnacle of elegance and sophistication.
Gift baskets filled with gourmet treats are a wonderful gesture of gratitude for one's staff, customers, and collaborators. Unique and wonderful Gifts can be found in the form of healthy teas and snacks.
Organizations may also think about eco-friendly gift hampers for an extra touch of class.
Products For Use In Offices And Businesses
Personalized stationery from Offineeds is the best way to show appreciation to far-flung workers or former employees who have since retired.
Pens, planners, calendars, basic stationery, etc., are all well-liked Gifts. I have no doubt that they will treasure this present.
Corporate Gifts With A Personal Touch
customization will likely remain a major trend in corporate gift giving. The most thoughtful Gifts are tailored to the recipient's interests and needs while also boosting the reputation of the giving company.
As a result, it's not surprising that individualized Gifts have become a major trend in business giving in 2014.
Adding a personal touch to a gift ensures that it will be appreciated by the recipient. Since COVID-19 has caused many people to stay inside, some of them may develop feelings of isolation or the fear of missing out (FOMO).
Employee morale and productivity can be greatly improved with the help of a thoughtful corporate gift.
The company's name, the employee's name, and the company logo could all be engraved on the gift.
Personalized Gifts are a great way to show appreciation to long-serving workers, and they are especially thoughtful at retirement time.
Materials For Decorating The House
Home decor items have become increasingly popular in the corporate world. You can wear them anywhere, and they help foster closer ties between upper management and their staff.
Gift ideas for the home can be found at OffiNeeds, including picture frames, cooking utensils, magnet boards, and more.
It's common knowledge that in today's business climate, it's essential to cultivate solid connections with other companies in order to thrive.
Therefore, it's a good idea to give Gifts to employees and customers that have a direct bearing on their private lives.
Presents For Long-Distance Workers
Companies are allowing employees to work remotely during the pandemic, but it has been challenging to keep them. With an eye toward employee retention, businesses are getting in on the corporate gift trend of the year.
Companies with a global presence, like Facebook, have begun providing their staff with incentives like a stipend of $1,000 to help them establish a workspace in their homes.
It may be possible for internet behemoths like Google and Facebook to do so, but many businesses simply do not have the resources to compete in this area. Offineeds stocks fitness equipment to help workers stay fit and productive.
Gift Certificates For Businesses Are The Seventh Most Popular Holiday Present
Digital gift cards are a great option for companies that don't want to bother with the hassle of picking out unique Gifts for each employee.
Amazon, Flipkart, Myntra, and Nykaa gift cards are just a few of the options available from Offineeds.
The employees can use the gift cards at the online store to buy whatever they like. Offineeds gift cards are also valid for life. Workers will have the option to purchase necessities both now and in the future.
Self-Care Gifts
The stress of being in lockdown has made everyone more conscious of the trends of taking care of their bodies and making positive lifestyle choices.
The rising trend of people placing importance on their health is encouraging for the sake of achieving a better work-life balance. Self-care gifts from a boss are appreciated when an employee is quarantined, retired, or working from home.
Popular high-end corporate presents now include fitness center memberships, gourmet snack baskets, aromatherapy essential oils, and aromatherapy diffusers.
Tech-Related Corporate Gifts
It's not the kind of thing you can put away and forget about. There is a plethora of technology from which businesses can select for their staff. offices provides products like earphones, portable Bluetooth speakers, smartwatches, power banks, etc., to large businesses for the convenience of their staff.
Every company has the financial flexibility to purchase these products. It's smart to make a list and let workers pick out what they want.
Popular high-end corporate Gifts now include fitness center memberships, gourmet snack baskets, aromatherapy essential oils, and aromatherapy diffusers.
Unique Corporate Games
As a way to take your mind off things, Offineeds offers toys like fidget spinners and magic cubes.
This is an excellent present idea for businesses to give to staff so that they have something to do when work becomes too stressful.
Gifts like this are useful for employees who split their time between the office and their homes.
Distance Learning
A great way to help workers feel like they've accomplished something, especially when they're telecommuting, is to give them opportunities to expand their knowledge and skills.
Managers who provide their staff with access to high-quality educational materials benefit their employees both professionally and personally.
The key to developing and enhancing a company is to invest in learning resources and encourage staff members to continue their education and professional development.
This occurs when workers recognize their importance to the company and receive adequate support. When workers feel valued, they are more likely to go above and beyond for their employer.
Customized Garments
One last crucial trend to keep in mind when shopping for corporate presents is personalization. Choosing the right present for the right person is what this instance of personalization is all about.
As a company, you'll earn a lot of goodwill from your staff if you cater to their fashion preferences with custom apparel.
Offineeds offers an extensive selection of customizable clothing, including T-shirts, jackets, hoodies, caps, and shirts. Every one of these can be personalized with the worker's name and a piece of art that means something to them.
The Market For Corporate Gifting Is How Big, Roughly
The Indian gift market is valued at INR 2,50,000 crores, with the corporate gifting sector accounting for INR 1,20,000 crores.
According to reports, annual growth rates exceed 200 percent. For over a decade, posh Indian businesses have catered exclusively to the metropolitan elite.
Despite this, market research indicates that consumers in tiers 2 and 3 are increasingly significant buyers in the luxury market, with the help of online shopping.
Young adults today are flush with cash and have complete sway over the retail sector. They have a penchant for expensive goods and often rely on their peers on social media for news and other information.
Conclusion
Even though the methods used to show gratitude to employees, customers, and suppliers through corporate gifts evolve over time, the underlying goal of showing gratitude never changes.
You can't go wrong by adopting these corporate gifting trends for 2023 and beyond; you'll make your employees happy and boost engagement.
Related CTN News:
How to Buy Delta-8 Carts: Buying Guide and FAQs
Holland & Barrett's Christmas Luxury Advent Calendar is reduced to £44
Benefits Of Tattoos For Mental Health