Stacking Rings: 8 Ideas To Show Off Your Rings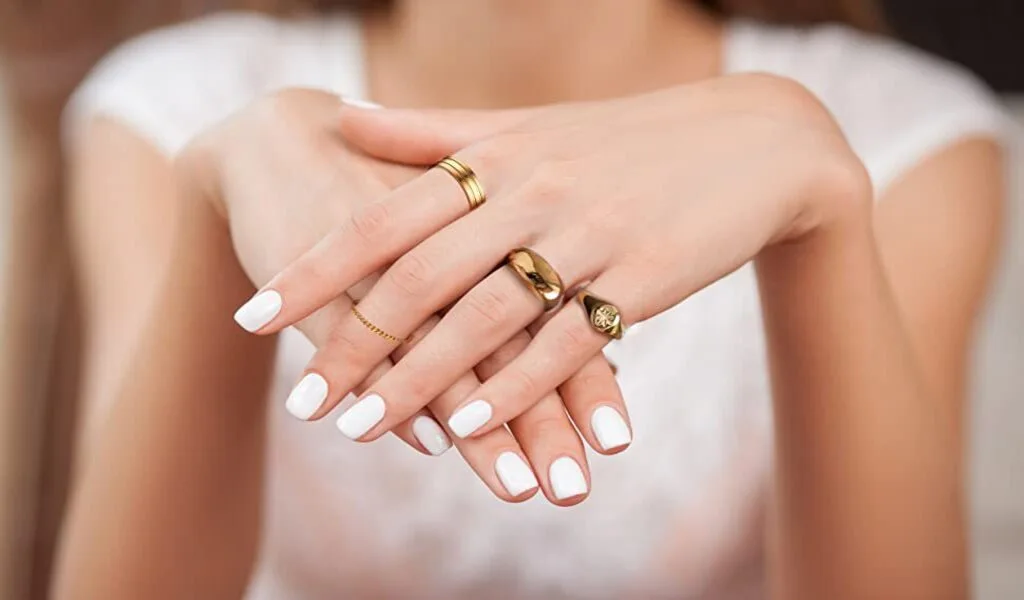 When it comes to layering, this style expands to broader horizons than just clothes. You can layer your necklaces, your bracelets, and your rings. Stacking rings is one of the most trending fashion trends that you can focus on this summer.
Although we would want to suggest that anything goes when stacking jewelry, there are a few techniques to master this fun craft! We don't want you to appear like a kid who stole jewels from their mother, after all. This is your chance to be imaginative and have fun with your jewelry while keeping in mind a few suggestions to preserve its quality.
So before you choose the shop gold chains option, let's see if the ideas that we have shared with you appeal to you.
1. Style Your Ring Around Your Anchor
An anchor is always necessary. Your wedding ring, engagement ring, or even a class ring could serve as the anchor. There isn't a rule that says you have to use a single ring as the anchor ring; you may even have two of these rings.
This anchor ring, also known as the staple ring, serves as the base upon which you can erect your stack of rings. You need to focus on stacking the rings according to your personality in addition to choosing the ideal anchor ring.
2. Pick Something Different From Usual
Trying a novel endeavor? Why not experiment with some novel ring designs? You only need to search for ring shapes that complement one another when choosing from the wide bands or crisscross rings, which give a lot of variation.
To achieve a highly smooth and stacked ring look, you may, for instance, begin the stacking by wearing or positioning your v-shaped ring on just one finger and in a triangle form.
3. Mix & Match
By combining and matching the parts, you may keep things a little more interesting. Choose the ring stacks with the textured rings that are smoother to do this. In addition to building a power stack, this also offers dimension and variation.
Additionally, you have the choice to combine different metals. For instance, you could combine your rose gold rings with some of your tanzanite earrings studs and some silver accessories. You'll look more lively and funky after doing this.
4. Avoid Chunky Pieces
Even though you may have noticed that some people manage to pull off the chunky monkey look with ease and the rings look well balanced and comfortable, this may not be the best option for you as a beginner, especially since the chunky pieces would limit the mobility of your fingers in addition to making it difficult to stack the rings.
Stick with the delicate rings and arrange them in various ways to prevent pain.
5. Layer Correctly
If you want to receive that pleasant high from your fingers and the neatly painted nails, you can layer your rings like you would necklaces.
To layer rings, you would have to deviate from the one-ring-per-finger guideline and choose to layer three rings on each finger, always starting with the thickest ring at the base of the finger and working your way up to the thinner rings.
6. Keep It Delicate
Consider the more delicate appearance if you don't want to go all out with the bigger, bolder items. You can achieve this effect by stacking several thin rings or by wearing the double-stacked rings.
Although they might also be fashioned as midi rings, the thinner rings are ideal for stacking because they lie comfortably at the base of your fingers. The alternative would be to wear thinner rings for a more bookend statement look, which would add balance in addition to a good statement vibe.
7. Keep It Sane
Wearing additional rings that are similar in appearance or have similar qualities is another easy way to achieve the stacked ring look.
Beginners should use this advice, especially when going to a bracelet shop and matching rings of the same size and metal that are within the same range. In case if you already have a pair of jewel studs, such as Tanzanite earrings, make sure to pair it with other complementary accessories in the same metal finishes.
8. Make The Process Fun
After all is said and done, only if you choose to enjoy the process can you look and feel wonderful as a beginner trying to stack your rings.
Of course, you must first feel at ease with the fundamentals, but after that, you must conduct research and test out several options to determine what is effective for you and what is not.
Trying the rings on various fingers, stacking them in various configurations, and arranging them differently are all examples of trying new things and having fun with them.
Again, wearing the rings comfortably is necessary for stacking to be successful. They also shouldn't catch on your clothing or restrict your ability to comfortably bend your fingers.
End Note on Stacking Rings
Along with following the above ideas, avoid having dirty nails because the entire idea of the stacking ring look is to bring attention to your hands. Make sure the nail color you select complements the overall aesthetic. It can be a good idea to balance out your fingers' heavy jewelry and precious metal adornment with more neutral nail polish.
SEE ALSO: 
4 Awesome Reasons to Take a Trip to Australia
10 Style Tips Every Man Needs to Know
Dogs are more Intelligent Than you Think
Who Made Magicycle, Or Who Made Us Magic?