Soap with Style: Custom Packaging for Your Fashion-Forward Brand
With the increase in the soap making business, the demand for functional packaging is also increasing. Soap packaging boxes for your soap products should be so enticing that the customer will buy them instantly from the store shelves.
In addition, the packaging must protect your products from harsh outside conditions like humidity and temperature. But how can you design packaging that is aesthetically appealing and effective for your soap products?
Don't worry, we have got hot tips for designing soap boxes that will make your brand's sales skyrocket.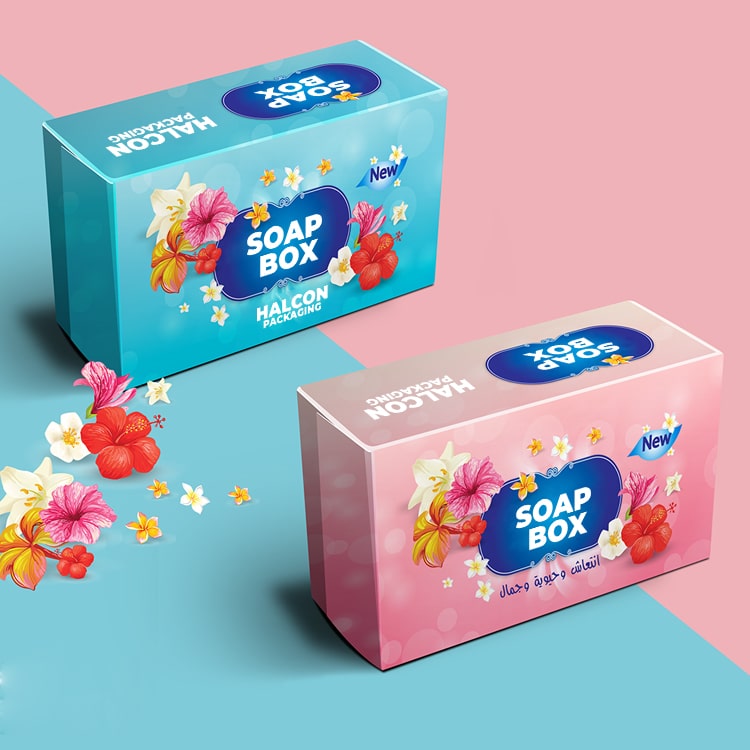 In this blog, we are going to tell you what trendy soap packaging designs are and how you can design them. So, let's dive into the details.
Elements for Great Soap Packaging Boxes
Your soap brand can only stand out when the packaging is made with an original and innovative idea. Hence, compelling and creative packaging can make a big difference. There are many factors that you should consider while designing your soap packaging boxes. For your better understanding, we have listed a few below:
Packaging patterns and styles
Protective packaging materials
Branding capabilities
Choosing the Right Packaging Materials
The first thing that you need to consider while designing your custom soap boxes is the packaging materials. Some soaps are extracts and oils that need packaging materials that will prevent stains and lock in scents. The materials should be robust enough to protect products and aesthetic enough to give a memorable unboxing experience.
The materials that packaging suppliers usually use for boxes for soap are Kraft, cardboard, corrugated, and rigid. You can go for sustainable materials like Kraft to attract eco-conscious buyers, and you can choose luxurious materials like cardboard or rigid to showcase the story of your brand.
Branding Capabilities
Your product's packaging can influence consumers buying decisions, as it is the first thing they are going to see even before your product. If the packaging is not properly designed, it can cause you to lose potential customers. That is why it is very important to maintain consistency in your brand's packaging to make it recognizable in the marketplace.
Your soap packaging boxes are a part of your brand's story. While designing the boxes, keep in mind your brand's personality, values, and mission. You can use printed soap boxes to promote your brand and add visibility effortlessly.
Add your logo, tagline, custom labels, and slogan to present the identity of your brand. The elegant custom soap boxes will leave a lasting impression if you design them according to the taste of your target audience.
Packaging Patterns and Styles
The soap industry is tremendously growing day by day, and businesses are looking for ways to make their product distinct in the market. There are numerous soap subscription box styles that are protective and incorporate branding elements to create the best experience for the customers.
Here are some very exciting and useful ideas for soap packaging boxes that you can use for your brand:
Minimalistic Elegance:
Minimalist printed soap boxes are a great option for those who value a simple, understated aesthetic. With an emphasis on clear lines and delicate details, these boxes have simple, modern designs.
Select a neutral color scheme and go with simple typography or a small logo. The result is an elegant and sophisticated box of soap that exudes refinement and simplicity.
Cutouts and Sleeves
Soap packaging boxes with logo and sleeves look very attractive and appealing. A cutout is a good option if your product packaging has decorative elements such as flowers. Through the window-cut feature, your customers will be able to see the product even before buying it.
A packaging sleeve is another affordable packaging solution that you can incorporate into your soapbox design to make it look more sleek and luxurious.
Vibrant and Playful:
If your brand's personality is vibrant and playful, why not reflect that in your custom soap packaging boxes? Use bright patterns, colors, and eye-catching graphics to create small soap box packaging that stands out.
Incorporate lively illustrations or quirky motifs that resonate with your target audience. With bold and vibrant black soap boxes, your products will stand out on the shelves and convey a sense of fun and excitement.
Eco-Friendly and Sustainable:
In an era where sustainability is a growing concern, eco-friendly soap packaging boxes have become increasingly popular. These boxes were made with a minimal impact on the environment in mind, using recycled or renewable resources.
Use earthy colors, organic textures, and eco-friendly printing methods to demonstrate your commitment to sustainability.
By choosing environmentally friendly soap subscription box packaging, you can appeal to customers who care about the environment while also aligning your brand with moral principles.
Luxurious and High-End:
For brands that exude luxury and opulence, custom-made soap box packaging can be transformed into exquisite packaging that mirrors the exclusivity of your products.
Incorporate gold or silver foil stamping and embossing/debossing techniques to add a touch of elegance and sophistication. The result is packaging that conveys luxury and entices customers to buy your products.
Whimsical and Artistic:
Whimsical soap packaging boxes are a game-changer for brands that embrace creativity and artistic expression. You can think outside the box and go for unique shapes and structures to reflect the artistic essence of your brand. You can enthrall your customers with the whimsical custom soap boxes' artistic flair and sense of wonder.
To Sum Up!
Soap packaging boxes for your soap should be protective and eye-catching. You should invest in packaging that will serve your branding and marketing purposes. It is important to partner with a soap box manufacturer that will bring your visions to life.
Go for a packaging manufacturer that is adept at delivering exceptional and high-quality custom-printed soap boxes. You can confidently ship your fragile soaps anywhere in the world with the appropriate packaging!
SEE ALSO: 5 Things to Mind When Selecting a Wedding Photographer