Men's Glasses – A Style Guide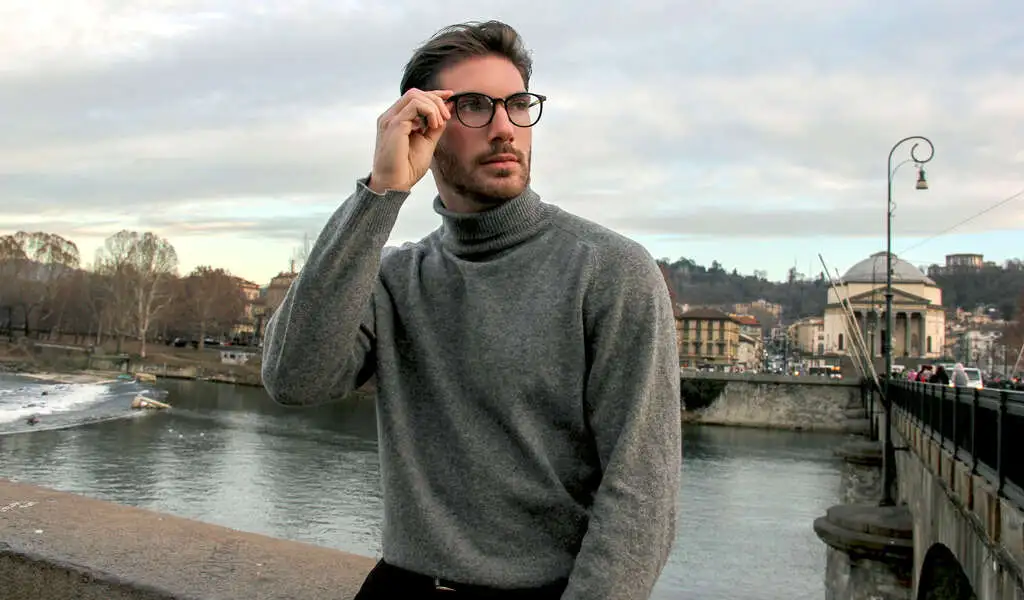 An excellent pair of men's glasses will not only look nice but will also match your budget and lifestyle. So, whether you're a trend follower, a traditionalist, or somewhere in between, we've put together a list of over 10 alternative styles for you to try. Choosing the perfect glasses can be as much fun as trying on suits and when it comes to choosing stylish men's glasses it is no different. However, the selection process can become overwhelming at times.
At SmartBuyGlasses, they work tirelessly to update and reinvent their collection of classic men's fashion glasses styles, and then empower you to elevate your look and attitude with everything from round frames to funky colors and classic aviators.
Changing the style of your glasses can give you a professional, stylish, geeky, vintage, or funky look.
Are you looking for a simple way to update your entire look without having to buy a whole new wardrobe? Continue reading to learn how to update your signature look by selecting from the most popular men's eyeglass frames.
#1: Clear Frames
Clear glasses frames, which are almost undetectable from afar, have a funky vibe that we've forgotten about since we've grown accustomed to bold-colored frames. They've been around for a long time, but celebrities wearing them on red carpets and late-night television programs have lately increased their appeal.
Clear-framed glasses are fashionable and contemporary, and they look great with any complexion and attire. If you choose clear glasses frames, you will certainly take on the subtle funky look.
#2: Oversized Frames
Large frames for spectacles are unquestionably a fashion statement. This sort of frame flatters many different types of features and is a great option if you're not too shy and like sticking out in a crowd.
A decent fit and trendy look may be achieved by selecting the proper shape and color for your face, skin tone, and eyes. Big eyeglass frames compliment your own style, so be ready to be the center of attention! The greatest attention-getting item you can wear is oversized spectacles. It's a must-try trend for everyone who wants to be the center of attention.
#3: Round Vintage Frames
Men's eyeglasses with a circle or rounded shape evoke memories of John Lennon's famous glasses style and his call to give peace a chance. His long hair and narrow features complemented his thin metal spectacles frames well.
Faces with a square or heart shape may wear a completely round set of eyeglass frames. They serve to balance a broad forehead, while rounder features benefit from eyeglass frames with more contrast, such as square or rectangular.
#4: Hipster Frames
It's one of the most popular men's glasses looks. Hipster glasses, which were originally developed as a basic square-shaped style, became famous when numerous celebrities embraced the appearance, turning them into a global fashion phenomenon — and quite a sexy one!
Hipster glasses are the eyewear trend for you if you're a youthful urban creative trying to amaze daily, or if diverse fashion is your thing. This glasses design is for males with a strong personality, with basic lines, thick rims, massive square forms, edgy colors, and vintage-look patterns. Because the style is vintage-inspired, it will complement your style with contemporary patterns and will prevent you from appearing boring
#5: Clubmaster Browline Frames
This classic half-rim eyeglasses frame style fits right in with the recent hipster movement, but it's inspired by the 1960s — the era of "Mad Men" and Buddy Holly.
Men's browline style is back with a purpose, and these classic half-rim glasses were popular men's eyewear back then. Browline glasses are the go-to accessory for a geek hipster look, but they can also be worn for work. They offer a sleek vibe for almost any style by imitating how eyebrows frame the face with a heavier top piece.
This style of eyewear looks great on a narrow face because it adds fullness with a heavy horizontal line and shortens the face. This bolder frame style will help draw attention to the eyes, which will help to disguise a weak chin. Eyeglasses that suit a narrow face type may be found here.
#6: Classic Square Frames
Classic eyeglasses for men are available in timeless shapes and colors that are easily associated with a timeless look. Because they feature minimalistic design elements and neutral colors such as black, brown, or grey, these are some of the best glasses for men.
The classic style glasses for men are appropriate for professional environments and work attire, but their clean design allows you to easily pair them with a less formal look. These glasses designs are classy and cool, and they are anything but ordinary. They're perfect for men who don't follow trends and prefer to forge their own path.
Men's square or rectangular eyeglasses are a great fit for a classic yet trendy look that complements most facial shapes. For a refined look, go with a classic black frame, or go bold with bright colors to make a statement. The traditional vibe of rectangular eyeglass frames is a look that is in style year after year, flatters almost everyone, and is always fashionable.
#7: Flat Top Frames
Flat-top glasses have a flat line across the brow, giving them a bold look and a confident demeanor. They have a modern design twist on the vintage-retro styles we all know and love, and they continue to be one of our favorites year after year!
Flat-top glasses have a bold fashion statement thanks to their clean, sharp lines across the top. They are adored by celebrities all over the world!
#8: Tortoiseshell Frames
Tortoiseshell glasses are the go-to choice for men's fashion eyewear if you want to enhance your facial lines with unique glasses frames. The bold appearance of intriguing pattern glasses is often recognized.
Tortoiseshell glasses have been a staple of the eyewear industry for decades. They help to focus and draw attention to your face, and they look good on people of all skin tones. They'll quickly become a favorite in your collection of glasses frames.
#9: Aviator Frames with a Streamlined Look
Titanium glasses are extremely popular these days because they combine strength and lightweight design while also providing excellent durability. Titanium frames for men are the lightest frames available.
Despite being one of the strongest eyewear materials on the market, they can be thinner and more flexible than steel or aluminum. They are durable, stronger, and lighter, as well as hypoallergenic and resistant to water. Furthermore, keep in mind that titanium is a metal that can be easily colored, so there are a lot of options with this metal.
#10: Wire Frames in Vintage Gold and Metal
Nothing says "classic" like a pair of well-made metal Men's Glasses frames. Metal frames are simple, stylish, and comfy, allowing you to express yourself without sacrificing functionality.
Fashion is a little more basic and clean with metal frame spectacles. The ranges of metal-rimmed glasses have a surprising amount of diversity.
By opting for a timeless style, men's metal vintage eyewear lends authenticity to an overall classic appeal. If you want to perceive yourself in a new and classy manner, go for metal eyeglasses. Dare to go away from the tried-and-true acetate forms and try something new – a barely-there style that's so comfy you'll forget you're wearing them!
If you're unsure how you'd appear in any Men's Glasses frames for guys, check out all the options at SmartBuyGlasses where you can even use a virtual try-on tool.
Also Check:
Different Types Of Shingle Roofing
How to Decorate your home with your own Masterpiece?
Grekkon Celebrates 5 years in Agribusiness
Leading Irrigation Company in Kenya