Enjoy Hair Sparkles with Herbiar Hair Tinsel
Nowadays, every female wants a hairstyle that suits them. In order to get unique hairstyles, females buy different products, and one of the great products is hair tinsel. Hair tinsel was common at the end of 1990 and the beginning of 2000, but now they are gaining popularity again.
Many influencers, TikTokers, teenage girls, and almost every female use to wear the hair tinsel at parties, occasions, festivals, and other events to make the hair shiny and sparkling.
To fulfill the needs of each female for sparkling hair, Herbiar launched a product named hair tinsel. It is a temporary solution for those who want hair sparkles but don't want to dye them permanently.
These shiny hair extensions are attached to your head and may last for up to 4 – 8 weeks. Moreover, you can wash your hair with the applied hair tinsel; the hair tinsel will not get damaged.
Furthermore, this hair tinsel by Herbiar is resistant, which means you can curl or straighten them according to your need. They can bear temperate up to 200 °C/ 392 °F.
Herbiar Hair Tinsel Pack:
Colors: 2400 strands of hair tinsel in 12 different colors, i.e., brown, pink, green, red, black, sky blue, rose, gem blue, laser silver, gold, rainbow colors, and champagne gold.
Beads: Herbiar hair tinsel pack contains 200 beads that helps you to apply the hair tinsel.
Pulling needle: It is attached to the crochet and helps to enter hair and tinsel in a bead.
Crochet: A bead is held by the crochet. Also, it forms a safe connection between beads and tinsel.
Plier: A plier is used to tighten the beads and helps to remove them by making them loose.

How to get sparkling hair?
Getting sparkling hair is not that difficult. All you need is a Herbiar hair tinsel pack to enjoy the latest fairy hair trend, sparkling hair. Follow these simple steps to put on hair tinsel:
Properly wash your hair, dry them, and do hair combing
Style your hair the way you like it
Do a hair division into two sections from where you want the sparkles
Take 5 or 6 strands of hair and comb them
Take hair tinsel of your favorite color and fold it in the half
Put the bead into the crochet
With the help of a pulling needle, enter strands of hair into the bead. Do not pull the bead out of the crochet
With the help of a pulling needle, enter hair tinsel into the bead
Pull out the crochet in the opposite direction so that the hair tinsel and hair remains in the bead and the crochet comes out
Take the plier and hold the bead with it. Move it forward until it reaches the head
With the plier's help, press the bead to get it to tighten so that it won't fall
Enjoy the latest trend of shiny, fairy, and sparkling hair!
Color combinations:
Herbiar hair tinsel comes in 12 different colors and funky colors. You can make lovely combinations with these colors.
For example, you can make a funky combination by wearing red or rainbow color tinsel with black hair.
If you are attending a night event or party, then you can wear golden color on black. You wear the color according to your hair color, i.e., black, brown, or blond.
Furthermore, you can wear the tinsel color according to your dress color, such as if you are wearing a red dress, then wear red tinsel to give it a more funky look.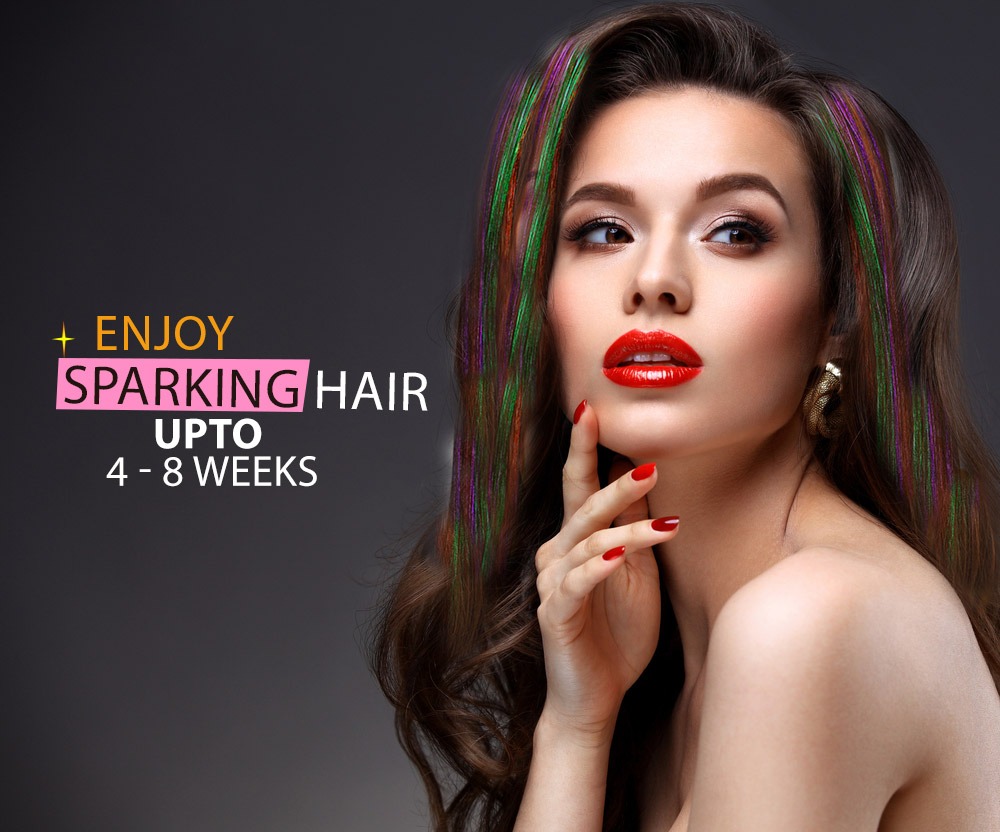 Aftercare of Herbiar hair tinsel:
Aftercare of Herbiar hair tinsel is not much complex. All you need to do is wash your hair the way you used to do that.
Furthermore, the hair tinsel may last up to 4 – 8 weeks, which means you can style them the way you like.
Another great thing about Herbiar hair tinsel is that they are heat resistant. You can straighten them, blow dry them or curl them according to your need.
On average, normally, a person loses almost 50 to 100 strands of hair a day, so after 4 – 8 weeks, your hair tinsel may be removed automatically.
Herbiar hair tinsel is a perfect extension for those who do not want to dye their hair permanently. Shop now at Herbiar!
Related CTN News:
HHC Dabs and HHC Vape Products: What are They?
The Best Ways to Arrange Your Church Space
The Most Beautiful Grinch Christmas Tree Decoration