5 Reasons Glamping is More Fun than Regular Camping
Many people love the idea of camping but hate setting up tents, sleeping on the ground, and showering outdoors. But Glamping could change your whole perspective on camping for good. It is the idea of merging camping with luxury while being in touch with nature or beautiful scenic locations.
As the name suggests, glamping stands for glorious camping where you can get more stylish and adorable camps, containers, tipis, yurts, or even custom helicopters turned into luxury homes. Here are some crucial for you to understand what makes glamping more exciting and fun than regular camping:
1. Fun and Exciting
Glamping tents are more exciting than camping tents and require less space to set up. They provide flexibility and can be custom-made to give you complete privacy. The materials are made of high-quality materials, and artisans have made these luxurious camping tents.
Take advantage of this fantastic opportunity and design an amazing glamping adventure for your next trip with Timberline Glamping at Unicoi State Park.
2. Flexible With Extra Options
Unlike camping, where you need to plan your trip for months, make transportation arrangements, find remote locations, and pack the items in your vehicle, glamping is a way to have fun throughout most of the year!
One can easily clamp into a secluded area of a national park or an exotic locale with nature all around them.
3. Luxurious Camping Tents
Glamping is the modern form of camping where you get to involve the latest technologies and amenities in your camp like TV and air-conditioned.
These modern-day glamping tents have all the elegant features like en-suite bathrooms, king-size beds, air conditioning, flat-screen TVs, and minibars. In addition, these lavish modern camping tents can be customized per your choice of colour and design.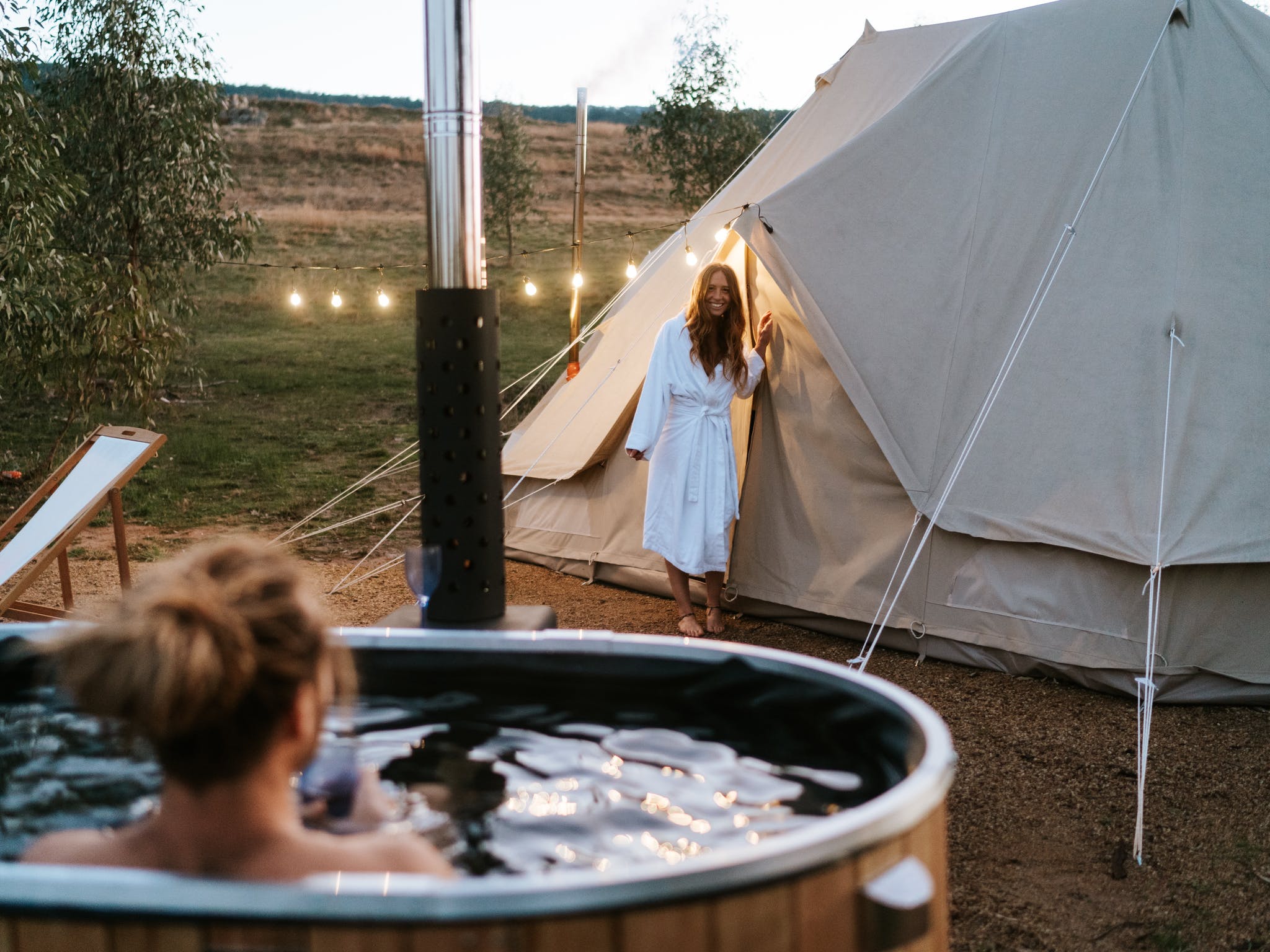 4. Enhancing the Experience
Glamping tents provide a new experience where you can enjoy your surroundings in a luxurious setup. It gives you the feeling of truly being at home. The best part about glamping is that it allows you to enjoy the actual experience of camping with modern innovations and comfort meets nature!
Glamping is precisely what you need if you are looking for something unique! Not only can it be customized, but also, even better, it allows one to customize their own crazy dreamiest retreat!
5. Convenient and Unforgettable Experience
Glamping means coming home with more than just memories. It includes a whole experience that you can cherish for a lifetime! What could be better than hanging out around the campfire, enjoying nature all around them? It's like celebrity glamping! Dining under a sky full of stars is one of the unique sides of glamping, and it joins the list of camping experiences you can enjoy.
To Sum Up!
So, are you ready to experience glamping? Glamping is a new concept these days, and it is enjoyable! There are hundreds of unique places where you can go glamping and be close to nature in a luxury camp. You will feel special and enjoy a lot more of the glamping experience.