What is the Penalty for Gun Charges in Illinois for 2022?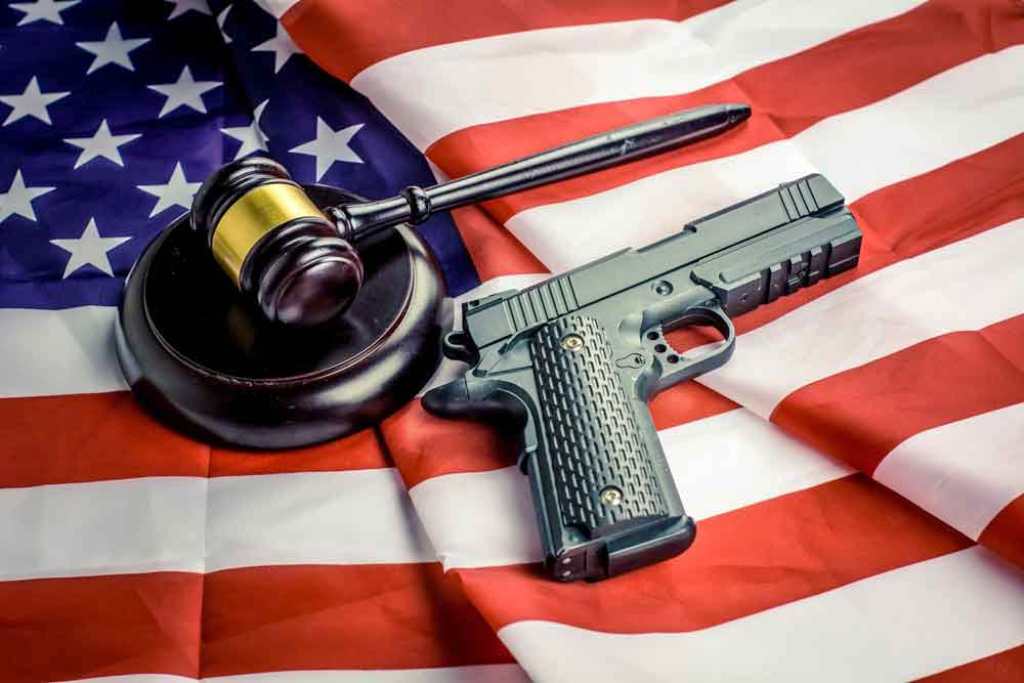 People in Illinois and throughout the US possess the constitutional right to possess arms; however, such possessions are entirely unregulated.
In addition, according to the statute of Illinois, there are certain prohibitions on the possession of a specific kind of weapon, which includes gun owners to obtain a Firearm Owners ID card (FOID) so as to be compliant with the state law.
So, suppose a person has been charged with a felony in Illinois, your FOID can be revoked. Moreover, future applications for a FOID also can be denied if you are charged with the unlawful possession of a weapon.
People who are residents of Illinois are permitted to carry weapons like a handgun if they have a Firearm Owner Identification (FOID) card as well as a Concealed Carry License (CCL). However, the statute of Illinois states that certain weapons are illegal to possess, including switchblades, machine guns, and explosives.
Also, the statute mentions that it is completely illegal to bring weapons in public places, which do include places of worship, government buildings, and schools.
Often these violations of the law are classified as unlawful use of weapons.
Following are some of the most common CCL Violations, and these include;
Carrying a Concealed Weapon without a Valid CCL: If a person is caught carrying a concealed firearm without a valid CCL, you will be charged with a Class A misdemeanour, and this is considered one of the most severe misdemeanour classifications. It also essentially means that one has to face a year in jail and pay a fine of up to $2500.

Carrying a Concealed Weapon Under the Influence of Drugs or any kind of Alcohol: In Illinois, it is entirely illegal to possess any type of firearm when one is intoxicated. This can actually be classified as a Class A misdemeanour. Now, if a person somehow commits this more than two times, then the third time offence would be considered as a Class 4 felony where they will be incarcerated for about one to three years.

Carrying a Firearm in a Prohibited Place: A person can face a charge of aggravated unlawful use of a firearm in various types of situations. As per the statute of Illinois, you are not allowed to carry any type of concealed firearm in places like schools, public parks, government property, and charges. If a person is found to carry a firearm in a prohibited place such as this, they would be charged with a Class B misdemeanour where they can be incarcerated from six months in jail as well as a fine of $1500.
Apart from the law of possession, a charge of unlawful or aggravated unlawful use of a firearm can be formed when there are certainly other elements to the offence, such as follows.
When a person is possessing or carrying an illegal firearm that is entirely loaded and accessible immediately.

When a person is carrying a loaded legal firearm without a FOID card or CCL.
While unlawful weapon use can be a misdemeanour or a crime, aggravated unlawful use is at the very least a Class 4 felony.
Following are some of the elements and penalties for aggravated unlawful use of a firearm
Aggravated unlawful use of a firearm is a Class 2 felony that carries a maximum sentence of 3-7 years in prison if convicted.
Now is the time to pay close attention to this. If the prosecutor can show that the pistol was fired within a 1000-foot range in a bus, school, activity, or park, the individual will face a Class X felony charge.
If a person is convicted of aggravated unlawful use of a weapon and is sentenced to jail, they may be eligible for a reduction in their sentence. Good behaviour can result in a maximum reduction of 50% under Illinois' Truth in Sentencing regulations. However, if the crime was violent, the criminal may be ordered to serve 85 to 100 percent of their sentence.

This is in the case of Illinois, lawyers and it varies from state to state.
Gun Ownership Laws
As per the statute of Illinois, you can carry firearms but only when a person has received a proper firearm owner identification card which is also known as a FOID card. In order to get a FOID card, you need to be at least 21 years, not have been a convicted felon and have no record of narcotics. These were some of the major requirements for getting a FOID card.
A concealed carry license is required if a person wants to carry a handgun on your person and keep it hidden (CCL). The conditions for obtaining a CCL are identical to those for obtaining a FOID card, with a few exceptions. The following are the conditions for receiving a CCL:
 First, the person possesses a valid FOID card.

The person has not been convicted of any kind of misdemeanour which involves a threat or violence towards any person in the past five years.

The person does not have a record of two or more DUI violations in the preceding five years.

Additionally, he/she should also have any type of current involvement that is pending in the criminal justice system.

Also, they must have completed a minimum requirement of 16 hours of approved firearms training.
Now let us understand
What is the procedure for the acquisition of a firearm in Illinois?
Though Illinois has really a very strict position in relation to the possession of firearms, there is also a possible way through which a person can lawfully own a firearm. This can be done through the Federal Firearms Licensed (FFN) gun dealer or a Private Citizen transfer.
If a person acquires your firearms from the FFN gun dealer, then you must possess the following documents.
They must have a proper and valid FOID card.

They must verify with the local firearm ordinance requirements

The FOID card must be displayed by the user to the FFL dealer before he/she is handling the firearm

Also, it is important that they complete the mandatory Federal Form.
It is also informed that the FFL dealer must also notify the Illinois State Police as well as the Bureau for Firearm Services to conduct a background check in respect to the particular state and federal laws. Before the firearm is transferred to the buyer, it is also ensured that the approval has been received from ISP.
Before taking possession of the firearm, the buyer must also adhere to the Illinois waiting period. For a long gun license, they have a 24-hour waiting period, whereas, for a handgun, they have a 72-hour waiting period. For shipment, the firearm must be emptied and enclosed in a case.
What is the importance of the Waiting period before possession of a weapon or firearm in the State of Illinois?
There is a standard waiting period between the actual possession of a gun and when the person purchases it, and this is known as "cooling off." This is generally done to give a reflection period to the buyer before you go ahead to the purchaser and use the weapon.
In the case that the gun was purchased in a fit of rage, this timeframe is estimated to give the buyer time to cool down and calm down. The hazards of a gunshot are greatly reduced when you have had time to cool down before handling a handgun.
How can Goldman and Associates Help You?
Being the best team of criminal lawyers in Chicago, Goldman and Associates are one of the leading DUI defence firms. Our criminal lawyers would fight for all of your rights against any type of authority in the state of Illinois, regardless of the size of your case. Our legal team has the essential experience and understanding to provide you with the best defence possible in any case.
In the circumstances such as aggravated unlawful use of a firearm, it is critical that you present a strong defence if you are wrongly charged. Your legal defence must be structured in such a way that the prosecutor can prove beyond a reasonable doubt that you are the one who did the crime.
Additionally, being some of the best criminal lawyers, we would also provide you with the details of all gun charges in Illinois and the penalties associated with it.
We at Goldman and Associates are well aware of the severity of the penalties and prison terms that can be. Our criminal lawyers in Chicago have dealt with a number of judges as well as police officers and are familiar with the intricacies of the criminal court system. So, if you want to secure your rights for the future, set up a meeting with us right away by clicking here to access our attorneys.