What Should I Pay Attention To When Hunting On An Electric Bike For The First Time?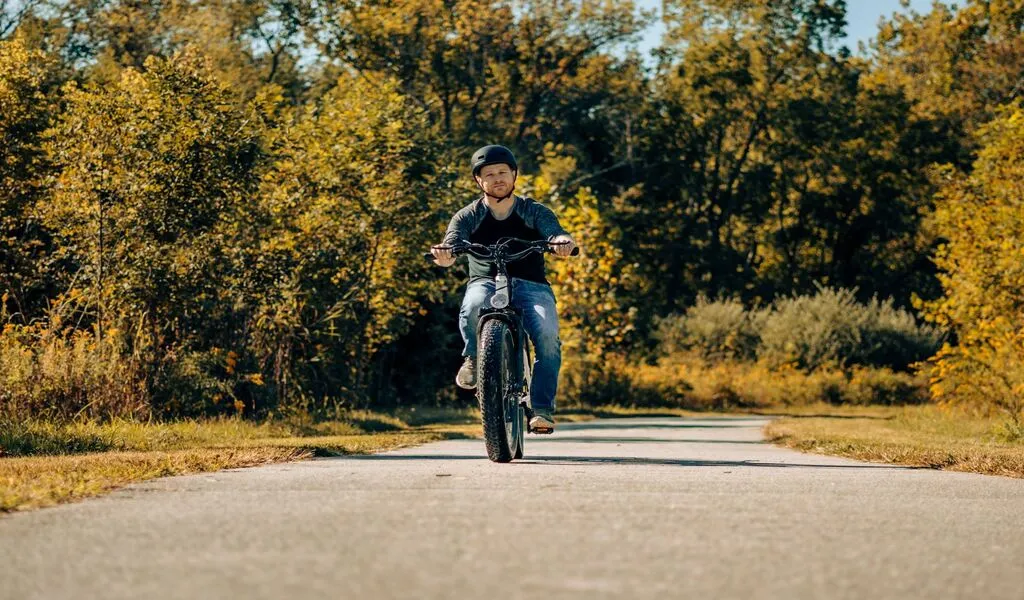 Although hunting has been around for many centuries, electric bike are now redefining the experience. Much more than just cruising around town on regular e-bikes, fat-tire electric bikes have become people's favorites while hunting due to their versatility and ruggedness.
For the most part, game lovers prefer e-bikes because they make hunting easier and more fun than other vehicle forms. However, there are a few things you might want to consider if you are new to e-bike hunting.
Hunting on an e-bike is not so different from riding a normal bike except for a few considerations like hunting laws and e-bike regulations, which will vary by state.
It may seem daunting at first, but there's nothing to worry about. We'll go more in-depth into these considerations as you read on.
So what should you consider when hunting on an electric bike for the first time? Here are what you should keep in mind:
Know the hunting and e-bike laws governing your state
Ensure your bike is in good condition before hunting
Fat tires electric bikes are your best option.
Your battery capacity is how far you will go
Cold weather drains your e-bike battery life
Having more bike accessories enhances your hunting experience
Know The Hunting and E-bike Laws Governing Your State
Of course, legal matters aren't something you joke with. Due to changing laws, especially regarding electric bikes and hunting, you want to do your due diligence always.
However, there's no point obsessing over them and missing out on all the action and good side of e-bike hunting.
While out there, you want to ensure there are no legal constraints for e-bike hunting on the public property you're visiting.
The reason is that not all federal lands are available for hunting. In fact, only about 40% of national forest trails and grasslands grant access to e-bikes.
So it's always best to do your research (on legal matters) before you set out hunting, especially in terrain you are unfamiliar with.
Ensure Your Bike is in Good Condition Before Going Out to Hunt
While fat tire bikes are generally built to be much more durable, there is the likelihood of minor damages or dropped efficiency.
So to avoid unpleasant surprises, verify your ebike is in its top performance before you go hunting on it.
Make sure everything checks out. No one wants to be stranded in the wild because of some petty issues that could have been avoided.
Examine your e-bike each time you want to go hunting to ensure every part is intact. Ensure there are no loose ends – your battery and brakes are working fine, with no slack drive chain, or disconnections due to consistent movement on bumpy terrain.
These safety checks are necessary to prevent accidents or crashes while hunting. The last thing you want is for your bike to crash while chasing after your prey. So there's much to lose if you don't keep your bike in the best shape possible.
Fat Tires Electric Bikes Are Your Best Option.
This is a more important consideration when buying your e-bike.
Per expert advice, you want to stick with tires with a width ranging between 4" and 4.8". Anything below or beyond this range isn't recommended and isn't ideal for hunting.
An electric fat tire bike is key to your hunting success because it is quieter, leaves no scent trail, and provides more traction and stability on different kinds of terrain.
Not just that, an electric fat tire bike can withstand great shock and vibration. They brake quicker and are durable. They also provide maximum comfort and balance while on uneven terrain.
Your Battery Capacity Tells How Far You Will Go
The battery capacity of your e bike determines the range. Of course, other factors affect the battery life such as weight, pedal assist, weather and so on.
As a rule of thumb, a higher electric current value (either in Ah or Wh) means a higher capacity.
For instance, a battery rated 360Wh will travel 30 miles, assuming it takes 12 Wh to travel one mile. Regardless, you want to keep your battery at full charge to get more mileage.
Cold Weather Conditions Drain Your E-bike Battery Life
The truth is, cold affects Lithium-ion batteries. Although it's not bad to ride in cold weather, your battery won't be as effective as on a normal day.
Apart from the battery draining quicker, it also charges slower. The implication is to prepare for shorter rides while hunting and more frequent charging whenever you have the chance.
Yet there are simple tricks to preserve your battery life when going out in cold weather.
For instance, when your bike is parked, you can store the battery (if detachable) inside your apartment to keep it warm. Also attaching a neoprene battery warmer to your e-bike will help preserve the charges.
Lastly, fixing a fender to your bike will prevent water from splashing on your battery. Himiway products generally have more extended battery life.
The Himiway Cruiser (a long-range bike) delivers up to 60 miles on a full charge. It is considered the long-range expert of the all-terrain fat tire bike brands.
Having More Bike Accessories Enhances Your Hunting Experience
Having the necessary accessories will save you a lot of stress and time, and make your hunting seamless.
For instance, most hunters purchase e-bike cargo trailers to haul their dropped animals home. The e-bike trailers are designed to haul heavy weights and hunting gear, making them a perfect fit for hunters.
Other accessories to make your hunting trip more adventurous include racks and bags, a repair tool kit, mirrors, and an extra battery.
For instance, the E-Bike HD wide-angle mirror (a Himiway product) allows you to keep track of what happens behind you.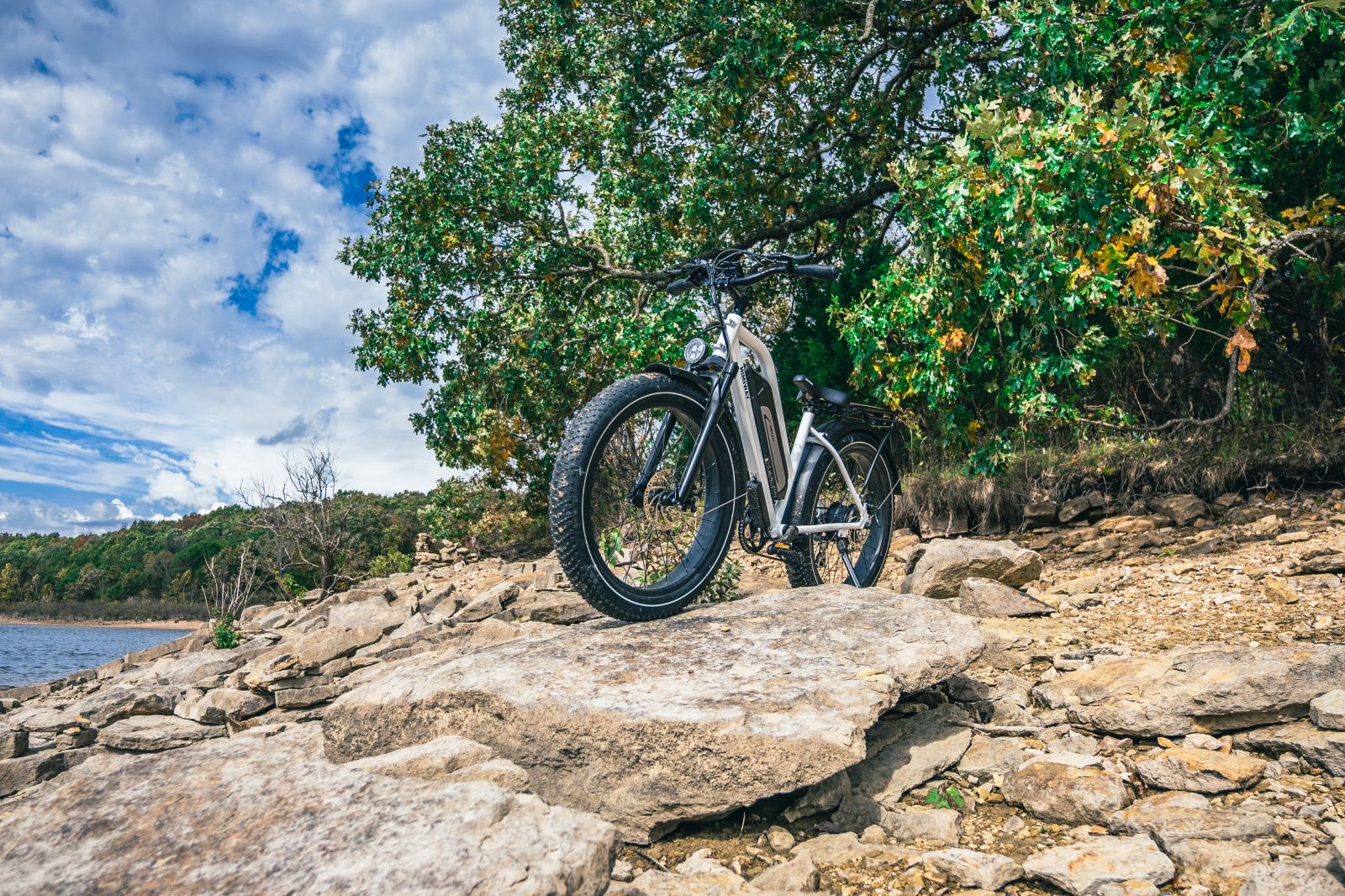 What Makes Up a Good Hunting Electric Bike?
E-bikes benefit people for all sorts of reasons. As said earlier, hunters in particular find great utility in e-bikes. But just like every other purchase, you want to properly check the bike specifications before exchanging your hard-earned money for it.
So what makes up a good hunting electric bike?
As earlier said, fat-tire electric bikes are the most ideal for hunting as they provide more traction and stability, especially over rocky and rough terrain.
Sturdy and durable frames that can handle the heavy payloads from hauling your game over large distances and from your hunting gears.
The power rating of the electric motor also defines the output of a hunting bike. E-bikes usually have power classes ranging from 250 W – 1000 W depending on the utility.
Since you will need a lot of power to overcome the uneven terrain in the woods, you need nothing less than 750 W. The more power the motor has, the better you accelerate up a hill in less time and with little difficulty.
The higher the battery capacity, the greater the range, which is a measure of the distance you can cover with a full charge.
E-bike classes that deliver long ranges at 40 miles and above deliver a great hunting experience. Himiway products are affordable and deliver excellent ranges.
Bikes that come off too flashy are not the best option for hunting. The catchy colors will get you spotted by prey easily, which is what you don't want. So simple is best when it comes to hunting. Getting a bike that places you off the radar and blends well with the woods is better.
Are Himiway E-bikes Worth It?
Here's why riders choose our electric bikes over and over again. Himiway is always improving its craft to offer high-quality electric bikes at a competitive price. Our bikes offer a 43% range more than other e-bikes on the market with a 2-year all-inclusive warranty.
Check out our Zebra Premium all-terrain electric fat bike!
Himiway Zebra features the new 48V 20AH Samsung/LG battery (equivalent to a 960Wh) which is capable of 60 miles per charge and over 80 miles with pedal assist. The Zebra e-bike battery is designed to maintain 80% capacity after 1000 charges.
Wouldn't you love to have a Himiway Zebra as your hunting buddy?
Conclusion
Fat tire electric bikes are a game changer for hunters and are continually changing the hunting scenery with new and advanced technology.
Your first e-bike hunting is just about to be the highlight of your hunting experience so far.
The tips we shared today will guide you in achieving your best results while out there in the woods. There is no doubt that the sports will keep getting better as more e-bikes are coming up with new improvements. Have fun hunting!
Related CTN News:
Public Liability Insurance For A Sole Trader – Worth It?
Three Simple Ways To Update Your Stair Parts
How to Choose the Best Cannabis Seeds: Buying Guide