Video Conferencing Trends for 2023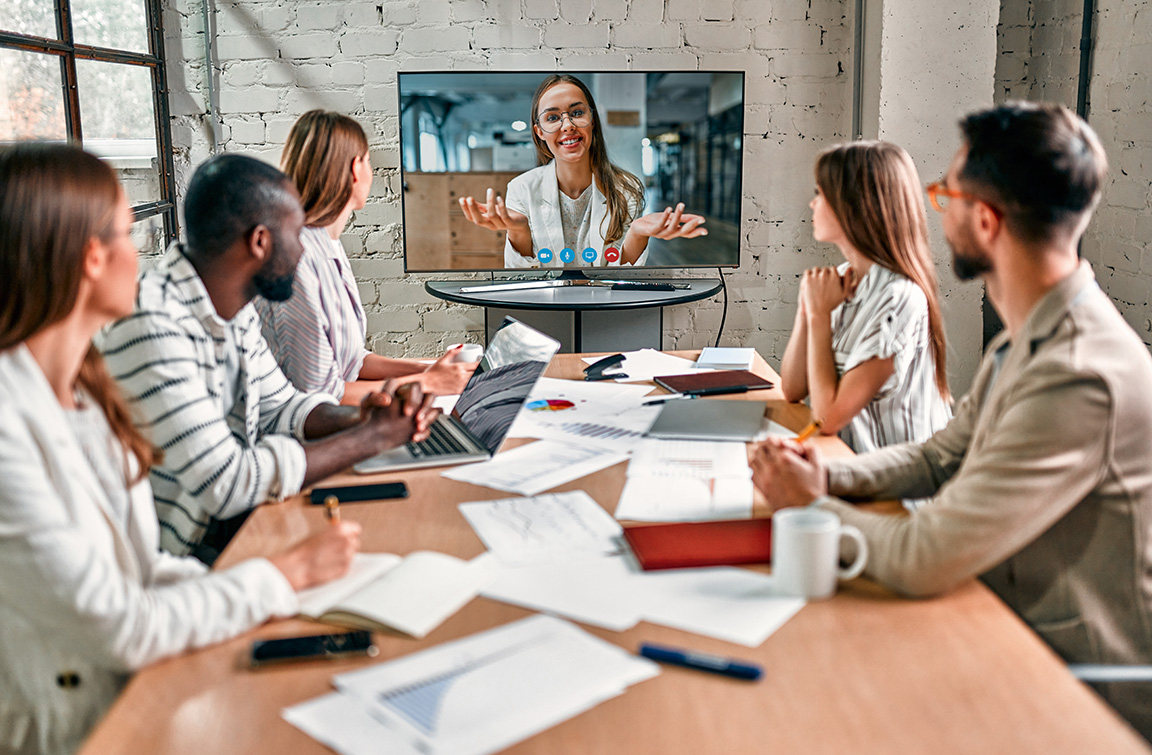 Since March 2020, when the pandemic began to take hold, businesses around the world quickly adapted to remote working. As a result, video conferencing has become an essential tool for both personal and professional communication. In fact, in the first two months of 2020 alone, the web and video conferencing market increased by 500%.
Fast-forward to 2023, and this need hasn't changed. Companies have quickly discovered how cost-effective remote work can be with the right tools. Add to that the rising cost of utilities, a potential gas shortage, a global recession — and it's clear why video conferences remain essential. Let's look at the evolution of video conferencing and some trends we can expect to see in 2023.
Evolution of Video Conferencing
Video conferencing is not a new concept — it has been around since the 1970s! However, it was not until recently that it became accessible to everyone. With the rise in technology and access to reliable broadband internet connections, video conferencing has seen an exponential surge in popularity over the last 24 months. It has allowed people to stay connected with friends, family members, colleagues, customers, suppliers — even teachers and students — from all over the world without having to travel. This is especially beneficial in times like these where travel restrictions are still being implemented around the world.
Video Conferencing Trends for 2023
With so many people relying on video conferencing today, there is no doubt that this technology will continue to evolve as we move into 2023.
More Advanced Features
The fact that video conferencing is here to stay means that platforms will implement more features, enhancements and AI-powered solutions. A few examples:
Closed Captioning – Automatic, real-time closed captioning, keyboard controls, and screen readers to support users with disabilities.
Improved Audio and Visual Clarity – Designed to block distractions for improved communication.
Virtual Backgrounds – Allows users to choose a fun background or blur their existing backdrop to eliminate distractions.
Interactive Collaboration – Tools like screen sharing, annotation and virtual collaboration whiteboards aid in facilitating an interactive online meeting.
Increase in Virtual Events
Since employers have recognized the savings on travel costs, and due to the success of trade shows and conferences through advanced video conferencing platforms during the pandemic, expect an increase in virtual events in 2023.
Many virtual event platforms often have built-in features, such as "virtual lounges" or "networking hubs" for ad hoc discussions among participants, break-out rooms, attendee management, content management and more.
Increased Focus on Security
Video is the "new phone call," with everybody having access to it, making the meeting richer with analytics and more attractive to hackers. Video conference security features are essential to prevent unwanted participants from joining meetings and protect end-user privacy with security settings enabled by default or whenever required.
For those organizations prioritizing secure and reliable video conferencing infrastructure, platforms and services provided by Infassure have become indispensable in ensuring seamless and protected communication.
Hybrid Workplace Evolves
As more employees return to in-office work, many remote workplaces exist, as do remote workers. Employees stationed in corporate headquarters can have video conferences with those who work remotely and with national and international clients and partners. Hence, video conferencing will remain a fabric of businesses.
Personal Use Will Decline
Barring another unforeseen wave of COVID that necessitates social distancing, we can expect video conferencing between friends and families to lessen. Video conferencing will always be excellent for families to tune into an important family event like a special birthday or graduation. However, we will see a different level of personal usage from these platforms than when COVID impeded local get-togethers that didn't require long-distance travel.
More Creative Uses

As video conferencing has become widely popular, expect more creative uses in 2023. Aside from new and innovative business approaches and tracking customers, we might see more private groups and clubs online. Two examples: a music group wanting to keep their performances limited to a subscribed fan base or a yoga class with paying members.
Small, exclusive video conferences will also become more popular for other talents. For instance, a smaller video conference might involve actors who only want four or five people evaluating their performance to decide whether it is worthy of a more significant undertaking (i.e., an in-person live show). Being able to verify participants is crucial to some of these conversations that need to be under lock and key. Expect more individuals to seek ways to secure their video conferences in 2023 for various reasons not limited to corporate usage.
The growth in demand for video conferencing tools shows no signs of slowing down anytime soon – especially considering how easy it is to conduct virtual meetings with high levels of security and integration with other tools!
As companies continue to embrace hybrid work models, expect to see more innovations in this space as companies strive to create better user experiences with AI-powered solutions and improved security features. It's clear that 2023 will be an exciting year for remote work!
If you're not already using video conferencing for your business, now is the time to start!
Don't have BlueJeans Meetings yet? Start your trial — it's free.