Rolex Submariner: an Inside Look at the 116610LV Hulk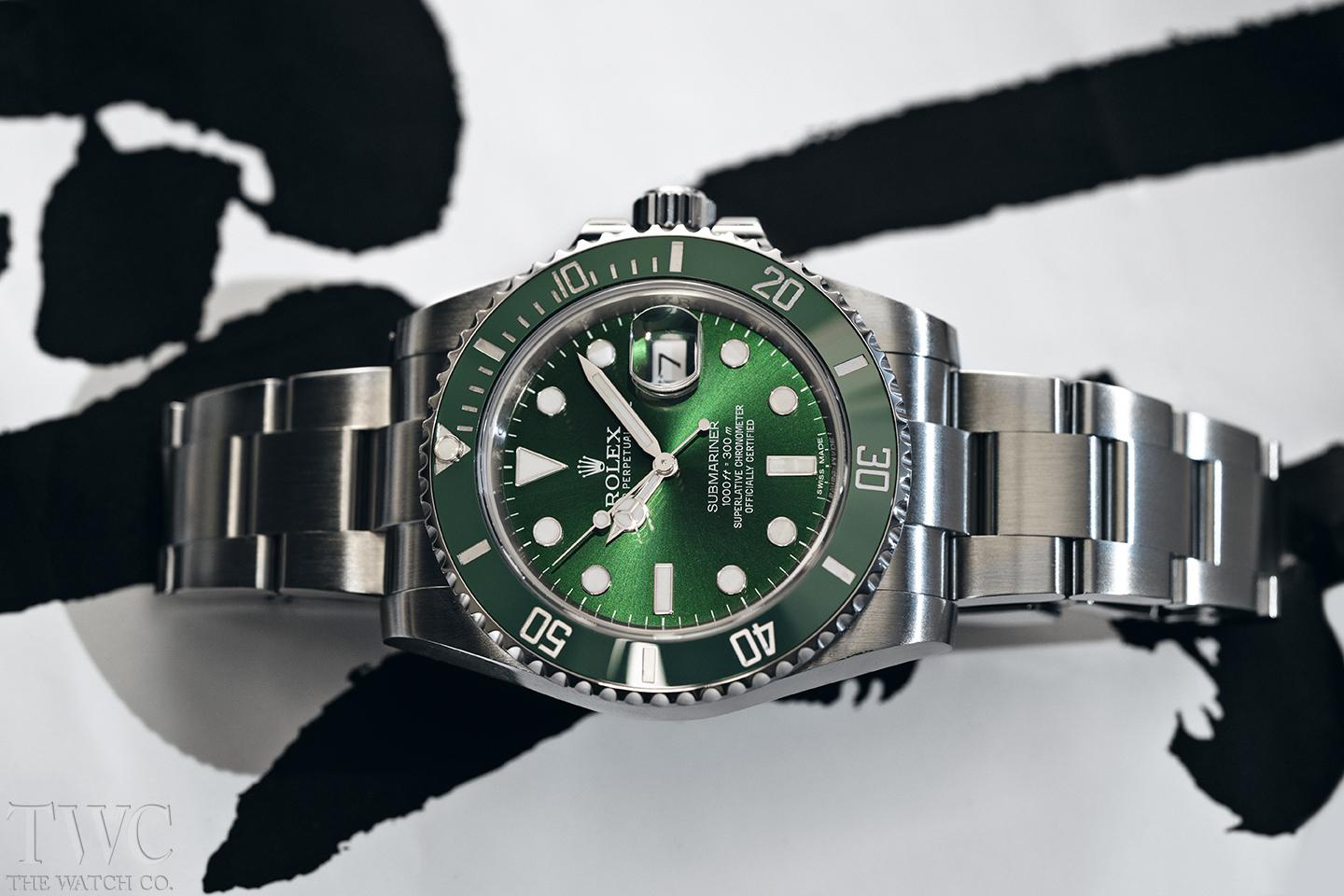 In 1954 Rolex released its Submariner line, which has today become a staple piece within the watch community. The Submariner revolutionized how people perceived a professional dive watch. Yes, it was very robust and had practical capabilities. But its popularity was a result of its simple, sleek design. A configuration that inspired other brands to try to replicate it throughout the years. Let's look into a brief history of the Submariner and one of its most captivating variations, the 'Hulk'.
A Dive Watch Is Born
During the 1950s, an accomplished diver and Rolex member René-Paul had an idea to create the ultimate sports watch. He wanted a timepiece that could withstand stresses caused by deep-sea expeditions without having to compromise aesthetic appeal. Thus, the Submariner was born.
Rolex requested the help of world-famous diver Jacques-Yves Cousteau. Following this, a prototype Submariner was attached to a submarine that went to depths of 3100 feet. Upon return, it was observed everything was still functioning correctly. This achieved what Rolex had set out to do and by 1954 it was available to purchase.
Rolex Submariner Hulk
Rolex's Submariner has been subjected to multiple configurations since its conception. Such as changes to; the bezel/dial color, materials used, and case size. However, there is one permutation that resonated within the watch world. Reference 116610LV known as 'The Hulk' brought a more modern appeal to the already classic watch while retaining properties that made it special to begin with.
Initially released in 2010, the Rolex green Hulk became one of the most in-demand pieces on the market. Ref. 116610LV featured a green Cerachrom bezel with a matching green dial. When Rolex decided to discontinue this piece in 2020. It only intensified people's desire to own the watch, resulting in higher premiums.
Features of the Rolex Hulk
Ref. 116610LV not only brought a new dial and bezel colorway to the Submariner lineup. It was also responsible for many more features not seen previously on any Submariner model. Changes were made in areas such as the; case, bracelet/clasp and bezel.
Super Case
Rolex continued to use its 40mm case on this new model. However, some minor alterations were made to its design. They used 904L stainless steel, 'Oystersteel', instead of 316L steel. Oystersteel was preferred for its ability to out-perform 316L in preventing corrosion.
The 'Super Case' boasted a thicker profile, larger lugs and a wider bezel. This resulted in it wearing larger on the wrist despite no actual change in diameter. Other features like a Triplock-screwdown winding crown allowed the watch to be fully water-resistant up to 300m.
Oyster Bracelet
A new bracelet/clasp configuration was designed to accompany the Super Case. Both the end and center links of the bracelet were manufactured to be more solid. Plus, a revolutionary Oysterlock clasp with a Glidelock system was featured.
This Glidelock addition allowed users to adjust the length of the bracelet by 20mm in 2 mm increments without using a tool. This did not just improve practicality for divers. It offered customers adjustability throughout the day, when wrist size may alter.
Cerachrom Bezel
Rather than using aluminum for this new series reference, it was formed using Rolex's proprietary material, Cerachrom. Using a ceramic bezel meant that it would not succumb to wear or fading. Which kept the Hulk's distinctive green dial in pristine condition.
Owning A Submariner Hulk
In 2020 before discontinuation, Rolex had the Hulk priced at $9,350. This was slightly higher compared to the standard Submariner, ref. 116610LN. This difference was accentuated further on the secondary market, with the Hulk fetching almost double its retail price. When the watch market boomed in 2022 prices pushed close to $25,000.
It is clear that owning a Submariner Hulk isn't going to come cheaply. However, owning one will make you a part of an exclusive club. Furthermore, if Rolex decides to leave it discontinued. It can be judged as a sound investment because of demand exceeding supply.
Hulk's DNA
In 2003 to celebrate the Submariner's 50th anniversary, Rolex released ref. 16610LV. This special edition Submariner was the first watch to feature color on a stainless steel model outside Rolex's GMT-Master collection.
Nicknamed the 'Kermit,' it had a green aluminum bezel that tended to fade. It was initially met with polarizing views due to the contrast between the green bezel and black dial. After just a short production time of 7 years, Rolex opted to discontinue. It was after this that demand grew, and collectors began showing interest. Inspiration was almost certainly taken from this watch in producing the Hulk.
In 2020, Rolex discontinued its Submariner line and the Hulk along with it. They introduced new ref. 126610. These new models had a bigger 41mm case and were given a new movement, Caliber 3235. Ref. 126610LV paid homage to the 50th anniversary model. Housing a green bezel and black dial. As the green was now on Cerachrom bezel it popped a lot more than its ancestor. The contrast of green and black earnt it a new nickname, 'The Starbucks'.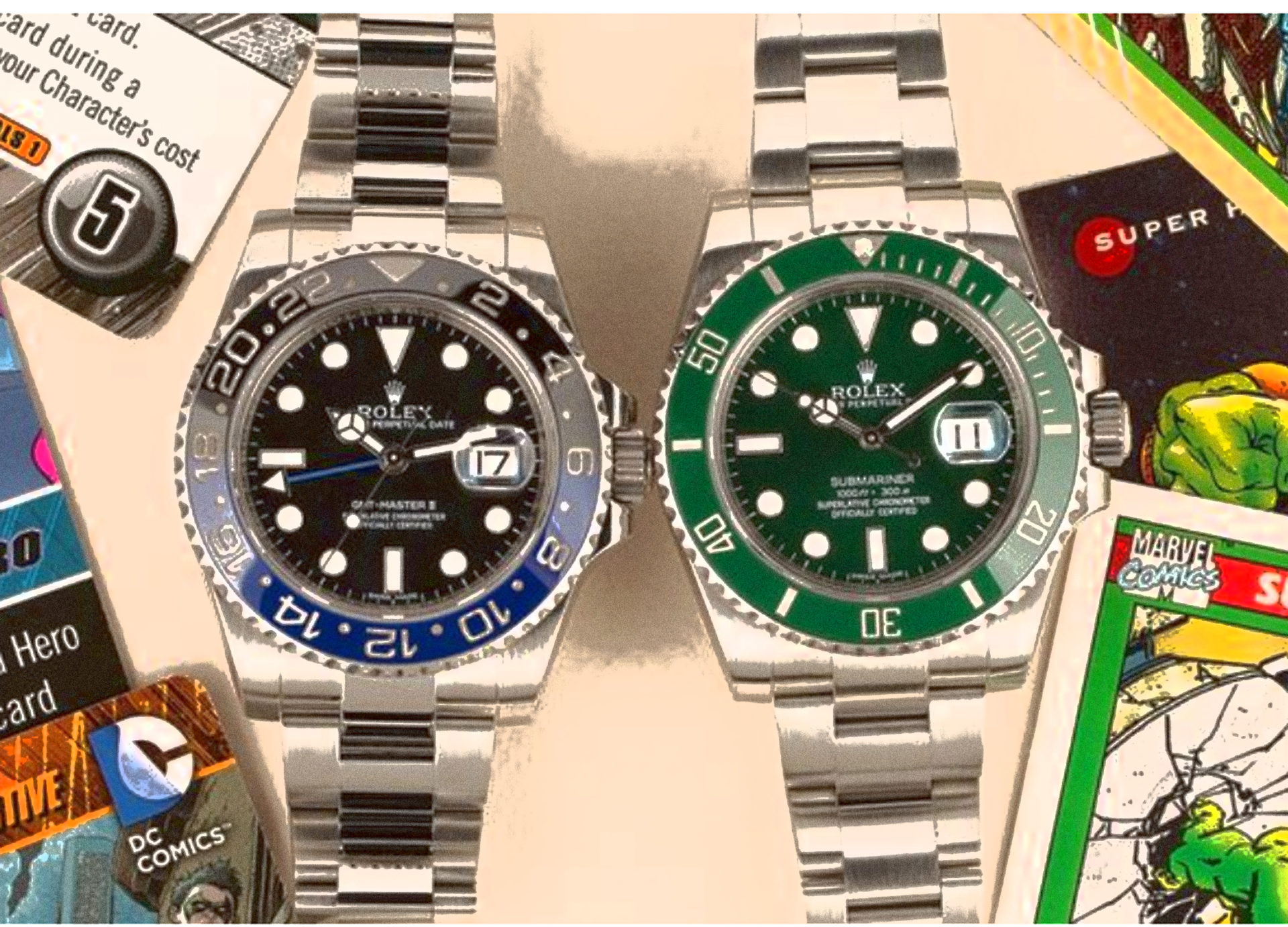 Will Rolex Hulk Return?
Throughout the Submariners timeline it is evident the Hulk etched itself into history. It brought a new look for Rolex, choosing to implement their company colors onto a watch. Today, fanfare for ref. 116610LV is still as strong as it was in 2020.
Just like in cinema, fans crave more when something is taken away from them. At the time of writing this there is speculation around whether Rolex are bringing the popular piece for a sequel. However, I believe in typical Rolex fashion they will leave patrons longing for quite some time.
How about a gambling themed movie?
Many parts of society and the social culture are influenced by casinos and gambling. The mystique and attraction the gambling will help to draw participants worldwide and the number of players that are playing the online casino and earning a lot. There are a lot of gambling movies present that have earned a lot of names in today's world.
Why these movies are so much popular?
It was already established, playing casino with exciting, but the things that can help for improving when you will add a thrilling story to the mix. If you will imagine seeing a movie the casino will reveal how a group that amazing personalities chose to loot for the establishment, or a few players that will have the casino with the intention of outwitting everyone by counting cards, that everything having wrong. The plot raises the level of Casino thrill and is consistently exciting. Watching the protagonist, that is struggling, suddenly having a whole different life, there is something that is encouraging about it. These films show how to take chance, even the odds that are stacked against you as Bonus.
Experience occasional fatigue from our daily routine and doing. As a result, struggle and lack inspiration and motivation. You can get going with just one movie and casino movies are a great choice. They frequently narrate that tale about the character whose life altered drastically, that was already said. In a matter of hours, one can easily move from being impoverished to being wealthy. The romance is present because gentlemen typically win the girls in end. The idea that these films demonstrate is that taking chances that pay off. It might encourage you that follow suit and finally accomplish something you are been putting off for a very long time.
The important lesson that we can learn from gambling and casino themed movies
All of us have got experienced occasional fatigue in our daily routine and with a to-do list. As result, we struggle and lack inspiration and motivation. You can find out the going with just one movie and the Casino movie that having great choice though. They have made frequently narrated the tale about the character whose life altered drastically as it was already said. In a matter of hours, that can move from being impoverished to being wealthy easily. The romance that is present in the gentleman typically wins the girl in end. The idea of watching these films to demonstrate how to take chance always pays off. It might help for following suit and finally accomplish what you have been putting off for a long time.
It is quite hard to believe that gambling and casino themed movies that are considered taboo. It was illegal in the 1970s to show even a casino in a movie. As attitudes changed and gambling became much more mainstream, that did the popularity of movies and TV shows changed it. Nowadays, it seems like nearly every major Hollywood studio that is having at least one gambling or casino movie in its lineup. The quality that the movies are having great varieties there are many lessons that we can learn from them only.
First and foremost gambling can be much addictive and destructive for people's minds too. It is a lesson that is highlighted in a film like "The Gambler" and "Casino". The main character gets sucked into the world of gambling and then eventually loses everything that they will be having. The lesson that people can learn from gambling movies from the casino is that is not always fair. It is not highlighted in movies like 21 and the sting. The casino uses a lot of tricks for cheating the players for getting their money with Bonus.
Some famous movies related with casino
The Sting: This classic movie stars Paul Newman and Robert Redford as the two con artists that will team up to take down a corrupt banker and a great thrilling plot.
The Gamblers: In this movie, it was done by James Caan a literature professor with a gambling addiction. The Gambler is a powerful and intense film that is still highly regarded by critics in today's generation.
The Cooler: This movie was released in 2003 by movie star William H. Macy as Bernie, he is a casino employee with a terrible luck streak. When he was hired by the new boss, then he met with Natalie a waitress having her dark secrets. The Cooler is a fascinating look at the world of casino gambling.
Oceans Eleven: 2002 is a movie remake of 1960 that Rat Pack classic star George Clooney and brad pitt as a group of criminals that team up to rob three Las Vegas casinos. It is having fun and exciting movie that is sure to entertain the audience of all ages.