The Ultimate Tutorial to HTVRONT Auto Heat Press and Mini Sewing Machine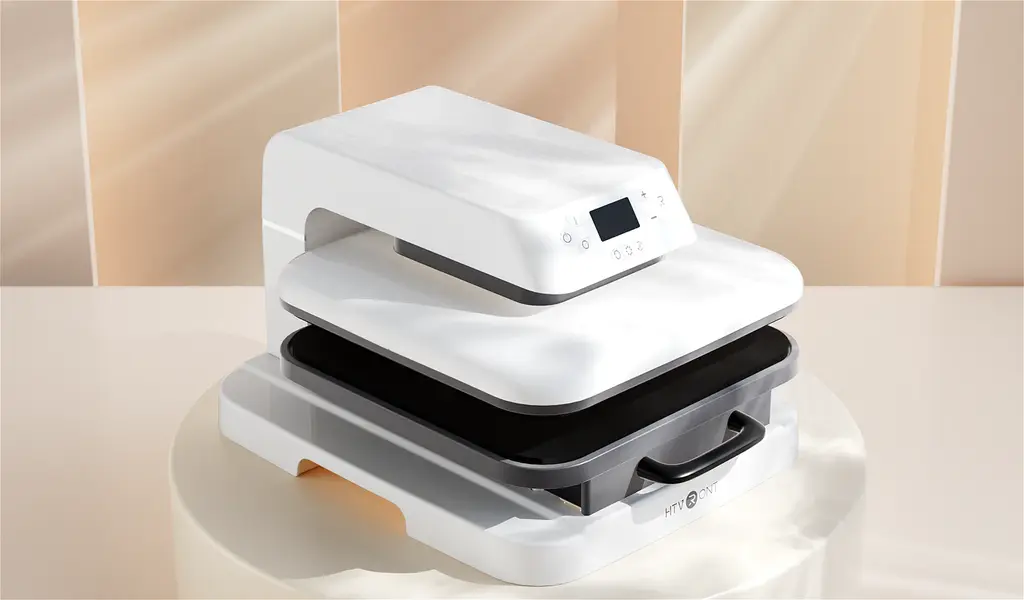 Would you like to explore the latest Auto Heat Press Machine? Read on as we discuss the best heat press and mini sewing machine in the market today.
Introduction: 
Are you an avid crafter or sewing enthusiast? HTVRONT is your gateway to innovative tools to take your creative journey to the next level. This article will explore two remarkable products that redefine your crafting and sewing experience.
Yes, you guessed right. We will discuss the new Auto Heat Press Machine and the Mini Sewing Machine from HTVRONT.
Let us begin.
HTVRONT Auto Heat Press Machine 15″ x 15″ 110V: Crafting Bliss Unleashed
For those who demand precision and efficiency in crafting, the HTVRONT 15 x 15 Heat Press is a game-changer. With premium components like FCC & UL certificated wires and plugs, an auto-adjust system, and an automatic lifting structure, this machine is designed to simplify and enhance your crafting experience.
Smart Pressure Transducer:
This heat press features an advanced pressure transducer that takes the guesswork out of crafting. It automatically adjusts the optimal pressure for your project, removing guesswork and saving energy. It's a game-changer for achieving flawless results.
2X Faster Heating Time:
Crafting is often a race against the clock; this heat press knows it. With rapid heating and a dual-zone heating engine, it reaches its maximum temperature in record time. Thus, sit back and relax as HTVRONT ensures your projects are totally efficient.
Safety and Quality:
Safety is a priority, with features like a pullout drawer design, H-Cooling technology, and an auto-off function. This heat press makes your projects look great and keeps you safe.
How to Get Started with the HTVRONT Auto Heat Press Machine:
Here are the quick steps to start working with the HTVRONT Auto Heat Press 15 x 15 Machine:
Turn on the power and start the machine:
Set the proper temperature and time for your material according to the manual.
Place your materials on the pullout drawer plate.
Push the plate into place and press.
Wait for the press to finish, and your project is ready!
So, that was about the famous Auto Heat Press Machine from HTVRONT. Now, let us learn about the following exclusive product, the Mini Sewing Machine.
HTVRONT Mini Sewing Machine for Beginners: Your Path to Sewing 
So, what makes the HTVRONT Mini Sewing Machine the go-to option for new designers? Let us look at some of its striking features one by one.
Mastery
Are you new to the world of sewing? The HTVRONT Kids Sewing Machine for Beginners is your ideal starting point. Offering 38 built-in stitches, adjustable sewing speed, and the ability to sew through up to 7 layers of fabric, it's perfect for newcomers and experienced sewers.
Meet All Needs of Beginners:
This mini sewing machine offers 38 commonly used stitch types and adjustable sewing speed to suit various sewing scenarios. It's the perfect choice for those beginning their sewing journey.
Sew Well Up to 7 Layers:
Crafting with thicker fabrics is a breeze. The machine smoothly manages up to 7 layers without needle breakage, and the reverse sewing feature ensures stable stitches.
Conclusion:
Thus, as you saw, HTVRONT offers innovative solutions for both crafting and sewing with its Auto Heat Press and Mini Sewing Machine. So, guys, dive into creating unique products with HTVRONT. Whether you need to heat press or stitch up creative projects, these tools will help you with quality, efficiency, and safety.
Take your crafting and sewing to new heights this festive season.
SEE ALSO: Is Gold Still A Good Investment In 2023?: Shining Or Losing Its Luster?