PM2.5 Air Pollution Reaches Dangerous Levels in Northern Thailand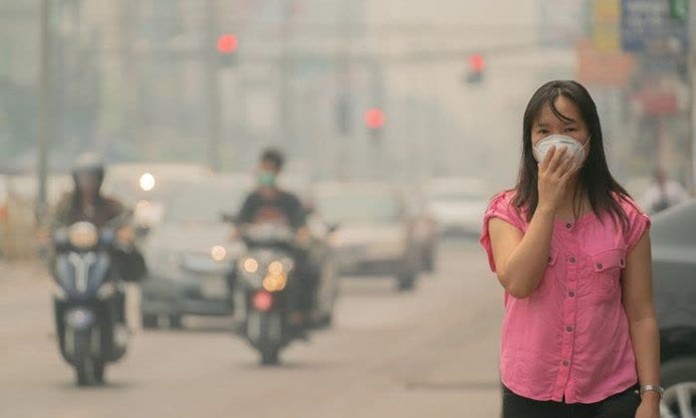 According to the Pollution Control Department, PM2.5 air pollution dust levels in the atmosphere in 16 northern and north-eastern provinces have exceeded the 50-micron safety standard, but fine dust in three areas of Chiang Mai and Lampang have reached a health-threatening level in the last 24 hours (PCD).
At 7 a.m. Saturday, the PCD's air quality report shows excessive PM2.5 in the provinces of Chiang Rai, Chiang Mai, Nan, Mae Hong Son, Phayao, Lamphun, Lampang, Phrae, Sukhothai, Tak, Kamphaeng Phet, Mukdahan, Kalasin, Roi-et, Ubon Ratchathani, and Si Sa Ket.
The worst areas are Chiang Mai's Hot and Chiang Dao districts, as well as Lampang's Mueang district, where PM2.5 readings are 185, 136, and 108 microns, respectively.
PM2.5 Air Pollution levels in Thailand's various regions over the last 24 hours are as follows:
North, 19-185 microns, with most areas exceeding the 50-micron standard level
North-east, 30-74 microns, with five areas exceeding the standard level
Central and West, 11-29 microns
East, 9-31 microns
South, 10-21 microns
Bangkok and its suburbs, 8-45 microns

PM2.5 Air Pollution Scale on EPA AirWatch
| Air quality category | PM2.5 µg/m3 averaged over 1 hour | PM2.5 µg/m3 averaged over 24 hours |
| --- | --- | --- |
| Good | Less than 25 | Less than 12.5 |
| Fair | 25–50 | 12.5–25 |
| Poor | 50–100 | 25–50 |
| Very poor | 100–300 | 50–150 |

What are acceptable levels of PM2 5?
Most studies show that PM2.5 levels of 12 g/m3 or less are considered healthy, with little to no risk from exposure. If the level reaches or exceeds 35 g/m3 in a 24-hour period, the air is considered unhealthy and can cause problems for people who already have breathing problems, such as asthma.
Particles 2.5 microns or smaller are particularly dangerous to human health because they bypass many of our bodies' defenses. Smaller particles are caught by nose hair, mucus, and other defenses before they enter deeper into our bodies.
Despite making Thailand's haze crisis a national priority in 2019, the government has made little progress in providing people with clean air.
Due to the slow response, seasonal PM2.5 dust – the most dangerous form of haze pollution – has engulfed many parts of Thailand in recent years. Earlier this month, PM2.5 levels in Bangkok reached such dangerously high levels that the Bangkok Metropolitan Administration (BMA) pleaded with the capital's businesses to reactivate the "work-from-home" mode.
The safe limit for PM2.5 (dust particles with a diameter of 2.5 micrometres or less) in Thailand is 50 micrograms per cubic meter of air. If PM2.5 levels exceed 100 micrograms, red health-hazard flags are raised.