Banana kush Autoflower Seeds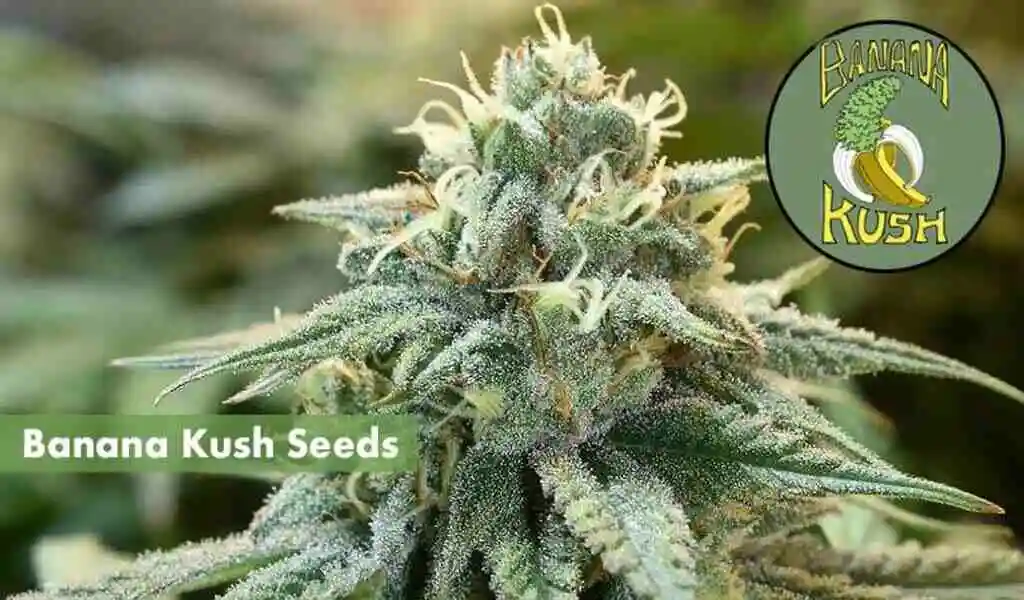 As you might imagine from the name, Banana Kush autoflower seeds develop into an amazing banana-flavored cultivar that hits users hard and fast.
Add a scoop of ice cream, and you'd have the perfect banana split sensation when you enjoy this marijuana variant. The quick flowering, robust plant is popular for its fast-hitting effects. Stimulating and calming, the indica dominant cultivar is perfect for generating ideas in a relaxed state.
The autoflower Banana Kush seeds germinate in almost any medium and are particularly hassle-free to cultivate. They're susceptible to mold, but this isn't an issue if the plant isn't overwatered and gets enough air.
It has an interesting heritage that makes for a punchy cultivar rich in fruity flavors and aromatic notes. To learn more about the strain, keep reading. You'll discover just what makes Banana Kush such a popular and rewarding variant.
Banana Kush autoflower seeds description
Strong ruderalis genes run through the plants grown from Banana Kush autoflower seeds. Robust and quick to harvest, this cultivar can grow almost anywhere.
As with most autoflower variants, it needs some TLC to get the most yields out of the crops. Growers enjoy the short flowering period of 7–8 weeks, but there's no time to correct mistakes, so if you're a newbie, rather stay clear of this strain.
After a short vegetative stage, the Banana Kush autoflower seeds are triggered by light and begin to bloom.
The tasty strain grows in almost any type of medium, and its short stature means it can develop in small areas. The fruity scent uplifts anyone within smelling distance of the plant.
The strain has a long list of medicinal uses and gives users an uplifting experience combined with an intense cerebral boost. It's a popular cultivar for both recreational and health-seeking users.
Banana Kush autoflower effects
The indica sativa mix creates an amazing strain that uplifts while calming stressed minds. Banana Kush autoflower seeds grow into a plant that gives users the best of both worlds. Within a few minutes of your first puff, you feel energized with an onset of cerebral stimulation.
You become chatty with anyone around you, and if you're alone, there's nothing wrong with enjoying an intelligent conversation with yourself. The strain is a definite must for anyone suffering from stage fright, thanks to its self-confidence-boosting abilities.
With THC levels at 17–20%, even seasoned users experience a buzz. The progression of the high is quick, moving your mind into a euphoric and happy state within a few minutes.
It's an amazing cultivar to get your creative juices flowing. If you're stuck with writer's block, try the delicious results from growing the autoflower Banana Kush seeds.
After a few short puffs, your body releases any tension you may have, and you find yourself glued to the couch. It's a cultivar that's best enjoyed in the evenings for total relaxation and de-stressing.
Banana Kush autoflower flavors
The flavors of this strain are simply irresistible. Fresh bananas with a touch of sweet tropics tantalize the tongue. A distinct taste of tree fruit lingers in your mouth after you exhale.
The aroma is just as distinct as the flavor. The scent of sunkissed bananas permeates the immediate area, with a hint of tropical fruits. There are faint undertones of pungent earth, but these are subtle and often missed.
How to germinate Banana Kush autoflower seeds
Germinating your Banana Kush autoflower seeds is straightforward. Several techniques exist for you to try, but we've listed three of the more popular ones below.
Paper towel and plate technique
A tried and tested method is the paper towel and plate technique. It's cheap and easy to set up with a high success rate. The amount of space needed depends on how many seeds you plant. Increase the number of plates and towels to match the number of seeds you have.
What you need:
Thick paper towels
Distilled or purified water
Plates of the same size
Tweezers
Banana Kush autoflower seeds
Instructions:
Wet a paper towel and put it on a clean plate. The towel should be damp but not dripping.
Place the autoflower Banana Kush seeds on the wet tissue about one inch apart using the tweezers.
Moisten the other towel and place it over the seeds.
Cover with a second plate.
Store the seed setups in a dark, cool room to germinate. The temperature in the area should ideally be at 70–85°F.
Check on the plates daily and make sure that the towels are damp. The sheets should never be too wet, or your seeds won't pop.
After two days, you'll see some taproots emerge, but if nothing is happening, don't despair. It can take as long as ten days for anything to appear.
If, after two weeks, your Banana Kush autoflower seeds don't germinate, then you can throw them away. Those are, unfortunately, duds and won't ever germinate.
Once you see the taproots, move the seedlings to prepared pots or grow mediums.
Plant directly into the soil
Banana Kush autoflower seeds are hardy and can flourish almost anywhere. You can germinate these beauties by planting them directly into the soil.
The big advantage in germinating cannabis seeds this way is that there's no risk in 'shocking' the seedlings during transport. The taproots will pop up and immediately adjust to their environment.
To start:
Dig a hole in prepared moist soil about an inch deep.
Don't add too much water, or you'll drown your seeds.
Place one autoflower Banana Kush seed into each hole and cover with the earth.
Within a few days, you should see the taproots appearing.
Starter cubes and plugs
Ready-made starter cubes are a sure way to get good germination results for your Banana Kush autoflower seeds. These squares are nutrient-rich and contain everything your seeds need to germinate.
Insert one seed into each cube and sprinkle it with water. Place the blocks in a dark but warm room. In a couple of days, you'll notice the taproots shooting out from the cubes. These are an ideal starter for setups such as coco coir or hydroponics.
The cubes usually come in packs of 50, so bear this in mind when you're deciding on the number of plants you want to grow. Once you open the bag, the blocks start to dry out and, in two weeks, will be useless for germinating seeds.
Banana Kush autoflower seeds grow information
The ruderalis heritage that the Banana Kush autoflower seeds have, allows them to flourish in harsh climates. Gardeners with some experience will find the cultivar a pleasure to grow. These tenacious crops can develop in most conditions but are susceptible to mold—so be on the lookout for early signs of infestation.
The strain thrives both indoors and outdoors. When planting outdoors, pop the seeds directly into the soil to germinate for the best results. Growing the crops in earth enhances the flavor and aroma. The soil needs to be airy so the roots don't get waterlogged, which may cause them to rot.
The plant's short stature of 3.5 feet makes it ideal for small grow spaces. If you plant your crops indoors, arrange them in a hydroponics setup and use the Sea of Green (SOG) technique. A hydro setup increases yield, while SOG allows for better use of space and light distribution.
Growing the plants indoors also allows you to monitor humidity and airflow levels, which helps control mold occurrence. Increased airflow decreases the chances of powdery mildew and other diseases.
The flowering time for autoflower Banana Kush seeds is between 7–8 weeks. You can look forward to yields of 19 ounces/㎡ indoor and 4-7 ounces/plant outdoor at harvest time.
Banana Kush autoflower seeds genetics
The Banana Kush autoflower seeds are made up of a four-way blend. Breeders mixed an OG Kush x Banana x White Widow mix with an undisclosed ruderalis cultivar. This complex combo gives the strain some unique and interesting characteristics.
Let's take a closer look at the lineage:
OG Kush is a strong cannabis strain that provides users with an intense physical and mental kick. With a strong and pungent flavor, it's not a strain for the faint-hearted.
Banana – This variant is most likely where Banana Kush gets its fresh yellow fruit aroma and flavor.
White Widow mix – The well-known cultivar delivers a boost of energy with an intense earthy aroma and spicy-sweet flavors.
Undisclosed ruderalis – Any cross that contains ruderalis is known for being hardy and tough. Most of these variants adapt to challenging environments, which Banana Kush autoflower seeds easily do once germinated.
Where to buy Banana Kush autoflower seeds
There are a couple of different ways to get your hands on some autoflower Banana Kush seeds. However, before you even take one step more, first find out if you're allowed to buy seeds in your state legally.
If the law allows you to purchase cannabis seeds, you can visit a walk-in dispensary to buy your packs. There are pros and cons to buying at a physical store.
The good thing is you can discuss your purchase with someone face to face. The downside is you're limited to information from one salesperson, who might be biased towards a certain strain and has limited knowledge. Another disadvantage of a dispensary is its limited variety of marijuana strains.
The other way to get cannabis seed packets is to buy Banana Kush autoflower seeds online. Web-based stores stock a wide range of seeds in different package sizes. A big advantage is browsing from the comfort of your couch and having your seeds delivered directly to your door.
No matter which option you decide to use to buy your autoflower Banana Kush seeds, you must check the reputation of the supplier. Research any review and customer comments regarding the quality of the products, delivery, and after-sales service.
Homegrown Cannabis Co is a well-established, reputable online supplier that growers trust. You can expect quick and efficient service and excellent prices with regular specials for their customers.
There are several other benefits to buying marijuana seeds from Homegrown Cannabis Co, some of which include:
A plethora of information on various strains
Guides and specific growing instructions for each cultivar
Online discussion groups and forums
Germination guarantee on their seeds
Several secure payment options
Quick and discreet delivery
Excellent after-sales support
When buying from a reputable supplier such as Homegrown, you can rest assured that you receive premium quality Banana Kush autoflower seeds. Premium seeds mean a higher germination rate and healthier crops.
A banana sensation that makes you smile
Banana Kush autoflower seeds are in a league of their own. They germinate into a powerful yet tasty plant with cerebral and mood-enhancing effects. The fruity banana flavors leave a pleasant aftertaste in the mouth, and the aroma is akin to a tropical dessert.
The auto-flowering variant is hardy and can withstand harsher climates than most cannabis strains. It's happiest planted directly in the soil, but it does equally well in SOG or hydroponic setups. Don't overwater the crops, and your harvest will be healthy and plentiful.
Get started today with premium seeds from Homegrown Cannabis Co. The fast turnaround and prompt delivery schedules will have you planting in no time.
Also Check:
White Vietnam: The Stimulus King
6 Colon Cancer Symptoms You Should Never Ignore
Women's Dementia Caused By Premature Menopause, Study Finds