Diablo 4: Release Date For Early Access And Full Release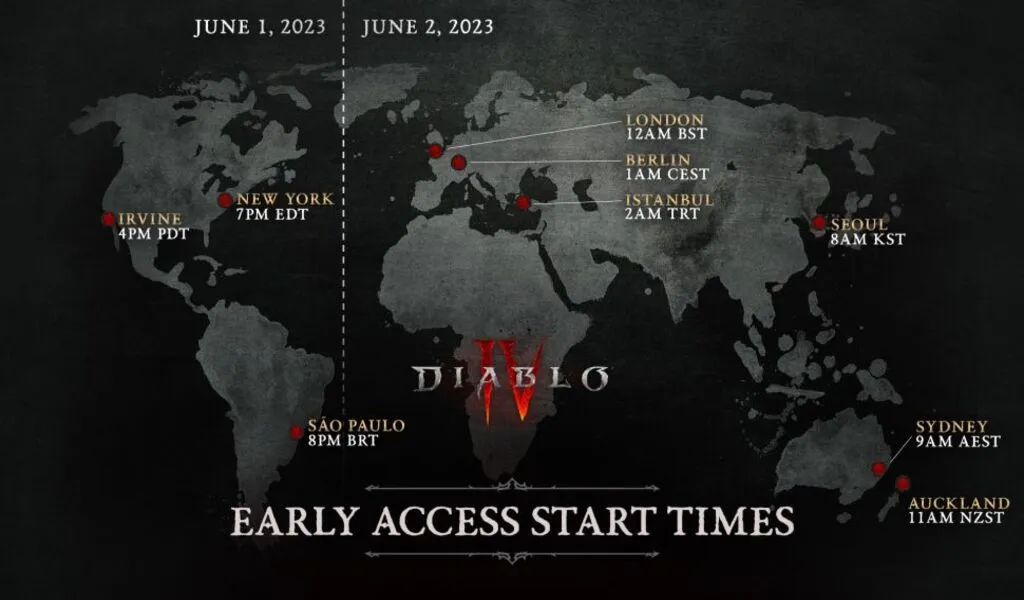 (CTN News) – It is now possible to play Diablo 4, the latest installment in Blizzard's long-running ARPG series. Early Access for Diablo 4 begins four days before the full release date, on June 2.
On June 6, the full release will be available worldwide. If you purchase the Deluxe or Ultimate edition of the game, you will have access to Early Release.
It contains information on the early access release dates and times for each region, as well as the full release dates for the global release. It is possible to preload the game prior to its release.
Early Access Start Times for Diablo 4
All release times are synchronized according to time zones. For North America, the game will go live on Thursday evening, while for Europe and the United Kingdom, the game will go live early on Friday morning.
West Coast NA, 4 pm PDT, June 1

June 1 at 7 p.m. EDT – East Coast

It is 12:00 am BST on June 2 in the United Kingdom (Friday morning 12:01 am)

12:00 a.m. CEST – Europe

On June 2, 11am AEST – Australia

June 2 at 8 a.m. KST/JST – Japan & Korea
Start times for Diablo 4's full release
A full global launch of the game will take place on June 5 and June 6, depending on the time zone you're in.
There will be a NA West Coast session at 4 pm PDT, June 5th

On June 5 at 7 p.m. EDT, the NA East Coast will be on the air

On Wednesday morning, June 6th, 12:01 a.m. BST – United Kingdom (Wednesday morning 12:01 a.m.)

June 6 at 1 a.m. CEST – Europe time

The time is 11 am AEST, June 6 – Australia time

The time is 8AM KST/JST, June 6 in Japan and Korea.
Make sure Diablo 4 is preloaded
It has been announced that if you have purchased the Deluxe or Ultimate edition of Diablo 4, you will be able to preload the game for Early Access starting on June 5/June 6.
In order to preload the game on your PC, you will need to use the Battle.net client, which can be downloaded from the Battle.net website. You should preinstall the game so you will be ready for the launch of the game as soon as it is released.

It is possible for you to download the game if you are a pre-ordered Xbox player to go to the store and download it if you are a pre-ordered Xbox player.

If you are using a PlayStation, go to the PlayStation Store and download the game.
As well as preloading the game, you will also be able to play it once it is released on June 6.
SEE ALSO:
The Official Diablo 4 Cosmetic Collaboration With KFC Has Begun